Online Poker Maven Kristen Bicknell Earns Limelight with Live Tournament Success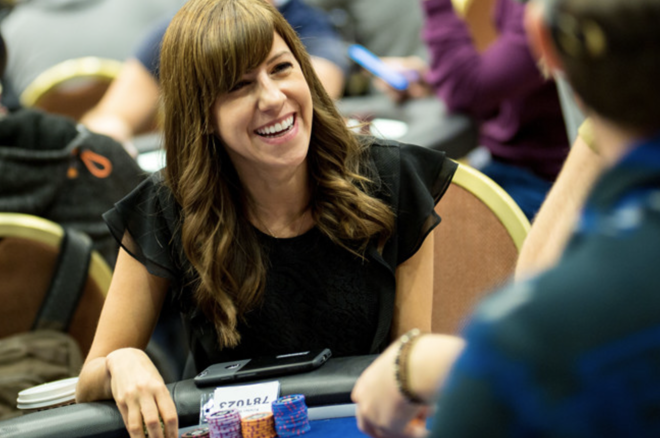 "Sorry, but I don't think you can do this", said a poker friend of Kristen Bicknell.
What her friend was referring to was achieving Supernova Elite status on PokerStars. Not only did Bicknell — known as "krissyb24" online — earn her status in 10 months on her first try, but she went for the 1.25 multiplier, which was a higher level of Supernova Elite, and did it four years in a row.
"I got in the fucking zone," said a passionate Bicknell. "I love the challenge."
Bicknell has recently become a household name in the poker world, and most certainly a name mentioned proudly among Canadians. Not only has she dominated the online world, but she now has two WSOP gold bracelets after taking down the Ladies' Championship in 2013 for $173,922 and then the $1,500 No-Limit Hold'em Bounty event last summer for $290,768 and a bucket full of bounties.
It was only a year ago in Prague that she began playing more live tournaments. When asked about her experience playing live so far she said, "It's fun. Poker has been incredibly positive in my life. The reason I love poker, too, is the autonomy. I get to be my own boss."
Bicknell explained that she has been focusing a lot of her time and energy on live tournaments and getting better at them. "I am super driven to do this again this year, but to do it even better. I feel really comfortable about my progress and I have a lot more progress to make."
In case you missed it, there was much debate on Twitter about the existence of the American Poker Awards Female Poker Player of the Year award and whether or not it was a benefit or detriment to women in poker. Cate Hall accepted the award for 2016 and spoke out against having it, but Natasha (Barbour) Mercier disagreed and some words were exchanged.
Bicknell spoke up and agreed with both women, but felt the award was about "showcasing talent in the game. Focusing on the women who are good." She continued to touch on misogyny in poker, admitting it's sometimes very evident at the tables and that "it takes a lot of bravery and courage to sit at a table full of guys."
Hailing from St. Catherine's, Ontario, Bicknell is no stranger to being in a male-dominated world because she grew up around racing. Her father, Peter Bicknell, dropped out of school to learn about mechanics and support his passion for racing. He built this into a business and would race on weekends as well as travel the circuits to compete, much like his daughter is doing in the poker world.
Bicknell raced go-karts with all of the boys and was used to holding her own in that environment. She believes growing up with this has made her as tough as she is today. Her parents and siblings grew up realizing their passion for racing, which Bicknell pursued by way of poker. She believes her parents are so supportive because they understand that she doesn't have to take a traditional path in life because they built a business based on passion.
Fresh in her first year of university in Ottawa, Bicknell played her first hands of poker at a small home-game tournament. She went heads up with her ex-boyfriend, a match that went on for seven hours, ending at noon the next day. Bicknell doesn't even remember who won.
They both became obsessed with the game and started to play for dishes duty at home, bought several books, and just kept practicing. Eventually she was able to play online and started to play tournaments, once even needing to skip class in order to finish out a tournament which she eventually won.
Very quickly, Bicknell and her ex-boyfriend were able to pay for things like tables and chairs for the apartment, and the next thing they knew they were supporting themselves for the next 10 years. Bicknell also played live, the first time being at Turning Stone in upstate New York. She would listen to podcasts on the three-hour drive there and back and kept building her bankroll.
During Bicknell's journey playing on PokerStars and becoming Supernova Elite, she logged over 17 million hands and has the record for most hands played in a year, totaling 3.8 million.
She played a massive number of hours over the course of her online career and played on 24 cash-game tables at a time. Now that she has transitioned into live poker, Bicknell dedicates less time to playing online but has also enjoyed playing the schedule on partypoker, having success on there as well.
When she's not playing, Bicknell talks about the importance of going to the gym and the spa and taking care of her body, including eating well and keeping her mind sharp. She loves squash and softball, and definitely has an intense passion for rock-paper-scissors.
Judging by the fact that Bicknell graciously spent three hours talking with me about her love for the game, her success is not the least bit surprising. To explain further, Bicknell recently made her way on to the top 10 list of Canadian poker players on the GPI. She is the first woman in Canada to ever do this, and easily adds another achievement to her impressive resume.
After capturing five flags, including a coveted "spadie" trophy in Panama, Bicknell is headed to Florida, Nottingham, and Las Vegas in the near future. Look for Bicknell to continue to rack up the hardware as she heads into her second year as a live tournament pro.
---
Stay connected. Follow us on Twitter and like us on Facebook!