Get to Know WPT's First Female Champion Ema Zajmovic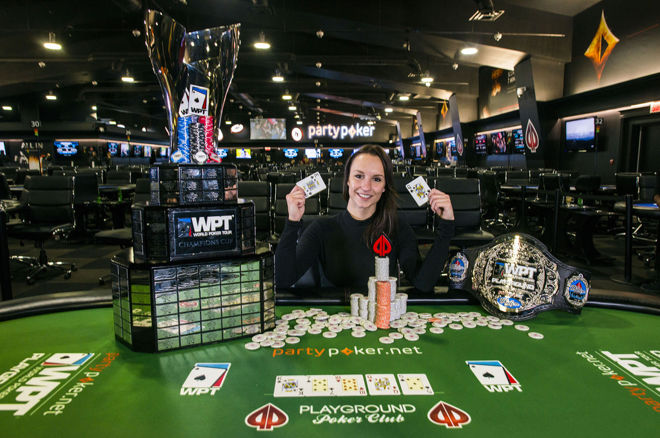 "Women don't want to be compared to other women. I want to be compared to other players and be the best at my table", stated the first woman to ever win an open World Poker Tour title, Ema Zajmovic.
At the end of last year, Canada's Zajmovic was a name that some fans would recognize from WPT Montreal in November after she made the final table with WPT commentator, Mike Sexton, eventually finishing in fifth place. She would have been the first female player to win an open WPT title, but she was eliminated at the hands of Sexton himself, earning $102,010 for her deep run.
Fast forward to February at WPT Playground and all of a sudden another shot at the title was a real possibility. She came into the final table at the top of the counts and eventually took it down, pocketing $241,500 and the coveted belt. On top of everything, she is now officially the first female to win an open event on the World Poker Tour.
When asked about the added pressure of reaching this milestone in WPT history, Zajmovic said, "I know people were talking about being the first woman to win. I never look at it that way. It's more for media — it's a good headline and it's good for poker in general. From my part, it wasn't that big of a deal from that perspective. I just focused on winning the tournament."
Zajmovic also explained how she is working on appreciating deep runs, whether she wins or not, and is trying to enjoy the moment now, as it doesn't last long. "It's fun for now," she said. "I'm not super emotional about it and I'm the same when I'm on a downswing."
While poker takes up a lot of her time, Zajmovic stressed the importance of enjoying life and having a good balance. She is currently out west in California and is enjoying the weather as well as living an active lifestyle. Zajmovic enjoys hiking and being outside in general while traveling as much as she can while it's possible. Thanks to poker, she is able to live a life that is controlled by only her and she is enjoying every moment of it.
I asked Zajmovic how she got into poker and she laughed and said, "I was 19 and I started out by clicking buttons. My ex-boyfriend was a poker player and I traveled a lot with him. Instead of going shopping, I decided to learn how to play." She said she dealt with poker and money downswings, but learned a lot throughout the years.
She began as a cash-game player but has grown to love tournaments. Zajmovic cashed for the first time in the 2016 WSOP Main Event, and then went on to final-table the WPT Montreal Main Event. She now sits here with a title, a belt, and a milestone and is looking forward to what the future will bring.
A popular topic that I had to bring up with Zajmovic was the recent talk surrounding the American Poker Award for the best female poker player of the year, awarded to Cate Hall for 2016. Hall recently accepted her award and made a speech about how she is grateful for it, but feels there shouldn't be one due to the fact that being a male does not give any player an edge in poker.
Natasha (Barbour) Mercier responded on Twitter, explaining that she believes the award encourages more women to play and gun for the award, and the two disagreed, so to speak.
I asked Zajmovic her thoughts: "I read about the GPI for females. We could have the same debate about older players — there are so many stereotypes. If there is a GPI for best female player, there should be one for seniors because we have seniors' events. It could be more general and neutral. We have way less females in poker. Women don't want to be compared to other women. I want to be compared to other players and be the best at my table." She continued to explain that "the main goal of this game is to adapt to behaviors and adjust to the strategy based on assumptions that people have about you. Women who are competing at that level and playing Main Events and putting up those buy-ins just like the men do — there is no difference."
When asked about her title and how she celebrated, Zajmovic joked about her belt and said she felt like a UFC fighter because, after she won, she was exhausted and decided to lay low. She decided to go on a vacation and continue with the grind. Additionally, she hopped on a couple of episodes on Live at the Bike to play in some big cash games.
While poker is a focal point, I asked Zajmovic about her background and hobbies. She loves to read and since she has finished school she has more time for that.
Zajmovic impressively holds a degree in Public Relations as well as a Masters in Political Communication, proudly leading to a spot on Prime Minister Justin Trudeau's campaign team. She earned both degrees at the University of Laval in Quebec.
When she was younger, Zajmovic wanted to be a lawyer, but also wanted to be in PR. She decided she would be better at PR and followed that career path for a while. Finally, she admitted she also wanted to be a singer and loves karaoke. Zajmovic is shy at first, but she exclaims, "When I have a chance to have the microphone, it's over for everyone!"
Finally, a big focal point for Zajmovic is sports. She plays a lot of sports, including basketball and hockey. In addition to playing hockey, Zajmovic also proudly runs a hockey draft website as one of her hobbies.
In the near future, Zajmovic will be found in California and then Florida playing cash games. After that she is headed to Nottingham after bagging a healthy stack in the partypoker Millions event in Punta Cana last fall. Later in May is another WPT stop in Montreal where she will aim for back-to-back-to-back final-table appearances and maybe even a back-to-back win! Zajmovic will definitely be in Las Vegas this summer for the World Series of Poker, so remember the name and get used to seeing it around!
Photo courtesy of Playground Poker Club.
---
Stay connected. Follow us on Twitter and like us on Facebook!