888poker Promises $10M Payout to 2017 WSOP Main Event Winner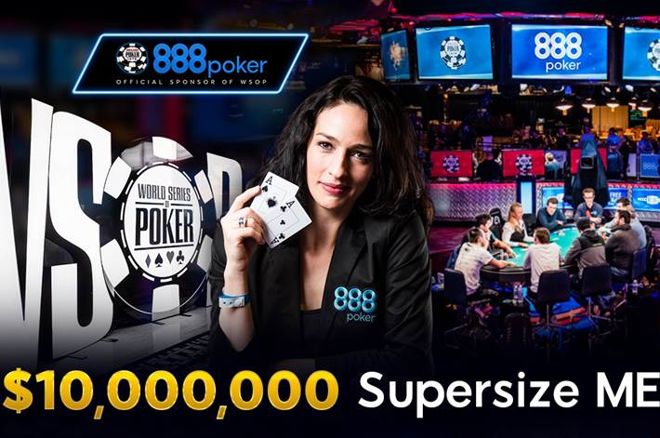 888poker will guarantee that 888poker qualifiers to the 2017 WSOP Main Event receive a $10 million payout as long as they win it.
Called the "Supersize ME" promotion, the official sponsor of this year's WSOP will make up the difference between the regular payout and $10 million.
Martin Jacobson ($10,000,000) and Jamie Gold ($12,000,000) were the only two players to win at least $10 million as a first-place prize in the World Series of Poker Main Event.
888poker decided to allow qualifiers to be a part of that 48-year history of the WSOP Main Event.
For starters, the winner would need to qualify in the steps satellites for $0.01 or buy in directly to one of the $1,050 qualifiers each Sunday through June 28.
Qualifiers will receive a $12,500 WSOP Main Event prize package that includes:
A five-night stay at the Vdara Hotel Las Vegas (July 9-14)
A $10,000 Main Event buy-in
$1,200 for travel, expenses and daily transportation
A VIP Welcome session and 888Live poker kit
In 2016, 148 players qualified for the Main Event from 888poker, 30 of which qualified through the Supersize ME satellites. At the time, those satellites made the qualifiers eligible for a $5 million bonus if they won the Main Event.
The last qualifier in that field, Romania's Joldis Cosmin, finished in 85th place. Two regular 888poker qualifiers were at last year's final table: Fernando Pons and Griffin Benger.
Neither were eligible for the Supersize ME promotion but both walked away with over $1 million.
Benger is a huge fan of the 888poker software.
"There's a great range of buy-ins for both recreational and professional players, and the satellite program provides a great opportunity for amateurs and an increased edge for pros - everyone's happy," he told 888poker. "It's my favorite site to play on, and I wouldn't [have been] in the Main Event [last] year if it wasn't for 888poker."
888poker Ambassador Kara Scott said that this promotion just takes the tournament to the next level.
"This makes an already exciting tournament even bigger and more incredible! Imagine getting to the final table of the WSOP Main Event with the possibility of winning a full 10 million dollars," she said. "The prize money for the champion is already huge but this takes it one step further and gives all the 888poker qualifiers an even bigger prize to shoot for."