How To Play Poker On the Go with 888poker's App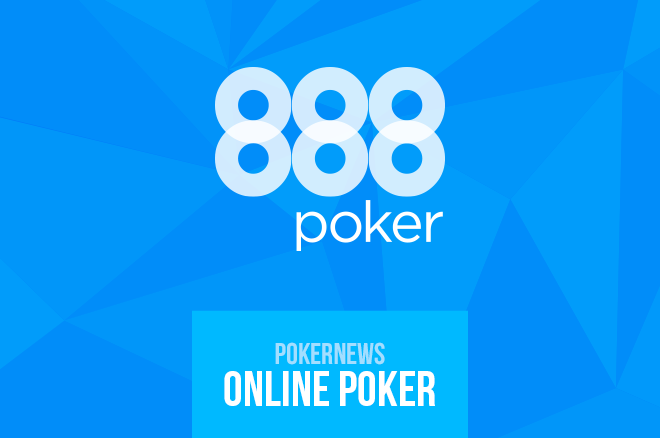 If you like to play poker via a tablet or are travelling and don't want to carry around a bulky laptop or want to sit and play some poker on a second screen while watching some television, 888poker gives you this opportunity through their web application. For now, only nolimit hold'em or fixed-limit hold'em are offered.
A very underutilized, un-talked-about, and intuitive web application created by 888poker makes playing poker while on the go or away from your desktop computer a breeze. Most people have a tablet device these days and may be unaware that you can even play on 888poker on a tablet. There is no official app in the Apple App Store or Google Play Store, which makes this a little unorthodox.
Unlike most apps that get added to your tablet through the traditional app stores, to access the 888poker application, you must go to the web application link through a web browser.
Going to webapp.888poker.com on your tablet's web browser will bring you to the sign-in screen. For the sake of this tutorial, an iPad is being used.
Next, if you want to add or bookmark the web application to your home screen, hit the action button, which is the little square with the upward-pointing arrow. This button will then bring up a bunch of actions and icons. If you click the greyed out box with a plus sign in the middle with the caption "Add to Home Screen", you will create an icon on your iPad's desktop.
The next step is to sign in. Tap on the web app that you added to your home screen to launch the browser.
Enter your username and password and tap "Go" on the keyboard or hit login.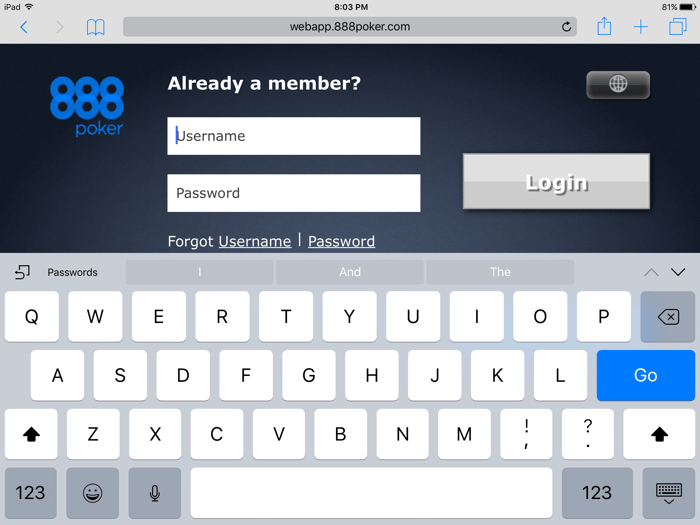 Once you are logged in, you will be presented with three options: Classic Poker, Blast Sit-and-Gos (super-turbo jackpot sit-and-go format), or SNAP Poker (fast-fold poker).
SNAP Poker:
Tapping on SNAP poker — the fast-fold variant for cash games — brings up a menu with a bunch of different stakes along with how many players are in the game. Make your choice by tapping on the stakes you want to play.
BLAST Poker:
BLAST poker introduces players into a world of jackpot sit-and-gos with an additional twist. Firstly, games are played four-handed rather than the usual three-handed on other poker clients. Next, all blind levels increase after one minute and, after the six-minute time limit is reached, all remaining players are all in blind.
Classic Poker:
Last but not least, Classic Poker gives you the ability to choose between traditional cash games, sit-and-gos, and tournaments.
When sitting in cash games and sit-and-gos, users have to use sliders between the amount of players, speed of play (for sit-and- gos), and buy-in amount. This can be rather difficult at times. One nice caveat though for sit-and-go players is that, when you register for a sit-and-go, you see the lobby and the amount of players that have also bought in while waiting for the game to fill up.
In the tournament lobby, you have the ability to filter tournaments by speed and buy-in levels by selecting the check boxes of corresponding tournaments. Unfortunately, the buy-in level amount filters are only $0-$1, $1-$5, and $5+. Mid- to high-stakes tournament players may be a little annoyed to see smaller buy-in events popping up in the tournament lobby.
Gameplay Experience:
Once you are in a game, the client isn't 100 percent as smooth as the desktop client. There is some choppiness in between actions and a bit more lag in between hands than its more traditional counterpart. You are given traditional betting options of half-pot, three-quarters pot, or full pot when betting on the flop, turn, and river.
On all streets, you have the ability to hit plus and minus buttons to increase your bet by the amount of the blind. The fold, call, and raise buttons are all bright and spaced out far enough to not be confused as to which one you will hit. You also have the ability to change your bet type to similar tablet app poker clients by clicking on the text box with the raise amount and type on the on-screen keyboard to change the bet amount.
Multi-tabling Experience:
Unfortunately, within the web application, unlike its tablet competitors, 888poker doesn't offer multi-tabling abilities. This can be frustrating when wanting to play multiple tournaments or grind multiple cash games and waiting for your turn to act can feel excruciatingly long, but at this time there is no option to add more tables to play at one time.
The web application version gives you all the same abilities to play on 888poker as the desktop version including SNAP poker, BLAST Sit-and-Gos, and classic poker variants for holdem enthusiasts.. It's a little difficult to switch between buy-in levels that use sliders and there are limited filtering options for buy-in levels in certain areas of the web application. With no app being rumoured to run natively on tablets, this offers 888poker fans an alternative to a desktop client when on the go or wanting an alternative to undocking a laptop to sit in front of a television. If you are a multi-tabler, this is not the best option for you, as the 888poker web application doesn't allow you to play multiple tables at once. In the end, though, 888poker gives players on tablets the ability to compete for real or play money while on the go.