2017 WSOP Predictions: Mike Leah, Thomas Taylor, and Kristen Bicknell to Stand Out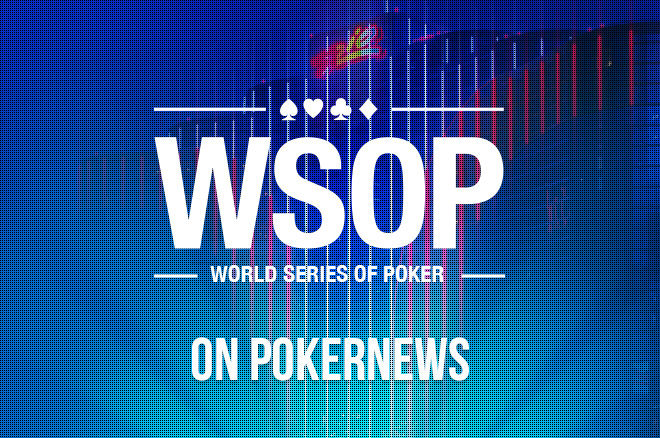 The 2017 World Series of Poker (WSOP) is only days away from flooding the Rio with poker players from around the world. The PokerNews Canada team polished their crystal balls and had a look into the future to see what this year's series will bring.
Who will win WSOP Player of the Year?
Ari Engel. He's having a phenomenal year and puts in so much volume. He will fly to another event on the other side of the country just in time for late registration if he busts the event he is already at. If he's in Vegas all summer, he is sure to fire anything and everything.
There is no question that Mike Leah is one of the best all-around poker players in the world. Coming off a decent SCOOP where his non-hold'em skills were sharpened and riding a pretty stellar start to 2017 in hold'em events, "goleafsgoeh" should contend for the top of the leaderboard this summer.
A bit of a homer pick but Mike "goleafsgoeh" Leah has to be a strong contender. He'll play almost any stakes and every game variant. He had 10 cashes in last year's WSOP, though none made the final table. But out of his 13 cashes this year, four of them were wins! He's going to be a closer in 2017.
Fedor Holz He's one of the sharpest players in the world right now, and I expect him to have an amazing summer.
My heart tells me to pick Phil Hellmuth because he had a subpar 2016 and is always near the top of the rankings. If he is making final tables, it also means we get to see him on the streams and a potential patented Hellmuth blow-up is always fun as well. But my head tells me to pick Mike Leah. He plays all of the mixed games and is also a very good hold'em player. He is also one of the only Canadians that plays a full schedule which pulls my heart strings along with being a smart choice.
How many players will enter the Main Event — up or down from last year?
Definitely up from last year. I think this year's Main Event will cross the 7,000-player mark.
Up. Really think poker has been growing the last couple of years. Not at boom levels but feel it's only a few steps away from popping an annoying bubble. I think Canadians who have skipped maybe last year and possibly 2015 are getting the itch. The exchange rate hasn't improved at all but a lot more events and larger prize pools in Canada will have padded the pockets of a bunch of players. Let's go with 6,823.
Poker is growing, despite what poker-Twitter might have you believe. Main Event entries will be up by a small margin, coming in at 6,842, though Canadian attendance will continue to decline.
This year will be bigger than last year because players will be excited about playing it out in July, but I still predict less than 7,000. Going with 6,893.
As much as I want to be optimistic about an increase, I think that we will have a slight dip after an increase last year. Call me a pessimist but I put the number at 6,539.
Which under-the-radar player will have a huge breakout summer?
I have two picks. Patrick Serda. His EPT Prague "chop" with William Kassouf last year was his biggest career cash for over $1 million Canadian, and I don't see him stopping there. He's smart, creative, and has the capability of making bold moves. Serda is playing a full schedule this summer and I think he will crush it.
Also Thomas Taylor. He had 11 cashes last summer and then went on to book $200,000 in cashes during WCOOP in the fall, and also won a bunch of tournaments in western Canada. He's a beast and will be playing a full schedule including mixed games, which he's incredibly good at.
Jean-Pascal Savard or "hopezACE" as he goes by online has been around for a while but rarely mentioned outside Quebec. Savard should definitely be on the radar after winning the partypoker Live Million North America a couple weeks ago. At the 2016 WSOP, Savard didn't make any really deep runs but did manage an impressive seven cashes.
Another homer pick but these are the players I know best covering the Canadian tournament scene. Thomas "sandman201" Taylor is in fine form and is ready for a breakout year. He'll likely focus on the $1,500-and-under segment of the WSOP with a few higher events thrown in there, but I foresee some final tables in his future. He cashed the WSOP 11 times last year!
Canadian Thomas Taylor is having a great start to 2017 and goes to the Rio with a lot of confidence. He may well be the breakout player this year.
I am not sure what his plans are for the WSOP but I am going with the Brit, Charlie Carroll. He is coming off winning the SCOOP Main Event for over a million dollars and is a very good no-limit hold'em player. He is still very under-the-radar and has yet to make his mark on the WSOP stage.
What will 2017 be 'The Year Of'?
Certainly not the WSOP hot dog carts. It will be the year of the Canadians. We had a dismal summer last year, but I think this one will be quite the opposite. We've got a lot of talent headed to the series and I believe we will rack up some big results.
Canada. It has to be. As the game continues to grow up here. More and more players are starting to rise the ranks. The well-known stars and grinders keep getting better as well. Ari Engel is playing fire right now. Leah is stellar. Kristen Bicknell, Mike Watson, the Quebec crew, a bunch from Alberta and Saskatchewan, Ryan Yu. The list goes on.
Canada claims four bracelets this year. Engel, Savard, Thomas Taylor, and Daniel Dvoress leave with new jewellery.
The year of photogenic winners! If you're not hiring a nutritionist, meditating daily, doing yoga during each break, and sipping coconut water, are you even a poker pro these days? Bracelet winners are going to be a good-looking bunch!
2017 will be the year of the clock controversy.
2017 will be the year of speed. With the new clock rules in effect, hopefully the habitual tanking will come to an end and the majority of tables will see 35-40 hands an hour. There may be some controversy in the beginning and that's all that it will take for everyone to stop tanking.
Who will win the $50,000 Poker Players' Championship and the $111,111 One Drop High Roller?
I think Daniel Negreanu will ship the PPC because he's going to be playing a lot more this year and is hungry. Fedor Holz will likely take down the One Drop because ... Fedor.
Going to go away from Canada here. Think there are only a few Canucks even skilled and rolled enough to play the PPC. Daniel Negreanu, Watson, and Leah would be my Canadian picks, but I think Brian Rast will be the one to beat.
For the One Drop, I think the Super High Roller Bowl and a summer full of $25K and $50Ks at Aria will play a big factor. Though apparently poker momentum doesn't exist. Would love to see Mr. PokerShares, Mike "Timex" McDonald, make an appearance and get his first bracelet. If Timex can't do it, I give the nod to Doug Polk.
Ari Engel is going to win the $111,111 One Drop High Roller to continue a stellar year he's been having. For the Poker Players' Championship, Michael Mizrachi is practically guaranteed to make final table, right? Why not win it for the third time?
Someone named Mizrachi will win the $50K PPC. Could be Rob or Michael, but last name will be Mizrachi. One Drop is more of a random thing probably. Going with my POY pick, Fedor Holz.
I believe that Daniel Negreanu will win the $50K PPC. He has been playing a lot of the high roller Bellagio mixed-game tournaments leading up to the WSOP with results. He also seems hungry this year. He would be my pick for POY but he never plays a full schedule so it's hard to put him in that slot.
For the $111,111 One Drop I am going to go with Mike Leah. If he is going to win Player of the Year, he has to collect a bracelet in a couple of the events and this one will give him a ton of points in helping him achieve that honour.
How long before there's a big controversy regarding the new 'clock' rules?
I give it a week, tops. Nobody likes change and I can see a lot of people getting tilted way too easily over this.
I don't think there will be any controversy.
I don't foresee any real controversy. Of course there'll be whining and groaning by players as they adjust to changes, like when start times got moved up an hour. But no real controversy.
By Event 10, there will be a huge blow up on the floor and a subsequent massive Twitter rant.
Remember when the first-card-off-the-deck rule was announced and players lost their mind? Things have a tendency to be blown out of proportion the first time a rule is enforced. This is probably going to happen at some point during the first open bracelet event.
Ladies have been crushing the circuit this year. How many women will win open bracelet events in 2017?
I have three picks. Kristen Bicknell. She's been playing live a lot more in the last year and puts in a ton of work every single day. She already has two bracelets and there are plenty more to come.
Cate Hall. I haven't seen her more focused than she is right now. In the last year I've covered her in several events and she's clearly been working extremely hard on her game, showing noticeable improvement across the board. She's going to win something big really soon.
Kelly Winterhalter. She's been playing a lot of high-stakes cash games but has also been studying the game inside and out. I see her breaking out in the tournament scene this year and making a run at a bracelet.
Two. Would love to see Xuan Liu get that gold. Ema Zajmovic and Bicknell have a good chance as well. Obviously Bicknell because her ankles need some hardware too! Hopefully June Jenkins and Kim Kilroy make some deep runs. Exciting times for ladies in poker.
I think there'll be more than last year but not a huge wave of female wins, otherwise that'd be my "Year Of" pick. So I think three bracelets for the ladies this year. But they'll all be won be relatively unknown players.
I think at least three women will win open bracelets this year, and one will be Kristin Bicknell. Lonnie Harwood also has a good chance to win another one.
I will say the same as last year: two. With a bunch of women crushing this year, look for Loni Harwood or Maria Ho to take home some jewellery. Don't count out Canadians Kristen Bicknell and Ema Zajmovic who have topped the poker headlines so far this year.
Which poker pro will go on the first Twitter rant of the series?
Mike Dentale. He's guaranteed to rant about anything from Cate Hall to stale wieners on the WSOP hot dog cart. By the way, is the cart a troll or for real?
Justin Bonomo. But really think it will depend on who loses the most in the Aria Super High Roller week. A bunch of them could lose half a million and then donkey-tilt-punch Twitter.
What's that guy's name again? The irrationally angry one? Solomon Ponte! Yeah, that guy. He'll be looking for any opportunity he can to rant so he can try to find a way to stay relevant in the poker world.
Daniel Negreanu is always a good bet for first rant, but I predict William Kassouf will be the first ranter after having clock called on him very early in his first event.
I believe the first Twitter rant of the WSOP will go to Allen Kessler. It's the safe bet. He will find something to not be happy with on the first day.
What would your answers be for these questions? Share them in the comments below!