Canadian Spin & Go Qualifier Jamie Stephens Having a Blast in Sochi
PokerNews Canada Contributor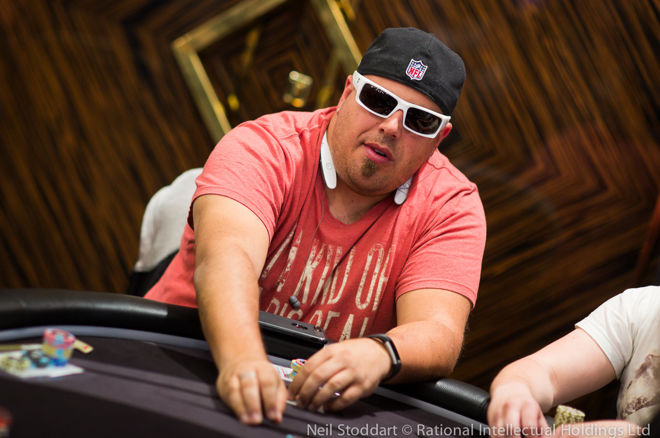 It wasn't until after he had won that Canadian Spin & Go qualifier Jamie Stephens realized what laid ahead of him. A native of Brantford, Ontario, Stephens is one of only three players from Canada to qualify for the PokerStars Championship Main Event in Sochi, and it took an email response from PokerStars to discover what exactly the 37-year old had secured.
A regular morning for Stephens involves firing up a few $7 Spin & Gos on PokerStars. One morning, the $8 Sochi package Spin & Go caught his eye and he decided to register one and test his luck. Stephens wasn't entirely sure what the package actually entailed and was happy to see that, when the wheel stopped rolling, it had landed on the ticket. He initially assumed the ticket was for a satellite or some sort of feeder into a Main Event package.
It wasn't until he noticed how weird and super tight his opponents were playing that he thought anything more of it. He decided to pump up the aggression and continued to push around his two tablemates.
Stephens recalls one particular hand where he got a player all in but was way behind, holding pocket nines against his opponent's monster pair. A nine on the river gave him a sizable chip lead as he got to heads-up play. Not long after, Stephens disposed of them as well and a congratulations window appeared showing he had won a Main Event package to the PokerStars Championship Sochi.
Still a bit confused, he googled the event and found some details. He immediately emailed PokerStars support and got a response indicating he did indeed win a seat in the Main Event.
Stephens, who plays occasionally at a local casino in Brantford, began to play more often in preparation for the event, even finding a few final tables in some daily events. Wanting a bit more practice, Stephens flew to Florida to play at the Hard Rock and found a final table in a daily event there. Stephens also scored his first win on the trip, playing at a poker room in St. Petersburg, Florida, taking down a $33 daily with about 60-odd runners.
Having the ability to bring someone with him, Stephens' uncle also made the journey along with a friend, all of whom relished the opportunity to travel to Sochi.
Stephens has really been enjoying his time so far, saying, "PokerStars has been treating us really good."
At the "Meet and Greet" with Team PokerStars Pros, Stephens was able to have a lengthy conversation with Chris Moneymaker and was even able to share a story with Moneymaker about a prop bet one of Stephens' poker buddies had won against Moneymaker in the Bahamas.
If Stephens can spin his package into a cash, it will be the first live recorded tournament cash of his poker career. The self-employed event planner has aspirations of winning the World Series of Poker Main Event and getting Team PokerStars Pro and fellow Canadian Daniel Negreanu to fold a hand when they meet across the felt!