Four More Important Changes for the 2017 WSOP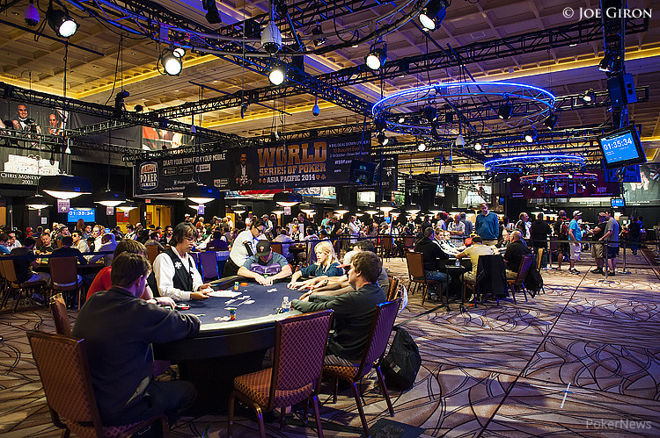 For amateur and pro poker players alike, if they can travel to one poker series a year, it's generally going to be the World Series of Poker.
Pro players plan their annual schedules around the WSOP; amateurs save up for their yearly Las Vegas binges and everyone has become used to things being done and set up a certain way at poker's biggest gathering.
However, each year, there are small changes to the event as organizers strive to improve the WSOP, sometimes in response to player feedback and other times simply because they think they've spotted an inefficiency that can be corrected.
Already, there have been some announced changes for 2017. For one, the November Nine has been banished to poker's history books, a nine-year experiment that's been shelved in favor of a two-day break and July finish for the Main Event.
There's been a major change to the mechanics of calling a clock, with a new rule allowing tournament supervisors to institute countdowns with no player prompt and a shorter clock overall.
Also, the coverage schedule has been revamped with Poker Central handling live stream duties.
In addition to these changes, the WSOP has issued a press release outlining a number of less major tweaks for the 2017 Series. Below, we've listed a few of the more important ones that players and fans should know about before they step foot in the Rio All-Suite Hotel & Casino this summer.
Amazon and Brasilia Switch Roles
In years past, poker fans knew if they wanted to watch the big drama and the moments where the legends separated themselves from the merely great by claiming gold bracelets, they needed to head to the Amazon Room. That's where tournaments restarted from Day 2 and beyond, with the most prestigious final tables taking place on the "mothership" main stage, surrounded by friends, family and fans in the seats.
Not so any more.
Now, Brasilia Room will be the destination of choice for those looking to sweat final table action. The ESPN set will be built there around the main featured table along with two "outer" featured tables, as in recent years. There will be 30 more tables set up in the room as well, presumably to cover other restarts.
That means Day 1s need a new home, and that home will be the Amazon Room. There will be 180 tables set up in the Amazon Room to handle Day 1 action, with the most massive tournaments spilling over into the Pavilion. Speaking of the Pavilion...
Pavilion to Host High Roller Lounge, General Rest Area
...there will be a couple of changes to the Rio's most sprawling ballroom.
The jack-of-all trades room that has been the home for cash games, satellites and Daily Deepstack action in recent years will also serve as a place players can grab a seat and take a breather.
King's Casino from the Czech Republic has stepped in as a sponsor for a high-stakes cash game lounge. Fifteen tables will be sectioned off in a designated area where players participating in high-stakes games can relax and enjoy "the Rozvadov high roller experience." King's Casino's own Leon Tsoukernik will be on hand, and he's been known to hop in high-stakes games himself and get his share of action.
For those with less deep pockets, the stage area of the Pavilion will be turned into a general break area for players. Tables and chairs will be set up so they can eat and hang out while waiting on seats, tournaments or other developments.
Player of the Year Changes
One of the most prestigious awards in poker is the WSOP Player of the Year. It rewards a player who excelled throughout a long stretch of tournament poker that encompasses games ranging from limit hold'em to some of the wild stuff played in the dealer's choice tournaments.
King's Casino again has a role in the changes here, as they'll be sponsoring the award for 2017. As part of King's Casino's new role as the host of WSOP Europe, they'll hand out a seat to 2017 WSOP Europe Main Event to the player accumulating the most points over the course of the 71 open events.
Additionally, the method of determining a victor will change. Gone is the use of the Global Poker Index points formula, and in its place will be a "proprietary formula." More details will presumable emerge before the series starts.
Daily Deepstacks -- New Home, New Schedule
If the aforementioned lounge on the Pavilion's stage sounded an awful lot like the dining area of the poker kitchen, that's likely because it seems to be replacing it. There will still be food service booths in the Miranda Room, but no seating will be available.
Instead, Miranda will now be home to the ultra-popular Daily Deepstacks series, which will award tens of thousands in prize money every day at affordable price points. Many players travel to the Rio with the goal of simply grinding the Daily Deepstacks day in and day out, and now they'll often be sitting among the 45 tables in the Miranda Room.
Some large tournaments will also utilize the Miranda Room for spillover and restarts.
The schedule has been adjusted. Whereas in 2016, the $365 Daily Deepstack took place at 9 p.m. and the $135 Daily Deepstack took place at 7 p.m., those will now be switched.
The $365 will still feature "an accelerated format" in an attempt to get the tournament done at a reasonable time. Past Daily Deepstacks have been known to run well into the next morning in some cases.
The WSOP did not make any announcements regarding the 2 p.m. $235 Daily Deepstack or the 5 p.m. $185 Daily Deepstack, so those will likely remain unaffected.