Mike Leah Leads After Day 2 of the partypoker LIVE Grand Prix Canada
PokerNews Canada Contributor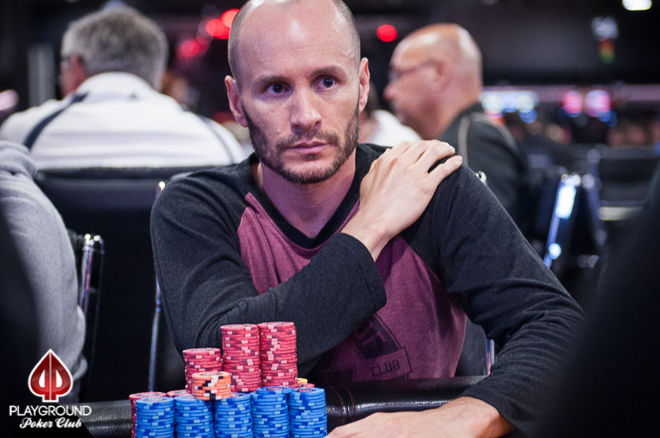 One of the top poker players in the world has the chip lead after Day 2 of the partypoker LIVE Grand Prix Canada.
Canadian poker pro Mike Leah has a strangle hold on the first event of the 2017 Playground Poker Spring Classic presented by partypoker LIVE. Leah leads the final 38 players into Day 3, where play will continue until a champion is crowned.
A total of 269 players returned to the felt on Sunday, each of them already in the money. After 14 levels of play, Leah emerged as the top stack. Hovering around the top of the leaderboard for a good portion of the day, Leah took over the chip lead during the final levels of the day, eliminating a player with ace-queen over ace-jack. Leah finished the night with 6,054,000.
Holding the lead for the majority of play on Day 2 is Leandre St-Laurent, second in chips with 5,414,000. St-Laurent cruised through Day 2, grabbing the lead early and maintaining it until Leah took over. Benjamin Bracken (4,239,000), Robert Leboeuf (3,916,000) and Kyle Chang (3,570,000) round out the top five stacks.
A few notables remain in the hunt as Timothy Deering, start-of-day chip leader Francois Allard, Scott Montgomery and World Poker Tour Champions Club member Eric Afriat will all be returning on Day 3.
There are still 11 Golden Chip holders left in the event as well including Leah, who has the best chance of outlasting his competition to win the $20,000 bonus prize. The first 100 players who qualified for Day 2 online received the Golden Chip and the last player standing gets the loot.
The day did not go so well for most of the pack entering play on Day 2, though all who made an early exit left with some consolation. Some familiar faces to hit the rail were Victor Artemenko (56th - $1,150) who started the day second in chips, Tony Dunst (62nd - $1,150), Jason Comtois (63rd - $1,150), Nicola Basile (65th - $1,150), Will Molson (117th - $800) and Michael Malm (132nd - $700).
Day 3 will resume at 7 p.m. local time in Kahnawake. Once a final table is formed, cards-up coverage will begin streaming on a short delay. In the meantime, the focus will shift to qualifying for the partypoker Million North America.
Starting at 11 a.m. local time, a $275 Phase 1 will kick off with the top 5 percent taking their stack forward to Day 1 of the Main Event. Phase 1s will continue to be offered both live and online until the event gets underway.
PokerNews will provide daily recaps throughout the festival along with live coverage of the $5,000,000 guaranteed partypoker Million North America.
For full festival details and live updates from the Playground blogging team check out the official blog here.
Lead image courtesy of Playground Poker Club