I Played a WSOP Step Qualifier on 888poker and This is What I Learned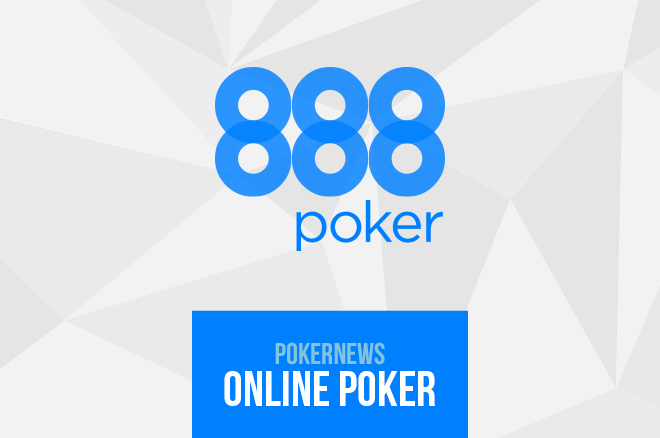 With the summer coming up, the biggest annual poker festival is on the horizon. Our friends at 888poker are giving players the ability to qualify for the World Series of Poker (WSOP) Main Event with a $12,500 package as well as the chance to qualify for the WSOP $888 Crazy Eights Event as part of a $3,000 package the site is offering for as little as $0.01.
These are the steps to qualify for WSOP events:
| Step | Buy-in | Prize |
| --- | --- | --- |
| Step 1 | $0.01 Buy-In | Entry into Step 2 ($0.10) |
| Step 2 | $0.10 Buy-In | Entry into Step 3 ($1) |
| Step 3 | $1 Buy-In | Entry into Step 4 ($5) |
| Step 4 | $5 Buy-In | Entry into Step 5 ($30) |
| Step 5 | $30 Buy-In | Entry into $160 final qualifier |
The $160 qualifier is where you have some choice. 888poker gives players the ability to buy into a $160 qualifier for the $3,000 WSOP Crazy Eights package, or buy into the WSOP Main Event sub-qualifier, where an entry to the qualifier is given for every $1,050 in the prize pool. Qualifiers who get a $1,050 ticket then will play in the $1,050 qualifier for a chance to win a $12,500 package to the WSOP Main Event.
Having never played in a WSOP event and very little experience in step qualifiers, this poker reporter set out on a quest to find more about the lower stakes step qualifiers.
The Beginning Journey
The first step is to pick a buy-in that is reasonable to start the journey. Step 1 is a 1 cent buy-in super turbo with rebuys. These steps get over 100 players regularly and have a 1,000 chip starting stack with unlimited rebuys for the first 30 minutes of play featuring three-minute blind levels.
Step 2 is a 10-cent turbo with rebuys. 888poker increases the starting stack to 2,000 chips with unlimited rebuys for the first 60 minutes of the tournament, while featuring five-minute blind levels. These tournaments get over 50 players regularly.
We begin our investigation by skipping the penny and dime steps and go right to Step 3 — a $1 turbo that gives entrants a 2,000 chip starting stack with six-minute blind levels and no reentries. These tournaments regularly get over 50 players.
The first tournament played didn't go very well. We entered the tournament into the middle of late registration at the 50/100/10 ante level and were dealt pocket jacks on the button eight hands in. The


were no match when our opponent in the big blind called with


and spiked an ace on the flop. Attempt #1, was a bust.
We learned lots though from the eight hands that were played. At this level of the tournament, there was still a bunch of limping in middle to late position from opponents who had a medium-size stack against small stacks.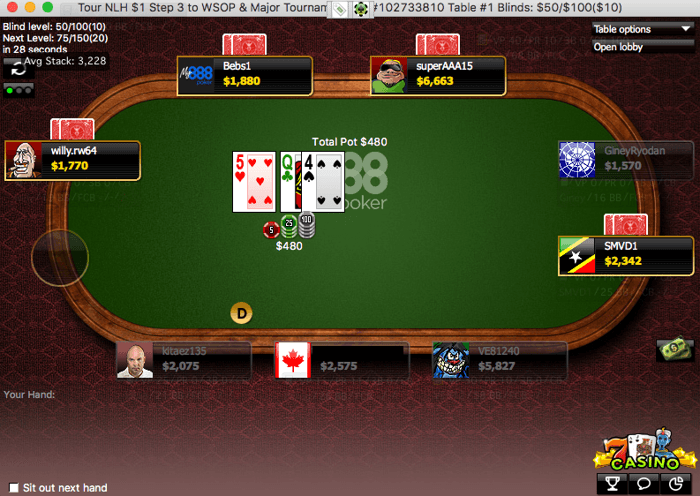 Our second attempt was much rockier but ended with a better result. We entered late registration during the third level — 25/50 blinds with no ante. During the 100/200/25 ante level, we held the chip lead when our


tripled up and catapulted our chip stack to the top of the list.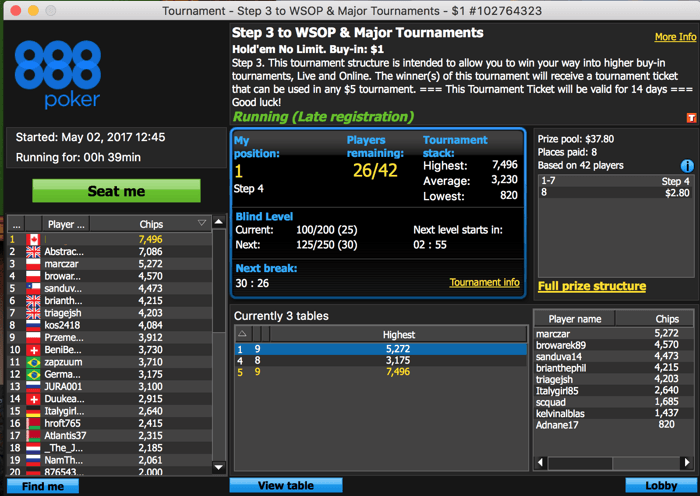 Now with chips, our job was to survive. A couple hands later, we got half of our stack in with


against our short-stacked adversary in the big blind who had


. But, to no avail, an ace in the window shut down our chances at increasing our stack to over 10,000.
With a fluctuating stack throughout, we almost bubbled the event with 14 players left and 13 players getting paid (and only 12 players getting tickets to the next step). With


in the big blind and ~3,400 chips at 500/1,000/125 ante, it was limped in middle position by a stack of 4,600. We shoved and got a fold from our opponent, proving that there are a lot of weak players in the field who don't understand satellites.
Two hands later, the bubble burst and a hand after that the tournament was finished with the elimination of a player in 13th place.
We successfully qualified for Step 4 in our second attempt.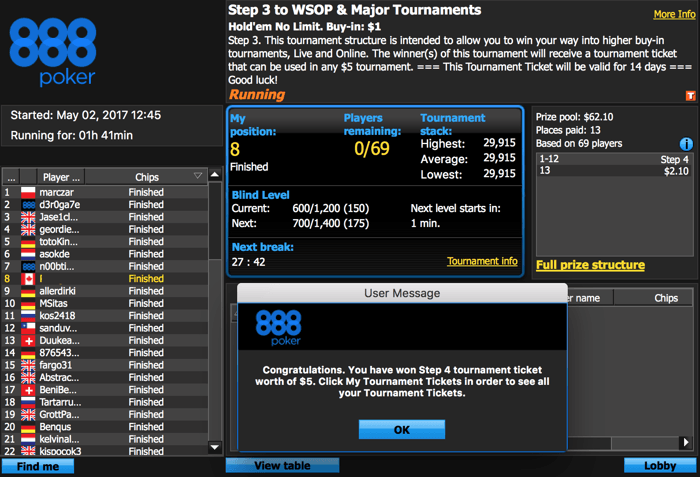 What Was Learned
One positive thing about these step qualifiers is that, if you do not want to play bigger and go all the way to the $160 tournament or you have multiple tickets that you cannot use, you are able to use your tournament ticket for any other tournament that runs at that level. By clicking the tournament tickets link you can view all your tournament tickets.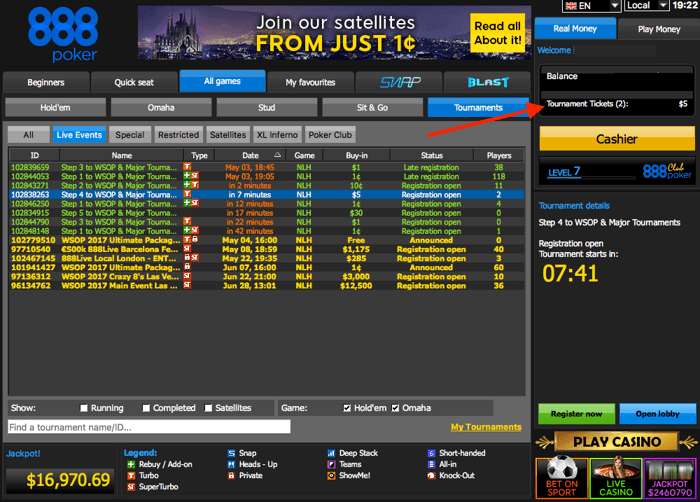 On the tournament ticket screen, by hitting the plus sign you can expand all your options as to where you can use your tournament ticket as well as a lobby to take you right to that tournament.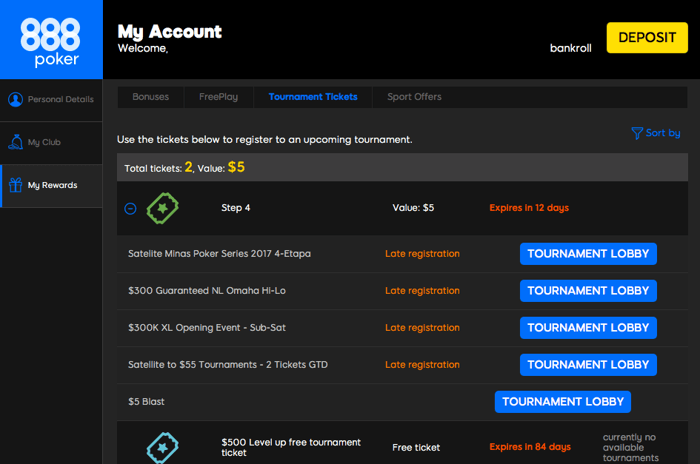 Even though it's a long journey, it is possible for an average player to qualify for these events. You'd expect that once the buy-in increases that the quality of play would also increase, but a fair amount of lower buy-in amateur players get through to the bigger buy-in steps as well.
With the added bonus of getting to use your tournament tickets in other same-priced tournaments, it's a no-brainer to play some of these to use to step up the stakes or even qualify for the grand daddy of them all, the WSOP Main Event!
If you don't already play at 888poker, sign up through PokerNews Canada today to get $88 free without even having to make a deposit. Then, when you're ready to make a deposit, you'll get a first-deposit match bonus of $888!