The Weekly Review: Three Online Series Conclude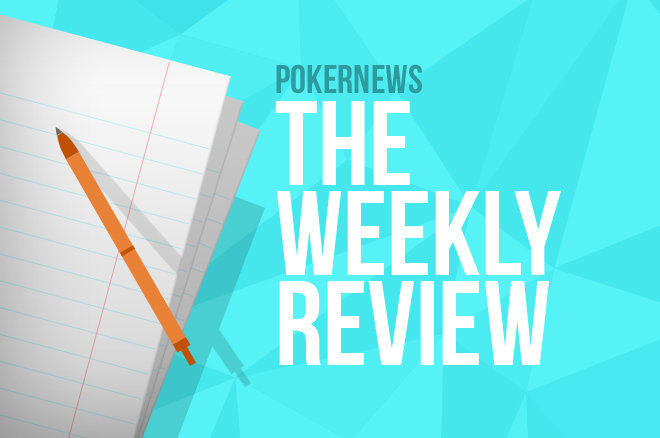 With the World Series of Poker looming, it was time for the PokerNews Canada staff to write down some of their predictions for the biggest series of tournament poker on the planet. It was also a big weekend on the virtual felt with SCOOP at PokerStars producing the biggest single-day payout of all time along with the Powerfest wrapping up at partypoker and the XL Inferno series at 888poker. Mike McDonald reentered the top 300 overall tournament players in the GPI while Ari Engel held onto top spot in the 2017 Canadian GPI Player of the Year race. PokerNews Canada writer Anthony Charter also sat down with Spin & Go qualifier Jamie Stephens who won his way to Sochi to compete in the Main Event of PokerStars Championship Sochi.
Here is your Weekly Review for May 21 to May 27, 2017:
Jaime Stephens Living A Dream in Sochi
PokerNews Canada writer Anthony Charter got the opportunity to sit down with Jamie Stephens who isn't a household name but has a great story nonetheless. Stephens managed to win his way to the PokerStars Championship Sochi Main Event by winning a Spin & Go qualifier. After a back and forth with PokerStars support confirming that he indeed won a package to Sochi, the man who is a recreational player that plays occasionally at OLG Brantford in Ontario talks about how he prepared for his biggest event in poker and some of the fun events that PokerStars had for qualifiers like himself while in Sochi.
Related article:
PokerNews Canada Staff Make Their WSOP Predicitions
With the World Series of Poker (WSOP) about to begin, the staff at PokerNews Canada made some predictions about what they think will happen at this year's series.
Four out of the five writers chose to stay with a hometown pick for WSOP Player of the Year. Three out of the five went with Mike Leah to be crowned as this year's player of the year. The other Canadian selected is current 2017 Canadian GPI Player of the Year leader, Ari Engel.
While Canadian participation in the WSOP is declining, four out of the five writers predicted an increase in participation for the WSOP Main Event for total entries.
A Canadian was also given some love by the staff for breakout player of the year. Thomas Taylor was the overwhelming favourite to have a breakout performance during this year's WSOP. Having already racked up some significant scores online and on home soil, Taylor definitely has the ability to make a name for himself this year.
Related article:
"sordykrd" Wins Powerfest Main Event in Wild Online Sunday Poker Action
With three major online series coming to a close, all the big Sunday majors were offering massive guarantees, bringing out the professionals and recreational players alike.
The top Canadian score of the day went to "sordykrd" who managed to outlast a field of 4,872 entries on partypoker to win $153,000 in the $215 Heavyweight: The Title Fight which was the Main Event of partypoker's Powerfest.
The Heavyweight: The Title Fight Warmup is the start to partypoker's Sunday major schedule with a $215 buy-in and a $100,000 guarantee. 641 players entered this week, breaking the guarantee. Three Canadian's managed to final-table this event. The top score went to "guwopp" who finished third for $11,230.32. "ImaMark" ended up finishing one spot before, in fourth, cashing for $7,679.18, while "spasticmonkey:" finished in eighth, racking up $1,974.28.
The High Roller: $150K Gtd features a $530 buy-in. This week's tournament had double the guarantee to $300,000. The guarantee was passed this week with 676 creating a total prize pool of $338,000. One player from Canada managed a final table. "fizzygypsy" ended his dream of victory in seventh place for $7,436.
Over a PokerStars, in the Mini Sunday Million, the $22 buy-in with $175,000 guarantee, saw a whopping 10,247 entries, creating a prize pool of $204,940. One Canadian managed to make the final table: "jnfpoker" managed to add $3,241.14 to his bankroll with a seventh-place finish.
The Sunday Grand are two separate tournaments with a $1,050 buy-in that are offered in both a no-limit hold'em format and a pot-limit Omaha format. In the hold'em format, one Canadian managed to final table. 228 entries narrowly beat the $225,000 guarantee. Ian "ModzillaPL" Modder took home 4,309.77 by finishing ninth. Two players from Canada managed to final table the PLO variant. 234 players entered to smash the $100,000 guarantee by $134,000. Ben "NeverScaredB" Wilinofsky made a deal during heads-up play but managed to take the win after the deal and walk away with $41,880.57. Alex "dynoalot" Difelice was the other Canadian to collect money with a third-place finish for $24,361.90.
Over on 888poker, the XL Inferno was wrapping up it's 197-event schedule. The premiere Sunday event over at 888poker is the $120,000 Mega Deep, featuring a $215 buy-in. As part of the XL Inferno series, the guarantee was bumped to $150,000. 913 players entered this week's tournament, creating a prize pool worth over $180,000. One Canadian managed a final table with "PurplePigeon" taking ninth for $2,282.50.
This week, the $120,000 Whale, which features a $600 buy-in, was replaced with the XL Inferno Main Event — a $1,050 buy-in with a $1.5 million guarantee. 1,319 entries along with 436 reentries created a prize pool of $1,755,000. Two Canadians managed a final table but unfortunately, were the first two to exit. "beebsterizer" finished in ninth for $18,954 while Sebastion "p000cket000" Sikorski was the eighth-place finisher for $34,222.50.
Related article:
$10 Million in Cashes Goes to Players North of the Border During SCOOP
This year's Spring Championship of Online Poker (SCOOP) on PokerStars was predicted to be the biggest year with a total of $55 million in guarantees across the series across three different buy-in levels for each event, taking place over 17 days.
The headlining event was SCOOP-55-H, the $10,300 Main Event. This event saw 693 players enter which created a prize pool just north of $6.9 million, along with guaranteeing over $1 million for first place. Heads-up play began between U.K's Charlie "Epiphany77" Carrel and Canadian-located American Harrison "gibler321" Gimbel which resulted in both getting over $1 million. After three days of play, it was Carrel who emerged victorious after coming into the final table as the short stack, collecting $1,200,899.97 for the win. Gimbel received $1,122,873.99 for the second-place finish while playing within the Canadian borders.
During the course of the series, Canadians had 46,112 entries, which was only beaten by Germany, the U.K., Russia, and Brazil. Even with fewer entries then the other four nations, Canada ended up with the most money earned by a nation with $10,862,903.92. This was trailed by the U.K. who had about $2 million less in cashes as a country.
For the full breakdown of Canadian SCOOP winners, please check out the article linked below.
Related article:
Mike 'Timex' McDonald Makes His Return to The GPI Top 300
This week's report on the Global Poker Index rankings marked the return of Mike 'Timex' McDonald who ended up moving from No. 433 to No. 224 into the top 300 list after winning the partypoker MILLION North America High Roller.
In the list of the top 10 Canadians of the GPI rankings, Ari Engel held onto the top spot for the 30th week in a row. Luc Greenwood and Kristin Bicknell managed to make their return to the list, placing in eighth and tenth respectively. Mark Radoja and Jean-Pascal Savard were bumped from the list as a result while Sorel Mizzi is now sandwiched in between Greenwood and Bicknell in ninth, previously holding the eighth spot.
In the race to become the top Canadian tournament player for 2017, Ari Engel held onto the lead for the second consecutive week. Nobody was bumped from the list but Sorel Mizzi managed to score enough points, catapulting himself from No 10. to No 6.
Related article:
Canadians Second-Highest Participating Nation During partypoker Powerfest
Canadians managed to show their love during the latest edition of the partypoker Powerfest that wrapped up this past weekend by having the second-highest attendance by a country with 5,362 unique players logging in to play events, trailing the U.K. which had 10,589. With $20 million guaranteed over 300 events with a range of buy-in sizes for all bankrolls, it's no surprise that Canada was able to see a compatriot make the final table 205 times. The series was capped off when "sordykrd" was able to outlast a field of 4,872 in the $215 Main Event to collect $153,000.
For the full article that gives all the interesting stats around the event as it pertains to Canadians, read the article that is linked below.
Related article:
XL Inferno Series Wraps Up At 888poker with Nine Canadian Victories
With 15 days of tournament action across 197 events, nine Canadians emerged victorious.
While winning an event guarantees a big payday, the biggest Canadian cash came in the form of a fourth-place finish from "ZuesLAZER" who finished fourth in the $5,200 Super High Roller for $72,900.
Along with the nine victories, the tournament series was highlighted by two Canadians making the final table of the $1,050 Main Event which had a 1,319 player field and a prize pool of $1,755,000. "beebsterizer" was the first player to leave the final table, finishing in ninth place for $18,954, while Sebastian "p000cket000" Sikorski saw $34,222 added to his pockets for eighth.
Two Canadians also made the final table of the Mini Main Event — a $160 buy-in with a $250,000 guarantee. 1,655 players entered to smash the guarantee with a total prize pool of $362,550. "walker017" managed to finish in sixth place, pocketing $13,776 while "Chip_giveme" busted in third place for $33,354.
Related article: