Doug McGinnis Wins 2017 Diamond Poker Classic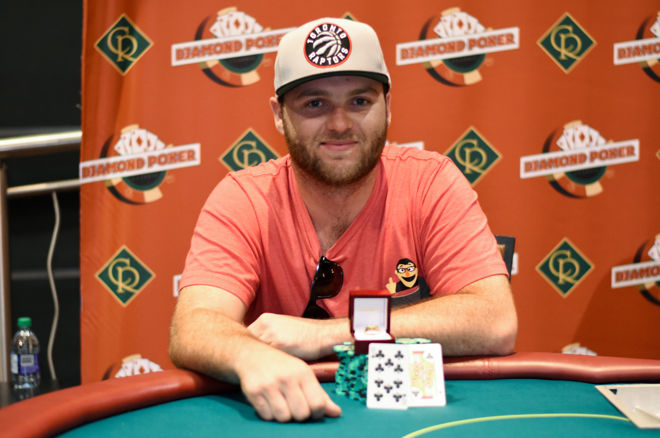 Doug McGinnis is the winner of the 2017 Diamond Poker Classic after a marathon of a $1,100 Main Event on Saturday.
The fourth and final one-day event of the series began at noon in Casino Regina's beautiful Show Lounge which was converted into a large tournament room for the week. After a couple of hours, registration closed with 103 entries, creating a prize pool of more than $100,000.
The final 11 players were destined to earn a payout, and the money bubble burst late in the evening with the elimination of Yoshi Kuwabara in 12th place. All but one of the players had agreed to pitch in $100 to pay the bubble. The one who didn't want to was Kuwabara, so he wasn't eligible to receive the bubble money.
As he was eliminated, he stood up and waved to the rest of the field. "Good news, everyone. You all get your $100 back! It was nice playing with you all," he said as he left the tournament in happy spirits.
It was also Kuwabara who sang his own dramatic theme music each time he got his chips all in near the bubble. His Jaws-like song became recognized as his verbal indication of being all in.
Soon after, the final table of nine players was set. Leading the way was Trevor Norlander with 316,000. Joe Ranalli was close behind with 307,000 and Doug McGinnis was third-best with 287,000.
On the seventh hand of the final table, the first elimination was of the one player who already had his name on the Main Event champions banner hanging above them as they played. After losing a big chunk of his stack a couple of hands earlier when king-queen got lucky against his ace-king, Kyle Irvine got the last of it in with


and was up against


. He flopped a pair of fours but his opponent turned a queen and rivered a king. He was eliminated in ninth place by the two pairs.
Falling in eighth place was Adrian Baran when he pushed all in preflop with


and was called off by


. He missed the board entirely and was eliminated.
The start-of-final-table chip leader Trevor Norlander was next out. He got it all in preflop with


and was dominated by


. An ace on the flop made survival highly unlikely, and the turn and river bricked out, sending him out in seventh place.
Sheldon Kent was next to go in a dramatic three-way all-in where he was the first one in and with the worst hand. His


was in bad shape against


and


and he didn't find a miracle runout. He was eliminated in sixth place.
Just a few hands later, Derek Houle got it in good with


against


and his opponent paired his nine, taking out Houle in fifth place.
Then went Ed Yakmovich in fourth place in another three-way all-in. He had


and needed some help against


and


. No help came and he was the fourth-place finisher.
In Hand #90 of the final table, Patz McMillan pushed her short stack all in with


and was called by


. When the board ran out





, she had made two pairs, but her opponent held a straight, eliminating her in third place.
The heads-up battle began with Joe Ranalli and Doug McGinnis fairly even in chips. Having taken only 90 hands to go from nine players to two, it took a further 70 hands to find one more elimination. Ranalli and McGinnis traded the chip lead back and forth many times.
Finally, all the chips went in preflop with McGinnis holding


and Ranalli turning over


. The flop of



smashed McGinnis with a flush, but Ranalli also got gifted a set, giving him hope still in the hand. But the turn was the

and the river was the

, giving McGinnis all of the chips in play. That happened at after 5 in the morning, more than 17 hours after play began.
Ranalli was eliminated in second place and McGinnis became the victor. He earned a Casino Regina champion's ring and a place for his name on the banner hanging high overhead in the tournament room.
2017 Diamond Poker Classic $1,100 Main Event Final Table Results
| Finish | Player | Prize |
| --- | --- | --- |
| 1 | Doug McGinnis | $28,644 |
| 2 | Joe Ranalli | $18,647 |
| 3 | Patz McMillan | $12,913 |
| 4 | Ed Yakmovich | $9,472 |
| 5 | Derek Houle | $7,322 |
| 6 | Sheldon Kent | $5,927 |
| 7 | Trevor Norlander | $4,991 |
| 8 | Adrian Baran | $4,345 |
| 9 | Kyle Irvine | $3,885 |
That wraps up the 2017 Diamond Poker Classic. If you'd like more details about this tournament or any of the other events, visit our live reporting page where there are photo galleries and highlights and hand-for-hand coverage of all the final tables.