John Ludwig Tops $800 Bounty at Diamond Poker Classic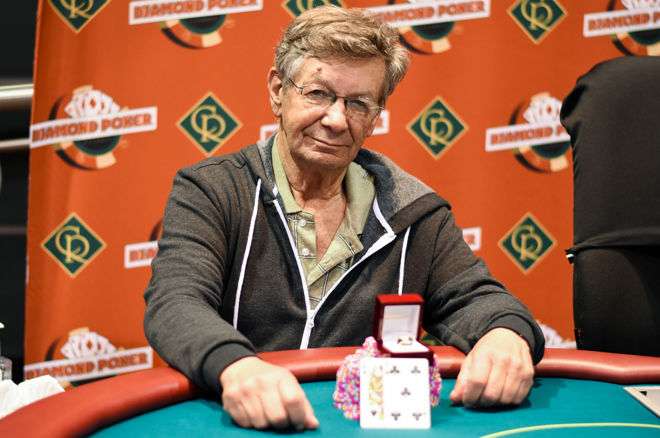 The penultimate event of the 2017 Diamond Poker Classic at Casino Regina played out inside the Show Lounge on Friday. It was an $800 bounty tournament that was won by John Ludwig for $19,820 plus a pocketful of $100 bounties.
Action began at noon in the beautiful theatre and registration closed a couple of hours later with a final tally of 116 entries, promising the top 12 a piece of the prize pool.
More than 10 hours into the day, the money bubble was burst when Shawn Harvey pushed all in on a flop of



with


. Pak Chan snap-called with


for a set. Harvey was drawing very thin to survive, and the

turn ended his tournament as Chan made quads.
It was only about half an hour later that the final table of 10 players was set with Pak Chan leading the way. He brought 181,000 chips to the table, followed by John Ludwig with 176,000.
Sixteen hands into the final table, the first elimination was of Daniel Lamb who was on his second final table of the series already. He three-bet shoved all in with


and made top pair on the





board, but he was out-kicked by his opponent who also held top pair with


. He collected $2,298 for the 10th-place finish.
Just two hands later, Paul Weenusk shoved all in on a



flop after his opponent checked to him. He was quickly called off by


which was miles ahead of his


. The board complete with the

and

and Weenusk collected $2,532 for ninth place.
Then it was just six hands later when Devon Woloshyn pushed all in on a



flop with


and was called off by


. The turn was the

and the river was the

, finishing Woloshyn's run in eighth place for $2,852.
On Hand #38, Jimmy P called a raise in the big blind and saw a flop of



. Both players checked and the turn was the

. Jimmy led out with a bet and his opponent called, bringing out a

river. Jimmy pushed all in and was instantly called. Jimmy had flopped a flush with


which he threw on the table in disgust as his opponent had turn the nut-flush with [ackd. Jimmy earned $3,304 for finishing in seventh.
Six hands later, World Series of Poker bracelet winner Tyler Bonkowski saw his run come to an end when he called an opponent's preflop shove. He was in good shape with


to his opponent's


, but a four on the flop was the only pair either of them made and Bonkowski was eliminated in sixth place for $3,957.
Anthony Cullingworth was the next to go when he pushed all in blind-on-blind and was called off. He held


and was up against


. The board bricked out for both of them, eliminating Cullingworth in fifth place for $4,931 as he couldn't beat the ace-high of his opponent.
Kyle Irvine called a raise from the big blind and saw a flop of



. They both checked and the turn was the

. Irvine check-called a small bet and the river was the

. Irvine pushed all in and was instantly called. He had a huge hand with


for trip kings, but his opponent held


for a full house, eliminating Irvine in fourth for $6,433.
On Hand #115, Pak Chan pushed all in from the button with


and was called by a dominating


. Both players missed the board completely, so the stronger ace eliminated Chan in third place for $8,835.
The heads-up match between John Ludwig and Sheldon Birkeland began with them holding fairly even stacks. They swapped the chip lead back and forth for dozens and dozens of hands. Finally, 88 hands later on Hand #203 of the final table, the players got their chips in.
Like they'd done many times before, there was a limp and a check preflop and the flop came



. Birkeland bet 80,000 and was called. The turn was the

and Birkeland pushed all in, receiving a quick call from Ludwig. Birkeland had top pair with


, but Ludwig had two pairs with


. On the

river, Ludwig further improved to a full house, eliminating Birkeland in the runner-up position for $12,839.
At about 2:30 a.m., John Ludwig sat behind a pile of chips and admired his new Casino Regina trophy ring as he smiled for a photo, having just won $19,820 plus an unknown number of $100 bounties.
2017 Diamond Poker Classic $800 Bounty Event Final Table Results
| Finish | Player | Prize |
| --- | --- | --- |
| 1 | John Ludwig | $19,820 |
| 2 | Sheldon Birkeland | $12,839 |
| 3 | Pak Chan | $8,835 |
| 4 | Kyle Irvine | $6,433 |
| 5 | Anthony Cullingworth | $4,931 |
| 6 | Tyler Bonkowski | $3,957 |
| 7 | Jimmy P | $3,304 |
| 8 | Devon Woloshyn | $2,852 |
| 9 | Paul Weenusk | $2,532 |
| 10 | Daniel Lamb | $2,298 |
For even more details about the tournament, you can visit our live reporting page where we posted updates of the action all day. There is a photo gallery and a record of hand-for-hand coverage of the entire final table if you want to know exactly how it played out.
There is just one last tournament in the four-event Diamond Poker Classic series at Casino Regina. The $1,100 Main Event will play out on Saturday starting at noon and continuing until a winner is found. PokerNews Canada will be back on the tournament floor reporting all of the action live to you. Follow along here!