Mike Bajona Wins First Event of Diamond Poker Classic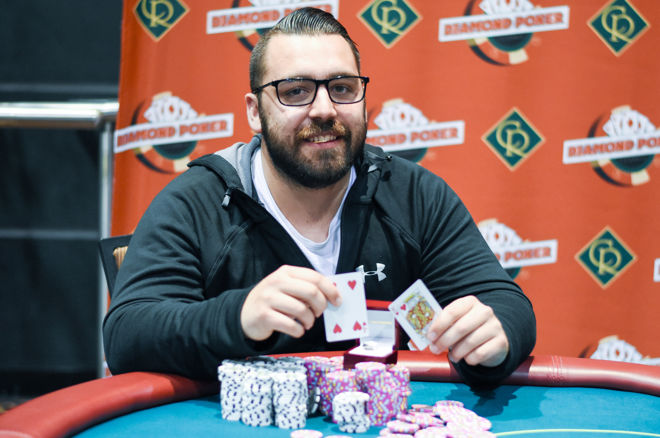 The first event of the 2017 Diamond Poker Classic has filled the pockets of Mike Bajona with $11,573 and decorated his finger with a trophy ring. After collecting his winnings at about 2 a.m., Bajona was eager to drive home to Saskatoon where he had to be at work in the morning.
The $400 no-limit hold'em tournament was the first of four one-day events this week at Casino Regina, and it got underway at noon with late registration and reentry closing two hours later at a total of 120 entries. That created a prize pool of $42,000 to be paid to the top 12 players.
The money bubble burst in the evening as Kim McClymont got her


all in against a big stack's


, even flopping a

to get a better pair, but finding herself eliminated with the

river. She was the last player eliminated without a payout.
By that point, Bajona had already emerged as a big chip leader and, as the final table of 10 was set, he had amassed no less than a third of the chips in play.
The first to be eliminated from the final table was Bob Mullen who was responsible for taking out McClymont on the bubble. Despite coming into the final 10 with the second-best stack, he was quickly crippled and lost the rest of his stack in the fourth hand of final-table play. He lost a flip with


to Bajona's


, fortifying the big stack's chip lead. Mullen earned $1,342 for finishing 10th.
He was followed by Mike Marwick (ninth — $1,479), Senad Selimanovic (eighth — $1,666), and Curtis Mason (seventh — $1,929).
In sixth place, World Series of Poker bracelet winner Tyler Bonkowski lost the last of his stack after he failed to run it up as the blinds quickly escalated. He eventually made an obligatory call all in from the big blind after another player raised, and his


couldn't catch a card while his opponent won the pot with ace-high. Bonkowski earned $2,311 for finishing in sixth place.
Another player that is well known in the prairie provinces finished in fifth place. Jody Fayant ran into aces when an opponent raised and Fayant jammed his big blind with


. He didn't find any miracle cards on the board and he lost to aces, earning $2,880 for fifth place.
Ling Zhang was next out, pushing all in blind-versus-blind in hope of picking up some chips, but his


was called off by Bajona's


and Zhang earned $3,757 for fourth place.
Then, Trevor Evenson nearly got a fold from Bajona when he pushed over Bajona's raise to 40,000 blind-on-blind. But Bajona ultimately called and tabled


against Evenson's


. Evenson paired the ace on the flop, but Bajona also improved to a set and won the pot, taking out Evenson in third for $5,160.
Throughout the entire final table, Bajona held on to his chip lead. He began heads-up play with the lead against Shannon Vargo, and the two players battled it out through 36 hands. Finally, Vargo tried to make a move to take over the chip lead. The two saw a flop for the minimum price and it came



. Vargo bet 25,000 and Bajona called, seeing the

turn. Vargo made it 50,000 this time and Bajona called again.
The river was the

and Vargo shipped all in. Bajona thought for a while and eventually called, turning over just


for bottom pair. "Good call," Vargo said as he rolled over


for ace-high, getting his bluff called to eliminate him in second place for $7,498.
2017 Diamond Poker Classic $400 Event Final Table Results
| Finish | Player | Prize |
| --- | --- | --- |
| 1 | Mike Bajona | $11,573 |
| 2 | Shannon Vargo | $7,498 |
| 3 | Trevor Evenson | $5,160 |
| 4 | Ling Zhang | $3,757 |
| 5 | Jody Fayant | $2,880 |
| 6 | Tyler Bonkowski | $2,311 |
| 7 | Curtis Mason | $1,929 |
| 8 | Senad Selimanovic | $1,666 |
| 9 | Mike Marwick | $1,479 |
| 10 | Bob Mullen | $1,342 |
For even more details about the event, you can head to our live reporting page where we covered all of the action all day. There is a photo gallery and a record of hand-for-hand coverage of the entire final table if you want to know exactly how it played out.
Action is just getting started at Casino Regina. On Thursday, the $600 event will get started at noon and play down to another winner and award another trophy ring. PokerNews Canada will be back on the tournament floor to bring you all of the action.