WSOP Day 18: Chris Kruk, Mike Watson Lead Canucks in 2-7 Championship
Day 18 of the 2017 World Series of Poker (WSOP) was action-packed with lots of early-day action in no-limit hold'em. In addition to Day 3 of the $2,500 No-Limit Hold'em event and Day 1 of the $1,500 No-Limit Hold'em, both the Senior's and Super Seniors events are in full swing as well. The $10,000 H.O.R.S.E Championship awarded a bracelet, the $1,500 Omaha Hi-Lo 8 or Better Mix finished Day 2, and $10,000 2-7 Triple Draw got underway with lowball action.
Eric Cloutier Nabs Fifth in Event #29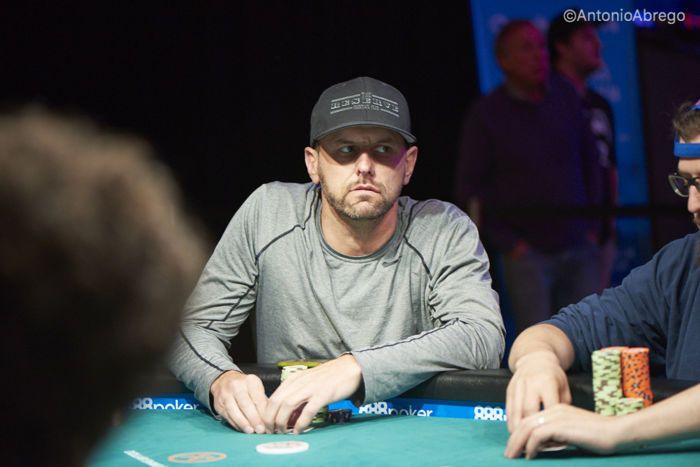 Day 3 of Event #29: $2,500 No-Limit Hold'em played late into the night, but they were unable to crown a winner. When the day started, 30 players were still in contention for the bracelet, including Canada's Eric Cloutier and start-of-day chip leader Eddy Sabat, as well as his runner-up when cards went in the air, Asi Moshe.
Cloutier battled through to make the final table, ultimately finishing in fifth spot for a payday of $103,957. Sabat and Moshe followed him out in fourth and third, respectively, leaving Americans James Calvo and Gaurav Raina to fight it out for the bracelet. Calvo and Raina played more than 70 hands heads up before play was called for the day. Calvo comes back to Day 4 with more than a 2:1 chip lead, 9,600,000 to 4,000,000. Action resumes at 1 p.m. PDT.
David Bach in Winner's Circle of $10,000 H.O.R.S.E. Championship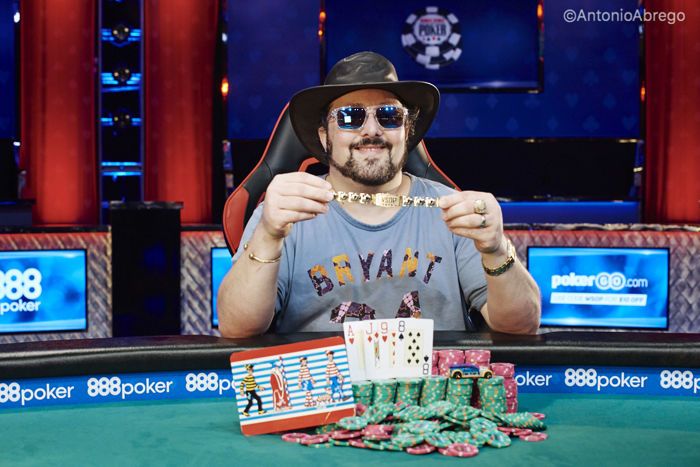 When play began on the final day of Event #30: $10,000 H.O.R.S.E. Championship, poker phenom Daniel Negreanu was in a commanding position atop the chip counts, well ahead of the second-place stack, looking set to capture his seventh bracelet. With all 15 of the original 150 players returning getting paid, all players had their sights set on the gold bracelet. Competing squarely with Negreanu for the spotlight on the final day, Jason Mercier was looking to go back-to-back, having won this event at the 2016 Series.
Negreanu ultimately fell in sixth place, collecting an astonishing 100th WSOP cash for $61,667, and notching his third Championship final table of the 2017 Series. Mercier's dream of the repeat fared only slightly better as he dropped out in fifth place, collecting $83,415. Instead, the day belonged to the red-hot David Bach, coming off his win in the $1,500 Dealer's Choice earlier this Series.
Bach took the bracelet down after a heads up match with Eric Rodawig and the win marks Bach's second H.O.R.S.E. bracelet after he won the 2009 $50,000 H.O.R.S.E. World Championship, the fore-runner tournament to today's Poker Player's Championship. Rodawig's runner-up finish earned him $236,841 while Bach will add $383,208 to his bank roll as he adds a third bracelet to his jewelry case.
Two Canadians Advance to Day 3 of Senior's Event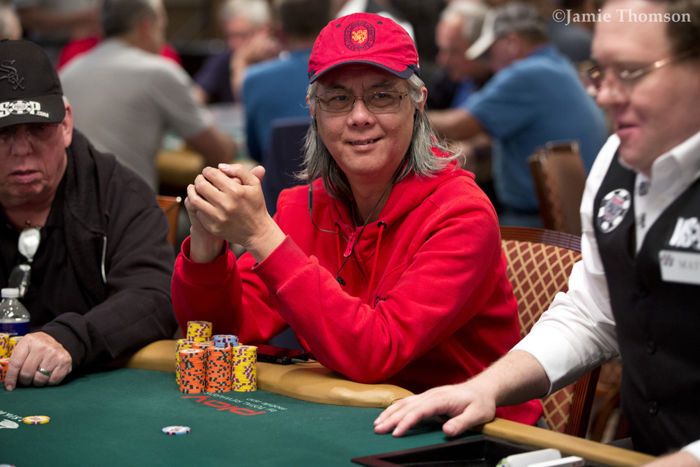 Event #31: $1,000 Seniors No-Limit Hold'em Championship started with a record-breaking field of over 5,000 players but, after two full days of play, just 67 runners remain. At the top of the pack is Dan Heimiller, winner of this event in 2014. Heimiller is the only player over one million in chips. Second place Eluterio Rodriguez is just under seven figures with 983,000.
Two Canadians managed to battle their way through to Day 3. The top Canadian is Kam Low, who'll unbag 498,000 chips to start Day 3. Thomas Symonds isn't that far behind him with a bag full of 447,000 chips. A total of 39 Canadians cashed out on Day 2, with 9 more cashing out late on Day 1. The top Canadian cashers so far are Milton Tenenbein who finished 82nd for $5,473, Cameron Kirkpatrick in 92nd for $4,676, and Bill Thomson in 101st for $4,030.
Lam and Symonds, along with the rest of the field, hit the felt for Day 3 action at 11 a.m. Sunday.
Howard Smith Leads $1,500 Omaha Hi-Lo 8 or Better Mix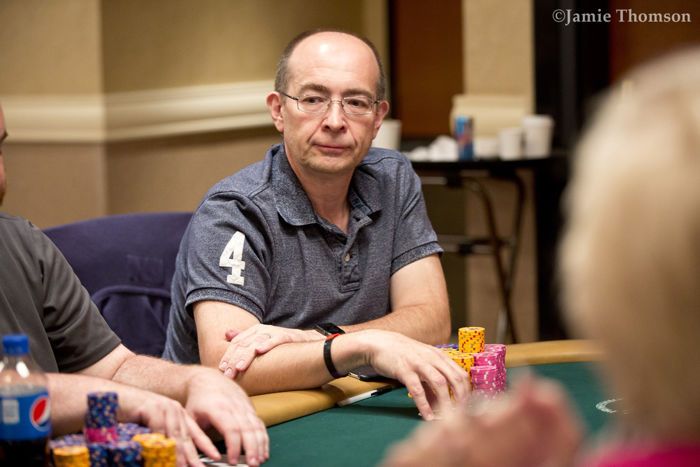 After two days of play, just 29 players remain from the original 688 in Event #32: $1,500 Omaha Hi-Lo 8 or Better Mix. When play resumed at the start of Day 2, 224 players were still in contention, including several Canadians. While none of the Canadians made it through to Day 3, Day 2 saw three maple leaves go up on the Event #32 payout list.
Danny Scott lead Canadians into Day 2, but he was the first Canadian to cash, finishing in 100th for $2,286. Ryan Smith and Steve Worr both made it a little farther, with Worr ending in 86th for $2,286 and Smith collecting $2,367 for 82nd.
The final 29 players are led by Howard Smith from the United Kingdom with 466,500, but American Erle Mankin is nipping at his heels with 465,000. Alan Kessler and John Racener will also both bring short stacks into Day 3 play, which starts at 2 p.m. Sunday.
Noah Vaillancourt Leads Four Canadians Into Day 2 of $1,500 No-Limit Hold'em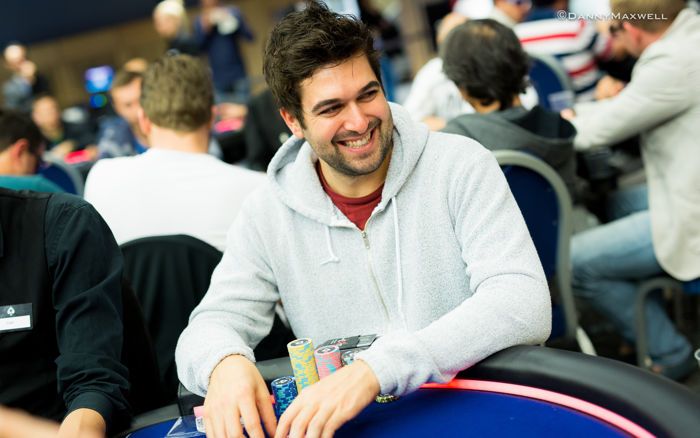 Nearly 1,700 players sat down at the felt to try their hand at Event #33: $1,500 No-Limit Hold'em on Day 1, but when the smoke cleared and the last hand was dealt, just 274 players remained. At the top of that list is Valentin Vornicu with 198,000.
Four Canadians made it through the Day 1 fray, with Noah Vaillancourt leading the way. He bagged the 12th biggest stack at the end of Day 1 with 121,000 chips. Joining Vaillancourt on Day 2 will be Jaroslaw Jaskiewicz, Scott Davies, and Dominick French.
Players returning on Day 2 will still have a little work to do before their payday. Only 255 players get paid from this tournament, so 19 players on Day 2 will still go home empty handed. Cards go in the air at noon pacific time.
Chris Kruk Leads Three Canadians into Day 2 of 2-7 Championship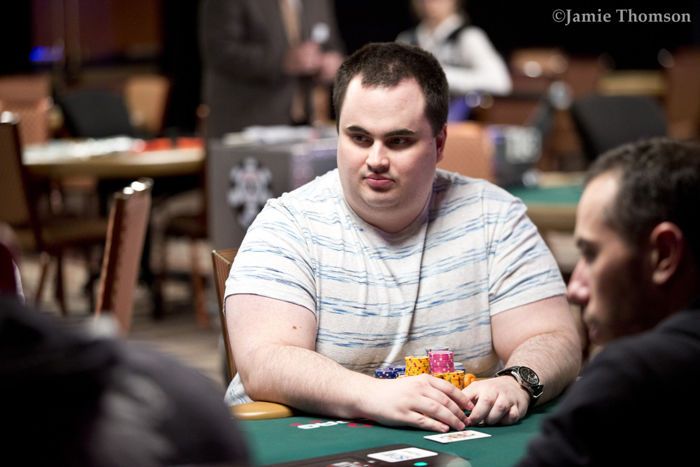 After an initial field of 80 players, Day 1 of Event #34: $10,000 Limit 2-7 Lowball Triple Draw Championship played down to just 26 players remaining. Three Canadians made it through Day 1, bagging stacks at the end of the day, two of whom are in the top five in the chip counts. Chris Kruk bagged the third biggest stack with 264,500 while Mike Watson amassed 261,500 through the day for fourth place. The other Canadian to make it through is Shawn Buchanan who'll start Day 2 with 167,500.
At the top of the counts coming back is Adam Owen of the United Kingdom. He'll bring 336,000 back into play, while Australian Robert Campbell will stack up 291,000. As befits a Championship event, Day 2 is littered with big names. James Obst, David Benyamine, Anthony Zinno, Lyle Berman, Nick Schulman, Shaun Deeb, Mike Matusow, Cary Katz, and Todd Brunson will all have stacks in play on Day 2, fighting for one of the 12 paying spots.