WSOP Day 19: Canadians Make Up One-Third of $10K 2-7 Triple Draw Championship Final Table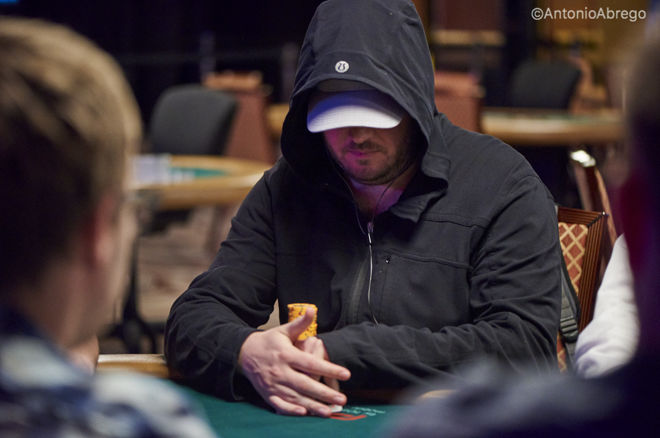 This Sunday was Day 19 of the 2017 World Series of Poker (WSOP). The annual poker tournament series in Las Vegas is the world's largest. Players from all around the world fill the halls of the Rio All-Suite Hotel & Casino looking for one of the 74 coveted gold bracelets that will be awarded to each winner.
On Day 19, seven different tournaments were active with two bracelets awarded. Here's a look at the action with an eye on the Canadian contingent:
Raina Wins First Bracelet on Extra Day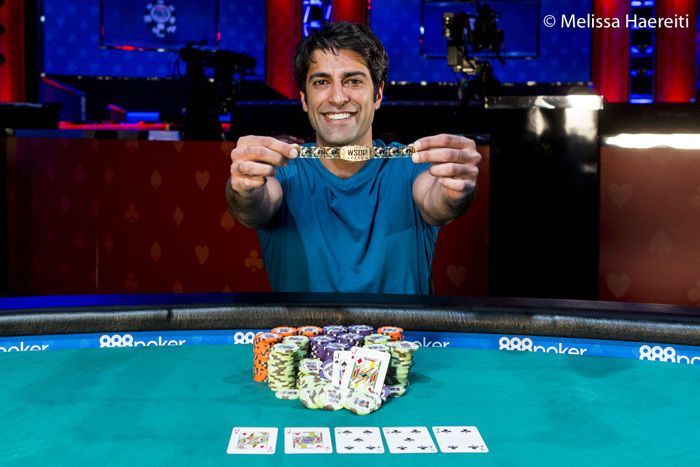 With an unscheduled Day 4 tacked on to Event #29: $2,500 No-Limit Hold'em, just two players remained. American James Calvo returned with better than a two-to-one chip lead over fellow American Guarav Raina.
Action kicked off and, after 78 more hands of heads-up play, Raina overcame his chip deficit and scooped the win, earning $456,822 and his first bracelet while Calvo settled for a runner-up prize of $282,276.
Shchemelev Wins Second Bracelet on International Final Table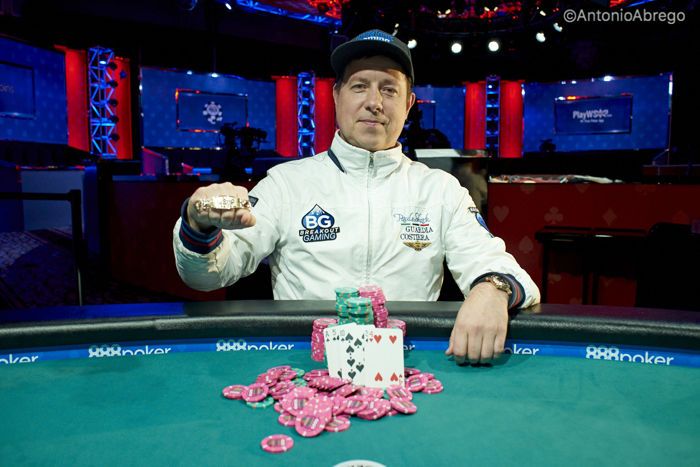 The other bracelet awarded on Sunday was in Event #32: $1,500 Omaha Hi-Lo 8 or Better Mix. The final day saw 29 players return to the tables with no Canadians among them. Usually events are dominated by Americans, bot nobody from the host nation made it past seventh place. The top six places were filled by players from China, the U.K., and Russia.
The win ultimately went to Russian Vladimir Shchemelev for $193,484 and his second WSOP bracelet four years after winning his first.
Two Canadian Seniors Finish on Day 3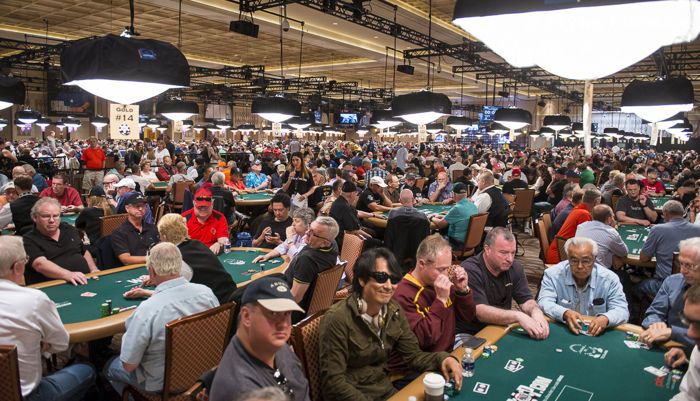 While most events are scheduled to take place across three days, Event #31: $1,000 Seniors No-Limit Hold'em Championship still had 67 players returning on Sunday's Day 3. By the end of the day, just the final table of nine players remained.
Two Canadians still had chips on Day 3, but Thomas Symonds was eliminated in 27th place for $20,890 and Kam Low didn't make it much further, bowing out in 22nd for $20,890.
The final table is an all-American affair with Dan Heimiller headlining the roster. He sits fourth in chips with 2,970,000 while Mark Lillge leads with 5,300,000. They'll play down to a winner on Monday.
Vaillancourt Makes Final Day of $1,500 Hold'em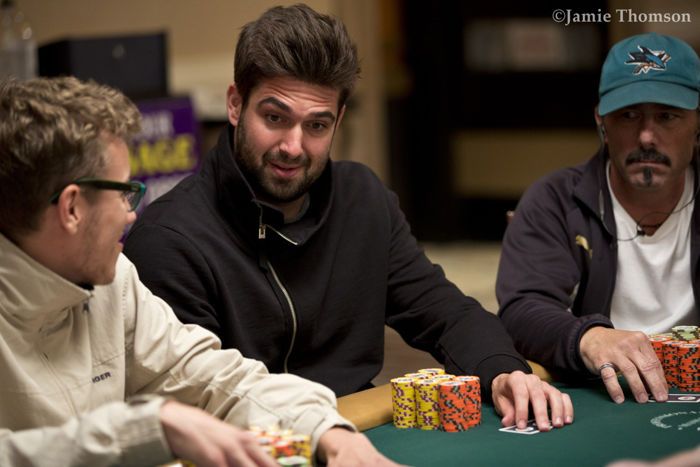 The second day of Event #33: $1,500 No-Limit Hold'em reduced 274 returning players to just 22 with all of them well into the money.
The money bubble burst early in the day and players started lining up to collect their payouts as they were eliminated. Falling along the way were Canadians Terrence Meek (216th — $2,320), Dominick French (163rd — $2,572), Griffin Benger (162nd — $2,572), Jaroslaw Jaskiewicz (131st — $2,766), and Martin Messier (104th — $3,016).
American Ryan Leng leads the field going into the final day with 1,370,000 chips. The one Canadian remaining is Noah Vaillancourt (568,000) sitting about in the middle of the pack.
Watson and Buchanan Make Final Six of $10K 2-7 Triple Draw Championship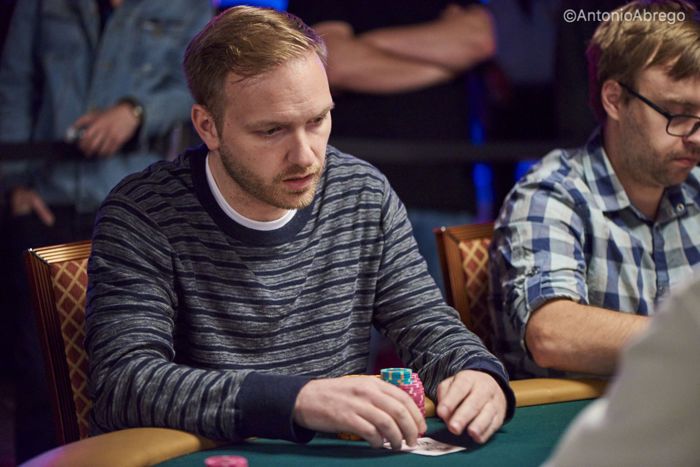 Also playing out Day 2 on Sunday was Event #34: $10,000 Limit 2-7 Lowball Triple Draw Championship. Just 26 out of the 80 total entries returned for Day 2, and only six remain for Monday's Day 3.
Of the final six, two Canadians are still in contention for the bracelet. Mike Watson sits third in chips with 750,000 and Shawn Buchanan has 437,000 in fifth place. Shaun Deeb leads the way with 1,125,000 and Nick Schulman (865,000), Ben Yu (566,000), and Mike Matusow (363,000) will also be back for the final table, making for a very talented lineup.
Super Seniors Get Their Turn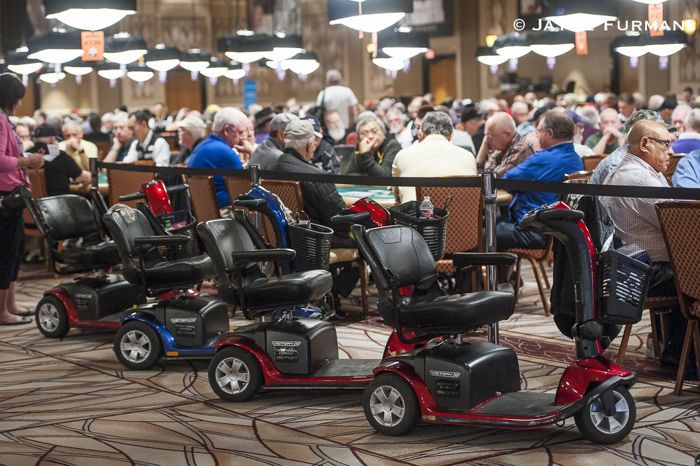 With the Seniors Event nearing its end, Event #35: $1,000 Super Seniors No-Limit Hold'em got started on Sunday. With the age requirement set at 65 years old, 1,720 entries were accumulated throughout the day. By the end of the day, just 258 remained.
Leading the way is American Johnny Landreth with 262,800 chips. Albert Hahn has the top Canadian stack with 77,700, followed fairly closely by Jon Whitters with 69,900.
The day finished as the money bubble burst, so all 258 players are guaranteed a payout of at least $1,502 when play resumes on Monday.
Leah Bags Big Stack in $5K 6-Max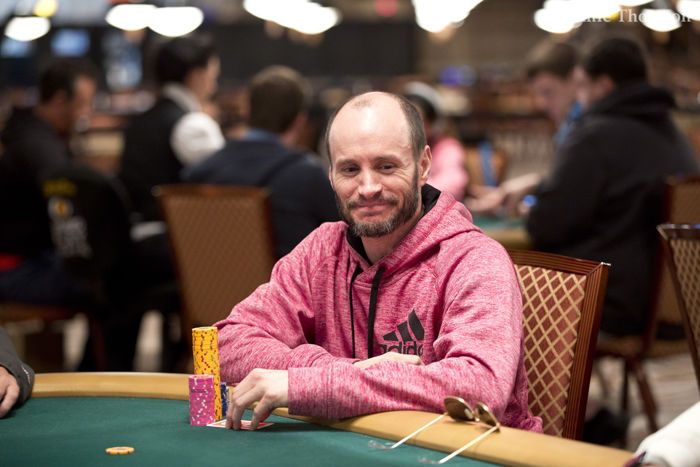 The other tournament to get started on Sunday was Event #36: $5,000 No-Limit Hold'em 6-Handed. There were 574 entries to the tournament and 191 of them survived the day.
The top stack belonged to American Faraz Jaka at the end of the night with 255,400. The top Canadian was Mike Leah (161,000) sitting eighth-best. Tanveer Dhanjal (119,600), Shyam Srinivasan (63,500), Pablo Mariz (59,600), Michael Gentili (53,200), Jonathan Cohen (44,300), and Daniel Negreanu (37,000) are also all still in the running for Canada.