WSOP Day 21: Multi-Tabling Mike Leah Cashes Three Events in One Day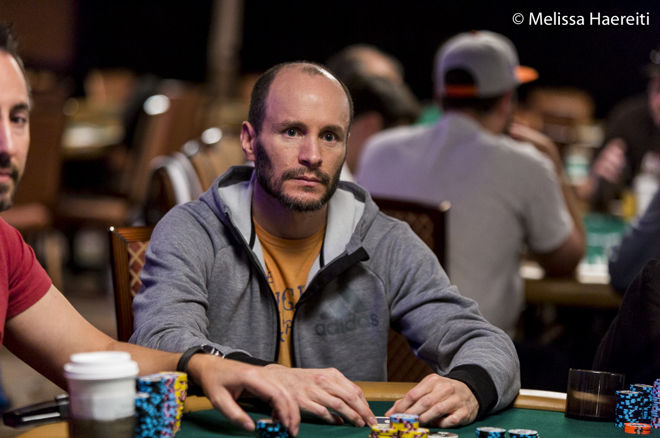 This Tuesday was Day 21 of the 2017 World Series of Poker (WSOP). The annual poker tournament series in Las Vegas is the world's largest. Players from all around the world fill the halls of the Rio All-Suite Hotel & Casino looking for one of the 74 coveted gold bracelets that will be awarded to each winner.
On Day 21, six different tournaments were active with two bracelets awarded. Here's a look at the action with an eye on the Canadian contingent:
Incredible Back-to-Back Wins for Moore in Super Seniors
In fields as large as those at the WSOP, it's incredibly hard to win tournaments. But James Moore won Event #35: $1,000 Super Seniors No-Limit Hold'em for the second year in a row!
After winning his first bracelet in the very same tournament last year, Moore felt he got lucky and started to work more seriously on his game. It paid off, as he collected his second bracelet and $259,230 for the repeat win.
The final day on Tuesday saw 22 players return to the tables, including Jon Whitters as the sole Canadian. Unfortunately, he had a short day, ultimately finishing in 21st place for $8,004.
Jaka Leads $5K 6-Max Final Table
Event #36: $5,000 No-Limit Hold'em 6-Handed is down to a final table of six. With just 18 players returning to the tables, play paused when 12 of them were eliminated so the final table could be streamed live online on Wednesday.
American Faraz Jaka leads the final six with 3,150,000 chips. Canada's own Mike Leah was in the mix on Day 3, but he had a short day, finishing in 17th place for $24,799.
Three Canadians Among Top 20 in $1K Hold'em
The second day of Event #37: $1,000 No-Limit Hold'em shrank the field from 238 players to 20. Two Canadians are still in contention in the middle of the field (Reginald Hampton with 298,000 and Li Fu with 282,000) and a third is Ryan Smith with the shortest stack (107,000). Leading overall is American Chris Johnson with 1,242,000.
Mike Leah found his second cash of the day here in 105th place for $2,182.
Chan, Mizzi, and Negreanu in Final Day of $10K Limit Championship
Another tournament heading into the final day is Event #38: $10,000 Limit Hold'em Championship where just 15 remain out of the 41 who began the day. While American JC Tran leads the field with 1,150,000, Canadians fill spots two, three, and six.
Terrence Chan (831,000), Sorel Mizzi (641,000), and Daniel Negreanu (425,000) are all carrying big stacks to Wednesday's Day 3. One other Canadian began the day, but Mark Klecan was eliminated before the money.
Palevic Wins One-Day Bounty Event
Action was rapid-paced in Event #39: $1,000 No-Limit Hold'em Super Turbo Bounty. The tournament started on Tuesday and played all the way down to a winner in 14 hours of play. The final table only took a little over an hour!
There were 1,868 entries and the 20-minute blinds expedited the process, and the bounties also helped send people to the exit quickly. The top Canadian finish came from Alan Symonds who managed 28th place for $4,692. Greg Mueller (56th — $2,708), Sam Chartier (70th — $2,308), Justin Oliver (126th — $1,374), and Mike Leah (252 — $998), who found his third cash on the same day, were some of the other Canadians who cashed the speedy tournament.
Coming out on top was Sweden's Rifat Palevic who collected $183,903 and his first bracelet.
Watson Leads Canadians in $1,500 Stud-8
Kicking off on Tuesday was Event #40: $1,500 Seven Card Stud Hi-Lo 8 or Better. A final tally of 595 players made for a five-year high for this particular tournament. By the end of the day, 176 players had chips to bag for Wednesday's Day 2.
As you'd expect in a limit tournament, the stacks are fairly even. American Jeff Madsen leads the way with 79,900 chips. Canada's Mike Watson also survived the day, counting out a total of 39,700 chips at the end of play. Mike Leah (22,400), Joshua Mammon (19,300), and Danny Scott (12,000) will also be carrying the maple leaf forward to Day 2.