WSOP Day 29: Florence Has Heaps for Final Day of $1,500 No-Limit Hold'em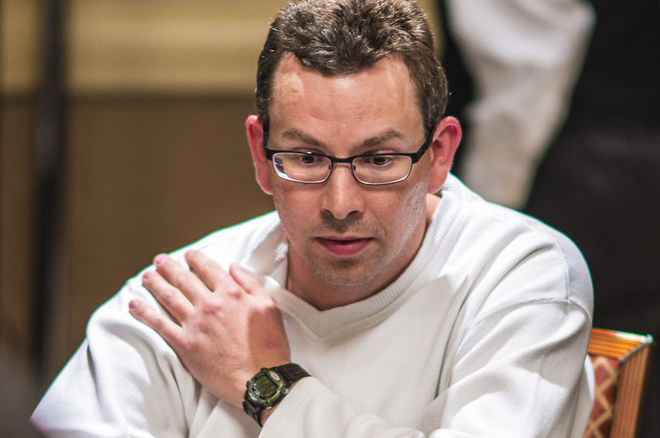 This Wednesday was Day 29 of the 2017 World Series of Poker (WSOP). The annual poker tournament series in Las Vegas is the world's largest. Players from all around the world fill the halls of the Rio All-Suite Hotel & Casino looking for one of the 74 coveted gold bracelets that will be awarded to each winner.
On Day 29, seven different tournaments were active and two of them were on their final day and awarded bracelets. Here's a look at the action with an eye on the Canadian contingent:
Yoon Wins Monster Bracelet and $1.1 Million
There were just 20 players remaining on the final day of Event #47: $1,500 No-Limit Hold'em Monster Stack with Canadian Scott Montgomery among them, returning to the tables with the fifth-largest chip count. However, he had a tough start and found himself eliminated in 18th place for $47,353.
The win went to the most accomplished player remaining on the final day. American Brian Yoon had already posed for a winner's photo twice before at the WSOP, and he did so for the third time on Wednesday, earning $1,094,349. He now has more bracelets than wrists to wear them on.
Lafleur Falls Just Short of $1,500 Bounty Final Table
Originally scheduled to come to a conclusion in three days, Event #50: $1,500 No-Limit Hold'em Bounty will require a fourth day to determine a winner, and only five players are still in contention.
The day began with three Canadians still in play out of the 29 players who returned, but all of them were in control of small stacks. The first elimination of the day was Canadian. Stephen Docking collected $6,854 for finishing 29th. Maxim Babko survived a little longer, collecting $8,428 for 24th. The final countryman was Sammy Lafleur who just fell short of the final table, earning 11th-place money of $16,728.
American Bryan Emory leads the final five with 6.13M chips, which is well in front of second-best James Gilbert with 3.3M. They'll return on Thursday to play down to a bracelet winner.
Krueger Takes Fifth in $10K PLO-8 Championship
The other event to come to a conclusion on Wednesday was Event #51: $10,000 Pot-Limit Omaha Hi-Lo 8 or Better Championship. The day began with 15 players and Canada's Quentin Krueger returned with the fourth-best chip count.
Krueger went on to carry that momentum to the final table, but ultimately fell in fifth place for $107,709. The winner was American Bryce Yockey who pocketed $511,147 and his first gold bracelet for the victory.
Florence Has a Top Stack in $1,500 No-Limit Hold'em
The second day of Event #52: $1,500 No-Limit Hold'em began with Canada's Jean-Pascal Savard sitting in sixth out of 246 players. The day ended with 23 remaining and a different Canadian bagging a big stack. James Florence has a second-best chip count of 1,284,000 which is just barely behind chip leading American Samuel Phillips with 1,289,000. Canadian Lorne Wechsler is also still in the running, bagging 220,000 at the end of play.
While Savard wasn't able to turn his big stack into a Day 3 appearance, he did make it through the money bubble, collecting 77th-place money of $4,018. Benny Chen (92nd — $3,177) and Will Molson (150th — $2,654) were just a couple of the other Canadians who collected a payout in this event.
Radoja Misses Final Day of $3K Limit Hold'em 6-Max
Another tournament moving onto Day 2 on Wednesday was Event #53: $3,000 Limit Hold'em 6-Handed. Just 73 players remained with three Canadians still in the mix but a long way from the money still, as only the top 39 were guaranteed a payout.
The day concluded with seven surviving players, led by the U.K.'s Max Silver with 1,021,000. Just one Canadian was still in play when the money bubble burst. Mark Radoja made it as far as 14th before he was eliminated, collecting $7,821.
$10K PLO Championship Sets New Record
The first of two tournaments to begin on Wednesday was Event #54: $10,000 Pot-Limit Omaha 8-Handed Championship which proved to be the largest $10K PLO Championship in history with 428 entries. After 10 levels of play, 186 players remained.
American Sorin Drajneanu leads the way with 469,700 chips. Canadians Maxim Babko (149,900), Jaspal Brar (144,000), Jean Ferreira (93,000), Eric Cloutier (93,000), and Kurt Fruchtman (52,700) are also still in the field.
A few of our nation's best also entered the tournament but didn't survive the day, including Mike Watson, Sam Chartier, Shawn Buchanan, Sam Greenwood, and Daniel Negreanu.
Hickey Finds Good Start in $1,500 Stud
Also getting started on Wednesday was Event #55: $1,500 Seven Card Stud where 298 entries were reduced to 68 in the course of the day. Canadian Wesley Hickey bagged a seventh-best stack of 58,400 chips while Bryan Slick of the U.K. leads with 92,400. Mike Leah, Paul Sokoloff, and Daniel Negreanu also bought a starting stack in the tournament but were eliminated.