WSOP Day 7: Negreanu Just One Away From a Bracelet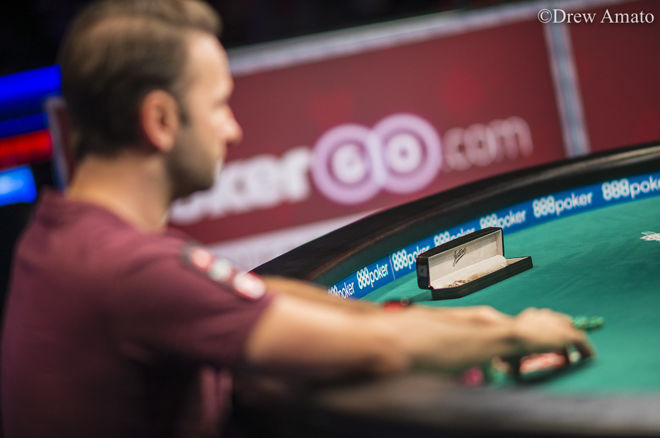 The first week of the 2017 World Series of Poker (WSOP) has passed and we haven't seen a Canadian win yet, although Daniel Negreanu came very close earlier in the week and is now in great position to get bracelet number seven.
Negreanu is One of Two Players Remaining in $10K Omaha-8 Championship
Just two players remain in Event #9: $10,000 Omaha Hi-Lo 8 or Better Championship, and one is Canadian Daniel Negreanu looking for his seventh WSOP win.
The tournament was scheduled to conclude on Tuesday, but a marathon battle between the final three players pushed the Omaha-8 Championship to an unscheduled Day 4 on Wednesday where Negreanu and Abe Mosseri will battle for the win.
Seventeen players began the day and names like Dan Shak (16th — $16,958), Max Pescatori (15th — $19,918), David "ODB" Baker (14th — $19,918), Mike Matusow (eighth — $37,361), Anthony Zinno (seventh — $48,287), and Fabrice Soulier (fourth — $119,109) all collected their payout as they were eliminated.
When play reached three-handed, it took five and a half hours to eliminate another player, with all three swapping the chip lead. Yarron Bender had a flight to catch at 6 a.m., so an extra level was added to the night, which was enough to eliminate Bender in third place. About half an hour of heads-up play finished off the night, but more time is needed.
Mosseri will return on Wednesday with the chip lead, holding 5,135,000 chips. Negreanu will have some ground to make up with 2,575,000 in play. Play will resume at 2 p.m. PDT.
All-American Colossal Final Table
The largest (by entries) tournament of the series played down to a final table. Event #5: The Colossus III - $565 No-Limit Hold'em resumed with 41 players still in action on Day 3. The day concluded with American Erkut Yilmaz leading the final nine players with 16 million chips.
There were no Canadians still remaining by Day 3, and the final table is made up of all Americans. Matt Affleck would be the best-known of the bunch, but he has the short stack going into the final table on Wednesday, hoping to earn that $1 million first-place prize.
$1K Tag Team Reaches Final Table
The WSOP turned poker into a team sport with Event #10: $1,000 Tag Team No-Limit Hold'em. Teams of two to four players swap in and out of the action seat, sharing the same stack. Tuesday was Day 2 of the event, and it ended with nine teams remaining.
The final nine was whittled out of the 94 that began the day the team of DJ MacKinnon and Esther Taylor managed to build a commanding chip lead, bagging 908,000 chips for the final day on Wednesday. The second-best stack is significantly less with 626,000 belonging to Kirly Radzivonau and Mikhail Semin.
Play will resume at noon on Wednesday and continue until bracelets are won, along with the $150,637 first-place prize.
$1K Dealers Choice Finds All-American Final Table
For players who have a broad knowledge of games, Event #11: $1,500 Dealers Choice 6-Handed resumed on Tuesday with Day 2. There were 89 players out of the 364 that entered the event, and a final table of nine were all that remained by Tuesday night.
No Canadians were in the field on Tuesday, and the final table is another all-American affair with David Back leading the pack with 798,500 chips. He'll be looking for his second WSOP bracelet while Brandon Cantu is still in the running for his third, though he has a short stack of 131,500 chips to work with. Play will resume at 2 p.m. PDT.
A Dozen Canadians Make $1,500 Hold'em Day 2
A staple of the World Series of Poker are the several $1,500 hold'em events. Event #12: $1,500 No-Limit Hold'em was the first of the series, and it received 1,739 players as it began on Tuesday. Just 275 of them survived the day.
Ben Heath of the U.K. bagged the chip lead with 160,800. Canada's Jean-Pascal Savard also had a successful Day 1, counting out a day-end total of 66,700. Countrymen Mike Leah (56,700), Norman Shapiro (56,700), Pascal Monarque (46,400), James Fenn (44,100), Eric Vallee (43,200), Christopher Kruk (39,000), Ko Maddock (30,800), James Pavlick (20,000), Patrick Musyj (17,500), and David Elfan (16,900) also made it through.
When play resumes at noon on Wednesday, the tournament will be just 14 players away from the money, ensuring the bubble will burst early in the day and players will start collecting payouts.
Stacked Field Headed to No-Limit 2-7 Day 2
Another tournament to get started on Tuesday was Event #13: $1,500 No-Limit 2-7 Lowball Draw. Often called the "purest form of poker," 266 players took a shot. After 10 one-hour levels, 50 of them still had chips.
American Alex Foxen leads the field going into Day 2 with 147,850, and many other big names have dangerous stacks like Benny Glaser (56,000), Michael Gathy (55,500), Rep Porter (52,625), Phil Hellmuth (46,000), and JC Tran (45,000).
Canadian Adam Crawford will carry 34,000 forward, but countrymen Mike Leah, Idris Gencoglu, and Steven Klein were unable to survive the day.