Canadian Attendance Rises for 2017 WSOP, One Bracelet Won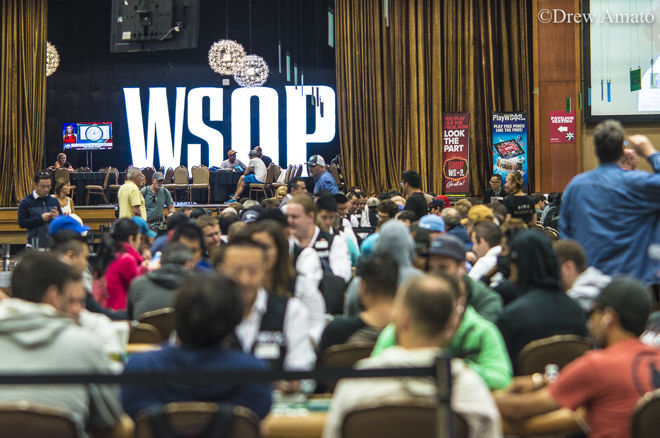 With no Canadians at the most prestigious of final tables, the series is over for Canada. Just the final nine players remain in the Main Event of the 2017 World Series of Poker (WSOP), with those finalists returning on Thursday to begin their three-day battle for poker's highest title.
So we're calling it. That's it for 2017, Canada. Now let's look back at the numbers for the series to see how it stacks up to previous years.
Most importantly, how many bracelets were won by Canadians? Just one.
Montreal's Pablo Mariz began the summer as a little-known player with just under $40,000 in tournament winnings, like a thousand other poker players across the country. He showed up in Vegas for the WSOP in June and left one month later with another $1,322,202 in winnings.
This didn't just happen in one event, however. Mariz came out of nowhere and showed consistent deep runs in the series. He first got attention when he finished runner-up in the $1,000 Tag Team event. He collected $46,537 for finishing second there. But soon after he found himself heads up once again, this time in the Millionaire Maker. He closed the deal on his second attempt, winning Canada's only bracelet of the summer and $1,221,407. But he very nearly made a third final table in the $888 Crazy Eights event. He finished 13th there for $41,233. He also had three other small cashes in the series and one more at a Deepstack Extravaganza event over at The Venetian.
Canada won just one bracelet last year as well, accomplished by Kristen Bicknell. The year prior was a four-bracelet summer, which followed the year we bricked and got the big egg. 2013 seems like a distant memory — the year the poker world took notice of our country when we won 10 events.
WSOP By the Numbers
| Year | Total Entries | Countries Represented | Bracelet Events | American Entries (Bracelets) | Canadian Entries (Bracelets) |
| --- | --- | --- | --- | --- | --- |
| 2017 | 120,995 | 111 | 74 | 94,087 (49) | 4,951 (1) |
| 2016 | 107,833 | 107 | 69 | 84,027 (52) | 4,586 (1) |
| 2015 | 103,512 | 111 | 68 | 82,439 (46) | 4,871 (4) |
| 2014 | 82,360 | 107 | 65 | 78,165 (51) | 6,045 (0) |
| 2013 | 79,471 | 106 | 62 | 57,040 (41) | 4,118 (10) |
Overall, this was the largest WSOP yet. We seem to say that just about every year. Of course it helps that they keep adding events. The 2017 series had five more than last. A total of 74 bracelets were up for grabs. That caused a 12.2% inflation in the total entries to 120,995 across the series.
Some other highlights from the stats include the fact that 111 different countries were represented (up from 107 last year but the same as the 111 in 2015). A total of 16,814 players earned prize money, with the total awarded coming to $231,010,874, a WSOP record.
Looking at the Canada-specific stats, 2017 broke a two-year decline in Canadian entries at the WSOP. We fielded a total of 4,951 entries across the series, which is the highest since 2014 when it was a whopping 6,045. As per usual, we had the most players of any country outside of the dominating host nation of the United States.
When looking at Canadian attendance as a percentage of the total field, the fall continues.
However, when looking at Canadian attendance as a percentage of the total field, the fall continues. The rise in attendance comes with the increased number of events and the increased overall attendance. Canadians made up just 4.1% of entries this year, down from 4.3% in 2016, 4.7% in 2015, 7.3% in 2014, and 5.2% in 2013.
In addition to the aforementioned bracelet won by Mariz, there were some great Canadian results across the series. While the Player of the Year race isn't solidified yet due to the Main Event still to conclude, Daniel Negreanu sits in eighth after collecting 11 cashes. Many of them were final table finishes. He was runner-up in the $10,000 Omaha Hi-Lo Championship, finished third in the $10,000 Tag Team Championship, fifth in the $50,000 Poker Players Championship, and sixth in the $10,000 H.O.R.S.E. Championship.
Mike Leah also sits 15th in the POY after an incredible 14 cashes. His deepest was for seventh place in the $10,000 No-Limit 2-7 Single Draw Championship. Mariz sits in 19th after his breakout summer that we detailed above. Thomas Taylor also had a good run, finding himself 29th in the POY after cashing 11 bracelet events. Mark Radoja cashed nine events, climbing his way to 36th on the POY.
2017 WSOP Main Event Finalists
Just nine players remain in the hunt for the title of World Champion. Having made the final table, they're all guaranteed to collect at least $1 million, but the winner will cash out for $8.15 million. Learn more about the nine players with these profiles on each of them:
2017 WSOP Main Event Broadcast Schedule
Action will resume Thursday evening, July 20. As usual, ESPN will be broadcasting coverage of the final table live for poker fans to follow all of the action. To watch in Canada, TSN is sharing the broadcast. Here's where you can watch the final table in Canada:
| Date | Time (ET) | WSOP Main Event | TSN Channel |
| --- | --- | --- | --- |
| Thursday, July 20 | 9 pm. - 12 a.m. | Final 9 - 6 | Join in progress on TSN2 at 9:30 p.m. |
| Friday, July 21 | 9 - 11 p.m. | Final 6 - 3 | TSN2 |
| Saturday, July 22 | 9 - 11 p.m. | Final 3 - Champion | TSN2 |