WSOP Final Table Profile: Bryan Piccioli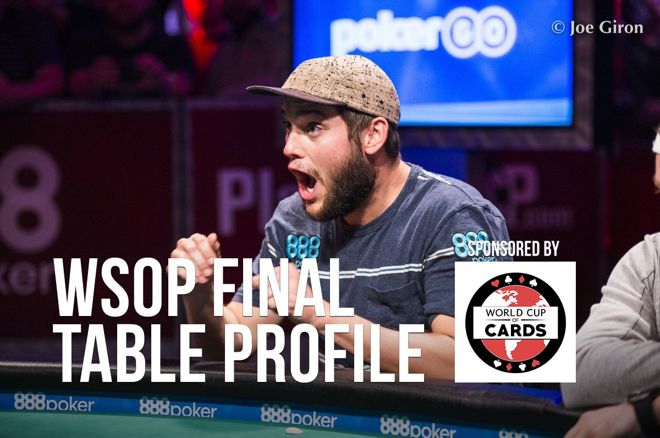 Brought to you by the World Cup of Cards, this summer's NEXT great poker festival, hosted by Playground Poker Club and partypoker LIVE. This year's WCC features over $6,000,000 in Guaranteed Prize Pools including a full range of Hold'em tournaments, Omaha, Mixed and other types/formats - plus a trio of events with a buy-in over $5,000! Join us from August 13th to September 13th for a month of events promising variety and a ton of value for your poker-playing dollar.
BRYAN PICCIOLI FINAL TABLE PROFILE
Chip Count: 33,800,000
Hometown: Allegany, N.Y. (now San Diego, California)
Twitter: @theczar19
Age: 28
Seat: 8
The road to the World Series of Poker Main Event final table is paved with plenty of skill but also some good fortune. Late in Day 7 and down to the final 10 players, Michael Ruane moved all in for 17,300,000 chips from middle position. Bryan Piccioli looked down at


and had a major decision to make. With not quite as any chips as Ruane, his tournament life and a chance at the final table was on the line. He tanked on the button for a couple of minutes before making the call.
Ruane, who is a friend of Piccioli's, tabled


. Piccioli was precariously ahead, but had some cards to dodge. The flop came



. The turn brought the

and the river the

. Piccioli doubled to about 34,000,000 and Ruane was crushed – soon to be eliminated in 10th place. The results of the hand brought out plenty of emotion, and was a massive moment on the final table bubble.
"I'm still here. I'm still alive. That's all you can really ask for."
"I didn't want to be there in that spot against one of my good friends, but as Daryll Fish said after the hand when I came over, 'the game is the game,'" Piccioli said after the day's action. "That's just the perfect description. You don't get here to not play the game."
A former student at the University of Buffalo, Piccioli left school to pursue a career on the poker felt. He has more than $1.9 million in live tournament winnings along with more than $6 million online, and has several five- and six-figure scores. Piccioli's bracelet came in the 2013 WSOP Asia-Pacific $1,100 No-Limit Hold'em Accumulator, where he took home $221,419. He added another nice win in 2015 at the WPT Five Diamond World Poker Classic $5,200 No Limit Hold'em event for $166,047.
Last year, he notched a big third-place finish in the $7,500 WPT Bay 101 Shooting Star Championship at Bay 101 for $493,350. At the WSOP, Piccioli has $566,713 in earnings, but that is about to balloon upward. With a two-day break before the final table begins on Thursday, Piccioli is excited about the chance to catch up on some sleep and eat a few nice meals.
"I'm very excited about the two days," he said. "I haven't really had a full meal or slept more than three or four hours in close to a week. I'm ready to just get a good night's sleep, eat some food for the next couple days, and then hopefully win the poker tournament that I'm playing right now. That's the plan."
This is the third consecutive year Piccioli has cashed in the Main Event, finishing 84th in 2016 and 958th in 2015. On reaching the final table he notes: "I'm still here. I'm still alive. That's all you can really ask for."
HOW HE GOT HERE
| Day | End-of-Day Chip Count | Rank |
| --- | --- | --- |
| 1 | 145,100 | 233/5,519 |
| 2 | 173,600 | 752/2,572 |
| 3 | 286,000 | 477/1,084 |
| 4 | 1,994,000 | 47/297 |
| 5 | 5,400,000 | 25/85 |
| 6 | 14,500,000 | 10/27 |
| 7 | 33,800,000 | 4/9 |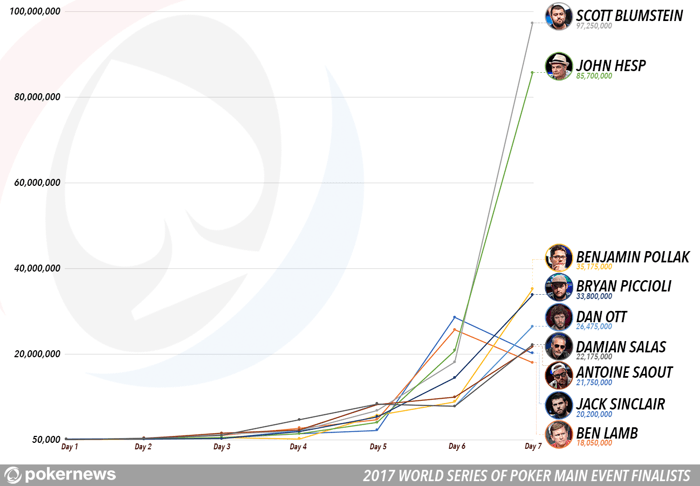 KEY HAND
On Day 7 with blinds at 300,000/600,000, a massive hand developed with only 11 players remaining that kept Piccioli alive in the tournament. With action folded around to him, he picked up


on the small blind and moved all-in for his last 8,650,000. From the big blind, Antoine Saout had considerably more chips and made the call with


.
"I had been grinding a short stack for a long time," he said. "I had two eights, which looked like aces to me at the time. So there was only one move; I moved in. I don't want to say I was hoping for a call, but I knew that I was near the top of my range at that point. I need chips now before later. So as soon as he shrugged and called, I almost knew that I was ahead. He doesn't shrug and call with a pair bigger than eights.
"I was like, 'alright, let's dodge three outs.' And then the flop comes



and I was thinking, 'alright, well, that's it. That's the end. Eleventh place for $675,000.' So I'm just sitting there waiting for the next couple cards to peel off."
The turn brought the

which helped neither player. Piccioli was dead to only one of the two remaining eights in the deck. The river? The dealer turned the

and Piccioli hit the two-outer for his full house. He jumped up in celebration as the rail erupted and he went over to celebrate. The famine-to-feast moment gave him a double-up and propelled him on to the final table.
WHAT TO WATCH FOR
Piccioli fits the mold of the online pro who plays optimally in every situation during a tournament, whether chip leader or short stacked. He was patient in the later stages of this tournament, picking his spots well and chipping up when the proper time presents itself. Expect much of the same when play resumes on Thursday.
Piccioli has been on the big stage before, winning a bracelet in Australia and playing under the bright lights of the World Poker Tour. The pressure won't phase him, which gives him an edge over several of the 'July 9' seated beside him.