PokerNews Op-Ed: Let's Have Some Fun at the WSOP Already!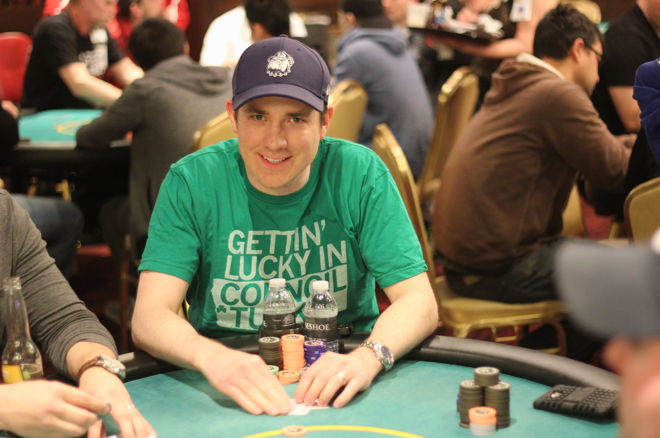 It's tough out there in the poker economy! PokerStars killed its online rakeback, Chris Ferguson is near the top of the WSOP Player of the Year standings, and I never bought any Ethereum. Meanwhile, this year at the WSOP, I've seen more incidents of players berating dealers and other players than ever before—and I haven't even played a single hand with Phil Hellmuth.
The poker economy needs a continuous supply of new players, new ideas, and new perspectives. The best way to achieve these things is by attracting more players, and more recreational players.
Which do you think brings more recreational players to the World Series of Poker: Pros playing an entire tournament with a hoodie and earbuds, or wearing a polar bear costume? Brandon Shack-Harris knows the answer to that question! This year, he brought three boogie boards and a dozen beach balls to the "Fun in the Sun" $1,500 Dealer's Choice event. Also for the event, I showed up in swim trunks, goggles, and a rash guard. We played for 11 hours, but apparently the longest I can wear a swim cap for is eight.
What about doing birdcalls when you scoop a pot, or bringing a Bundt cake to share with everyone? Thanks, Randy Ohel. These are both fine ways to have fun while playing a poker tournament. If you ask nicely, you can even get rollerblading lessons at the final table of a $10K. (Unfortunately, the H.O.R.S.E. live stream didn't pick up that part!)
"We need more engaging players to bring more people into more games. And we need them to keep coming back."
Poker is a game, and games are supposed to be fun. Children (and some poker players) can have as much fun arguing about the rules of a game as playing it, as anthropologist David Graeber points out. But if recreational players come to the WSOP and and are subjected to this [arguing] and do not have fun, they will not come back. Having fun is unequivocally better than not having fun, so why on earth do so many poker players click "sit out"? It's even possible to have a good time playing a razz tournament, so there's really no excuse.
For many, perhaps the money being wagered is too meaningful to crack more than one smile per level. Bad beats, dealer mistakes, and simple preflop decisions are taken seriously and personally with too much at risk. These broke bad regs also slow the game to a crawl with tanking and squeezing. If you tank every hand, you aren't balancing your thinking range: you're killing our action. Seriously, just play better. Also, your mental state and bankroll need to be robust enough to withstand a bad river card without flying off the handle. Did you forget how you make money at poker? It doesn't happen because solid players make good decisions against you.
People show up at a casino to spend money because they want to be entertained. As a professional poker player, you are part of that entertainment. You're a feature, an attraction. People can't go play golf with Phil Mickelson or basketball with LeBron James, but anyone with a buy-in can be seated at the same table as Daniel Negreanu. So do what Daniel does: make people smile, and make sure they go home with a story.
We need more livestreams, more hole cards, more tweets, more mixed games, and more antics. But most importantly, we need more engaging players to bring more people into more games. And we need them to keep coming back.
You do not have to stop at a costume shop on the way to the Rio, but you do need to understand that you have a responsibility to make sure that everyone is having fun. The easiest way to do that is to commit to having fun yourself. You'll help keep the poker economy solvent and, you know, you'll get to have fun.