Action Clock Implemented for World Poker Tour Season XVI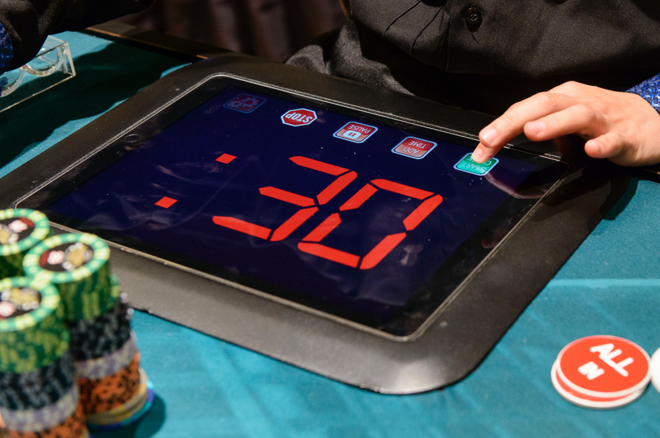 With the new season of the World Poker Tour right around the corner, the WPT announced on Thursday that it will be using a 30-second Action Clock during all Main Tour events. The new addition will begin at WPT Choctaw Aug. 4-8 and carry through the end of Season XVI.
The Action Clock, which was first introduced at the WPT Tournament of Champions in 2016, will be implemented into WPT Main Tour events one full table off the money bubble and remain in play until the conclusion of the tournament. Players will be limited to 30 seconds for each action, but will also receive time extension chips for use during difficult moments in the later stages of the tournament.
The full rules for the Action Clock, which was created by Protection Poker, can be found here.
The aim of the clock is to speed up the pace of play in WPT events, particularly around the money bubble and pay jumps. Stalling by players has been a topic of concern in the live tournament setting in recent years, and several tours have addressed it by experimenting with action clocks, also known as shot clocks. Now they will be commonplace on the WPT, at least for the upcoming season.
"The World Poker Tour is proud to be the first to implement the Action Clock across all of its Main Tour events," said Matt Savage, WPT Executive Tour Director. "Many players, both recreational and professional, have expressed concerns that unnecessary tanking has taken a lot of the fun out of poker. Poker should always be fun, and it was a no-brainer decision to bring the Action Clock to all WPT Main Tour events following its success in the WPT Tournament of Champions and WPT500 Los Angeles. With the Action Clock, more action equals more fun, and who doesn't want more fun in poker?"
Season XVI of the WPT kicks off early next month in Choctaw, Oklahoma with a $3,700 buy-in Main Event that carries a $2 million guaranteed prize pool. A full look at WPT domestic schedule for the rest of 2017 can be found here at PokerNews.com.