WSOP Day 39: The Main Event Begins!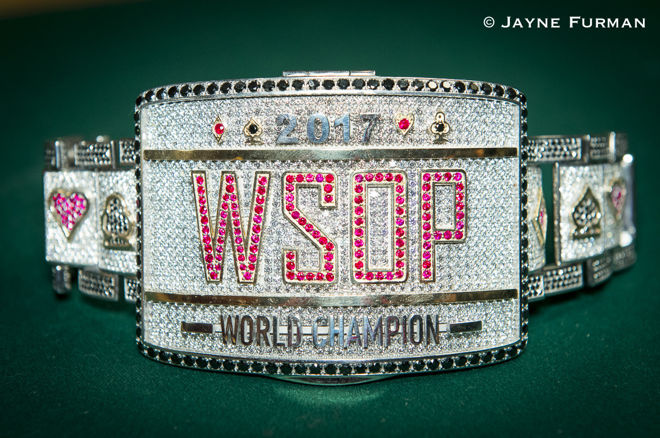 This Saturday was Day 39 of the 2017 World Series of Poker (WSOP). The annual poker tournament series in Las Vegas is the world's largest. Players from all around the world fill the halls of the Rio All-Suite Hotel & Casino looking for one of the 74 coveted gold bracelets that will be awarded to each winner.
On Day 39, seven different tournaments were active, including the start of the Main Event. Four of them were on their final day, awarding bracelets in each. Here's a look at the action with an eye on the Canadian contingent:
Klodnicki Finds Gold in $1,500 Hold'em
An extra day was needed for Event #66: $1,500 No-Limit Hold'em with just two players remaining to battle it out for the bracelet. American Chris Klodnicki and Jamaican Emile Schiff took their seats for a 61-hand duel with Klodnicki emerging the victor, earning his first bracelet and $428,423.
Gimbel Gets Gold in $3K Hold'em
There were still 37 players remaining for the final day of Event #68: $3,000 No-Limit Hold'em. It took nearly 14 hours to play down to a winner, and that winner turned out to be American Harrison Gimbel, collecting his first WSOP bracelet and $645,922.
There were still two Canadians in contention at the start of the day, but Daniel Negreanu fell in 29th for $15,806, and Michael Gentili didn't make it much further, finding his exit in 25th for $19,287.
Gola Gets Gold in $1,500 Razz
The third bracelet of the day went to first-time winner Jason Gola. He found gold and $132,957 for topping Event #69: $1,500 Razz. He was joined by nine others on the final day including Phil Hellmuth, Benny Glaser, and David "ODB" Baker. No Canadians were still in contention, the last one being Paul Sokoloff who finished 16th the day prior.
Yapoudjian Bags Giant Stack for Canada
Also in action on Saturday was Day 2 of Event #19: The Giant - $365 No-Limit Hold'em which finally consolidated all the Day 1 survivors that were found through the five weeks of Friday night starting flights.
There were 882 players at the start of the day and just 27 remained by the end of the night. American John Hutchinson leads the field with 21,200,000 but Canada's own Hrair Yapoudjian has the second-best stack with 18,875,000. They'll return on Sunday at 2 p.m. local time to play down to a winner.
May Leads Final Five Ladies
Only five ladies remain in Event #70: $10,000 Ladies No-Limit Hold'em Championship after Day 2. The day began with 85 players still in contention out of the 718 who started the day prior. Leading the final five is Australian Heidi May with 1,752,000 chips.
There were several Canadians still in the field at the start of Day 2. Unfortunately, the very first one eliminated when play resumed was our own Jodie Fincaryk in 85th place for $1,605. She was followed to the exit by Kim McClymont (60th — $2,040), Fatima Nanji (23rd — $3,710), and Wing Chan (18th — $4,516) as the final Canuck.
Friedman Leads All-America Final Seven in $10K Stud Championship
Also on Day 2 was Event #72: $10,000 Seven Card Stud Championship where 29 players returned from the 88 who began on Friday. After Saturday's action, just an all-American final seven remain, led by Perry Friedman. No Canadians made the money in this tournament.
Grant Tops Canadians in Main Event Day 1a
Finally, the one we've all been waiting for. The world's premier poker tournament of the year has begun. Event $73: $10,000 No-Limit Hold'em Main Event - World Championship got started on Saturday with Day 1a. With 795 entries, it became the largest Day 1a since 2013. Of those who bought a 50,000 starting stack, 576 made it through the day.
Bagging the largest stack at the end of play was Denmark's Morten Mortensen. The top Canadian was Darren Grant with 167,000, which is good for 16th overall. Sam Chartier (109,700), Owen Crowe (70,000), Mark Radoja (67,000), and Pascal Lefrancois (44,400) are just some of the many Canadians to have a successful Day 1a.
The second starting flight begins at 11 a.m. on Sunday.