WSOP Final Table Profile: Antoine Saout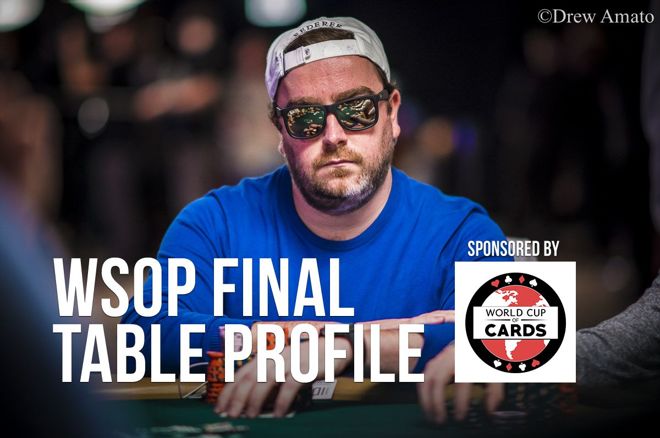 Brought to you by the World Cup of Cards, this summer's NEXT great poker festival, hosted by Playground Poker Club and partypoker LIVE. This year's WCC features over $6,000,000 in Guaranteed Prize Pools including a full range of Hold'em tournaments, Omaha, Mixed and other types/formats - plus a trio of events with a buy-in over $5,000! Join us from August 13th to September 13th for a month of events promising variety and a ton of value for your poker-playing dollar.
ANTOINE SAOUT FINAL TABLE PROFILE
Chip Count: 21,750,000
Hometown: Morlaix, France
Twitter: @tonio292
Age: 33
Seat: 3
Antoine Saout's Main Event story really started back in 2009 when a little-known French player made the final table of the WSOP Main Event. With three players left, Saout had the chip lead. He was the first French player to make the WSOP Main Event final table and it looked like he might become the first French Main Event champion. He had the eventual champion Joe Cada in a bad spot holding pocket queens against Cada's pocket twos. Cada hit a set to double and would later knock out Saout and go on to win.
"Nobody knew me the first time. It was my first $10,000 tournament. I played great, I was chip leader and I was unlucky at the end. I almost won it."
Last year, Saout made it to day seven of the Main Event. He was now a professional poker player with tons of experience and looking to improve on his previous Main Event run. Unfortunately he was eliminated early in the day, finishing 25th. He three-bet shoved pocket sevens and got action from queens and aces. On the turn, he actually took the lead, but was eliminated when the river was an ace.
"Nobody knew me the first time. It was my first $10,000 tournament."
This year, Saout was a little worried coming into Day 7 with 9 million chips. He went down to about 4 million and doubled through Richard Gryko with pocket nines. From that point on, Saout wasn't at risk again and he will start the final table with 21,750,000.
Despite accruing more than $6.5 million in live tournament winnings, he has only won a single live tournament. In 2011, he won a daily tournament in France for $15,968.
"I feel good. Last year I finished early in the day. I don't have any big live wins; if I can win this one for my first live tournament that would be great."
HOW HE GOT HERE
| Day | End-of-Day Chip Count | Rank |
| --- | --- | --- |
| 1 | 91,900 | 752/5,519 |
| 2 | 341,400 | 107/2,572 |
| 3 | 1,529,000 | 3/1,084 |
| 4 | 2,318,000 | 30/297 |
| 5 | 8,260,000 | 8/85 |
| 6 | 9,945,000 | 15/27 |
| 7 | 21,750,000 | 7/9 |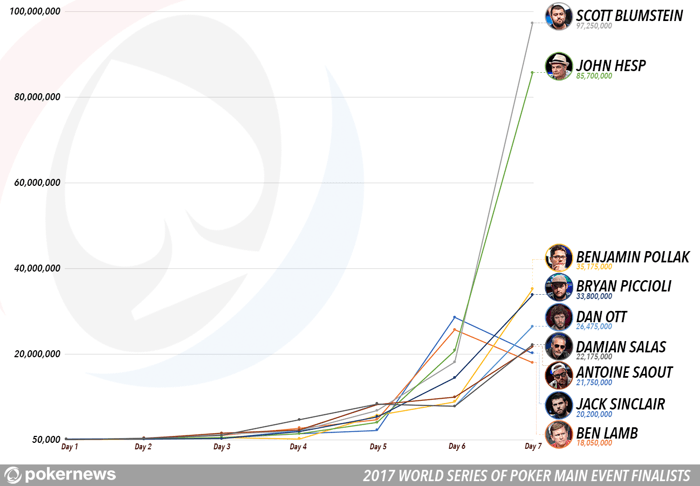 KEY HAND
Saout said that the Main Event has a great structure and was very confident, saying he had played a great tournament. He also understands that you need a little luck and, probably, his biggest break came on Day 3. He got all in against Scott Seiver with pocket kings against Seiver's pocket aces. He hit a king on the river and then rode that wave all the way to the final table. He is happy to be joined there by countrymen and friend Benjamin Pollak, but wants to be the first French Main Event champion.
"I really want to be the first (French Main Event Champion). I was the first to final table. It's not like an EPT. This is the biggest tournament. I really want this."
WHAT TO WATCH FOR
Unlike his last Main Event final table appearance, Saout is a seasoned professional player now. He speaks very openly about his ability and is confident in his play. He mentioned several times that he played great and acknowledged the fact that he got lucky during the tournament. He also mentioned he is used to playing long hours and, based on his success in the tournament, it seems like the Main Event is well suited to his style.
The days might end up being shorter the rest of the way, and he will enter the table seventh in chips behind two big chip leaders. He plans on using the two days off to review the footage of the other players and said he doesn't care about the size of the break. He did said he prefers the shorter break between Day 7 of the Main and the final table.
"I prefer this because there are some players with less experience. It is better for me because I am more experienced."
Saout definitely has a chance to win the Main Event. Both he and Ben Lamb have been in this spot before and that will perhaps make them more prepared for what comes next. A lot of people felt Saout probably should have won the first time he was at the Main Event final table, and now he has a chance to perhaps make up for the mistakes and/or poor luck that saw him fall in third place in 2009.