WSOP Final Table Profile: Benjamin Pollak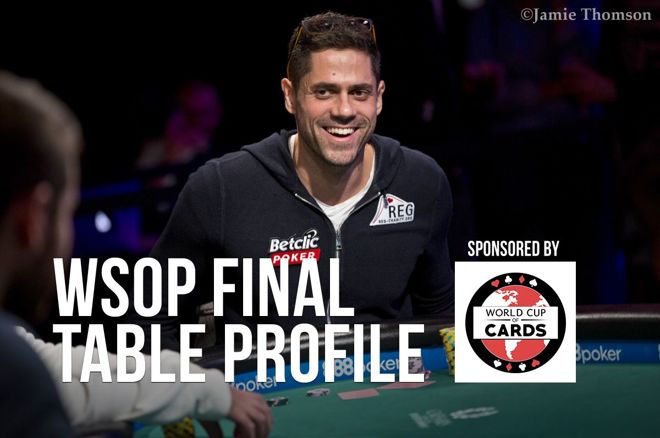 Brought to you by the World Cup of Cards, this summer's NEXT great poker festival, hosted by Playground Poker Club and partypoker LIVE. This year's WCC features over $6,000,000 in Guaranteed Prize Pools including a full range of Hold'em tournaments, Omaha, Mixed and other types/formats - plus a trio of events with a buy-in over $5,000! Join us from August 13th to September 13th for a month of events promising variety and a ton of value for your poker-playing dollar.
BENJAMIN POLLAK FINAL TABLE PROFILE
Chip Count: 35,175,000
Hometown: Paris, France
Twitter: @PollakB
Age: 33
Seat: 4
Benjamin Pollak's Main Event story is one of runs. Pollak had two of the best runs in his poker career which helped propel him into the final table. He started Day 7 with about eight million chips and within the first few levels, worked his stack up to 32 million. He had a similar run on Day 5, when he started with 240,000 and 12 big blinds. Within the first two hours he ran it up to 4 million.
"It was the biggest rush I've had in the last 10 years."
"I came into day five with twelve big blinds and built it to four million in two hours. It was the biggest rush I've had in the last 10 years. I got a lot of value hands and got paid most of the time."
Pollak's previous best finish in the WSOP Main Event was 27th in 2013 for $285,488. He is a French tournament pro who will now be close to $4 million in lifetime tournament earnings and possibly much, much more when he plays his final 2017 WSOP Main Event hand.
Pollak worked for about three months as an engineer before deciding he would give poker a try. He gave himself one-and-a-half years to succeed in poker and so far the rest is history. Depending on how the next few days go, Pollak could be in store for something even more historical — becoming the first French WSOP Main Event champion.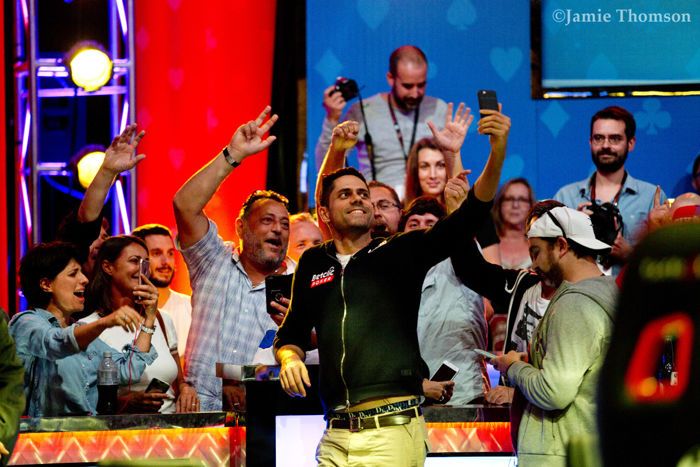 HOW HE GOT HERE
| Day | End-of-Day Chip Count | Rank |
| --- | --- | --- |
| 1 | 107,300 | 1,194/5,519 |
| 2 | 157,900 | 871/2,572 |
| 3 | 497,000 | 235/1,084 |
| 4 | 218,000 | 291/297 |
| 5 | 5,690,000 | 23/85 |
| 6 | 8,870,000 | 17/27 |
| 7 | 35,175,000 | 3/9 |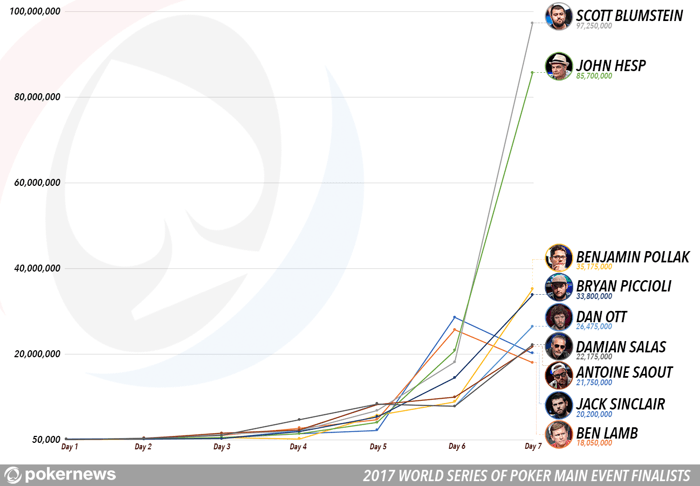 KEY HAND
Pollak managed to knock out the Day 6 chip leader, Christian Pham, shortly before the second break of the day. Pham had entered the day with the chip lead and Pollak looked down at pocket aces after an under the gun raise from Pham. Pollak three-bet and Pham called.
"It was a crazy hand. It was a dream flop for me."
Pollak flopped a set on a two diamond board. There was one heart and the turn brought one more. Pham had


and called for his tournament life when Pollak put him all in.
"We played a lot together on Day 6 and I know he could call with a lot of hands. So I shoved. He was very loose. He called me with ace-three of hearts. So he only had seven outs against me for a huge pot."
Pollak's hand held up, propelling him to near the top of the counts. He stayed there for most of the day.
WHAT TO WATCH FOR
With nine players left, Pollak will enter the final table third in chips. He will have his countrymen and former November Niner Antoine Saout to his right and the hopes of the French poker world behind him. As stated before, no French person has won the WSOP Main Event and Pollak currently has a chip lead over Saout.
Pollak was up to 34 million when he knocked out Pham and managed to stay at that mark all the way through 16 or so eliminations and land at the final table third in chips with just over 35 million. His consistent rise each day of the Main Event suggests that he knows how to pick his spots. He is confident in his ability, but also knows that no matter where you sit in chips, you can be at risk.
"It was a crazy hand. It was a dream flop for me."
"Sometimes the chips go fast. I am not a guarantee to make the final table," Pollak said shortly after he knocked out Pham.
He managed to cruise through the rest of the day without being at risk and he will go into Thursday with third biggest stack. The top two stacks have about half the chips in play and Pollak is just ahead of Bryan Piccioli.
Pollak looked forward to two-day break before the final table. It seems the rest will be almost, if not more, important than the time to study and watch the footage over the next few days.
"Right now I'm feeling super great. It was insane. I remember like Day 4, Day 5, I was super tired. It was a long day on the bubble. We started at 11 a.m. and it was very difficult to manage sleep."