WSOP Final Table Profile: Jack Sinclair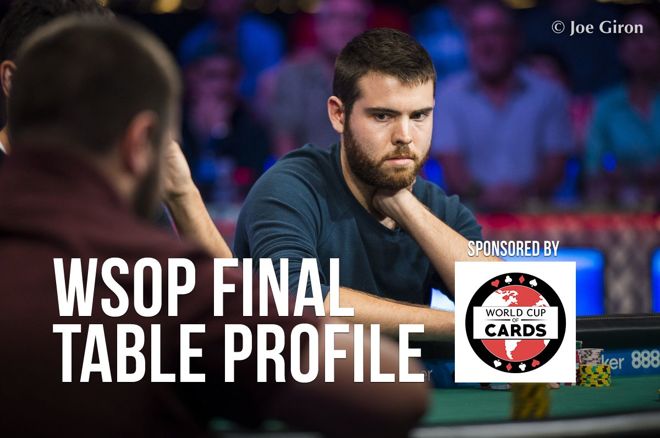 Brought to you by the World Cup of Cards, this summer's NEXT great poker festival, hosted by Playground Poker Club and partypoker LIVE. This year's WCC features over $6,000,000 in Guaranteed Prize Pools including a full range of Hold'em tournaments, Omaha, Mixed and other types/formats - plus a trio of events with a buy-in over $5,000! Join us from August 13th to September 13th for a month of events promising variety and a ton of value for your poker-playing dollar.
JACK SINCLAIR FINAL TABLE PROFILE
Chip Count: 20,200,000
Hometown: London, England
Age: 26
Seat: 5
Jack Sinclair might not be a familiar face to even the biggest poker enthusiast, but if the people he hangs out with are any indication, his final table opponents should keep their guard up. This 26-year-old Brit has been playing professionally for two years and mainly cut his teeth online. He never really took to playing live and only started playing live tournaments at the prodding of his friends, Philipp Gruissem and Anton Morgenstern.
To date, Sinclair has only three live tournament cashes for a total of $13,500, logging his first cash in April at the partypoker Millions Live in Nottingham for £ 7,500 (USD $ 9,412). The other two cashes came this summer at the WSOP in Event #60 $888 No-Limit Hold'em - Crazy Eights for $1,742 and Event #52 $1,500 No-Limit Hold'em for $2,346.
It's usually an advantage to show up to the table with your opponents not having a clue as to who you are. In poker, the less people know about you at the table, the better. But apparently, Sinclair can't use that to his advantage for more than a hand and certainly can't use it now that he's at the final table.
"As soon as I sit down at a table, people automatically assume I'm three betting them light and doing a bunch of crazy stuff," he told PokerNews. "I don't know why. It must be the way I look at them or something. If someone looks me up, they are basically going to find nothing. They might think, 'This guy is going to be a huge fish.' I sit down and play one hand, and my image is completely gone. Maybe the first hand I play, I can get away with something. But overall no."
No one would argue that the Main Event is the ultimate grind. The days start to run together, hands are forgotten and what happened when is a blur. Sinclair, however, was able to recall his Main Event journey with amazing detail.
"As soon as I sit down at a table, people automatically assume I'm three betting them light and doing a bunch of crazy stuff."
"Day 1 was a breeze; I won most of the pots I played. Day 2 was kind of similar. I did make a few bad decisions toward the end, but I had a decent stack. I had a horrendous table draw on Day 3. The first four hours were just brutal. I played most of Day 5 with Mickey Craft. That was probably the most fun I had at a table, maybe ever. Day 6 was an insane day. I started with a little over 2 million, and finished with about 30 million."
Sinclair probably thinks Day 7 was an insane day, as well. He went through much of the day holding the first or second spot on the leaderboard. He peaked near 100 million in chips when Scott Blumstein tried to run a bluff against him, but he gave it all back just an orbit later.
"I still liked the spot. It was a shame. The runout was too good for me not to bluff. My real mistake was that I didn't realize that he had a read on me because we hadn't played a single hand together. So I dunno, people told him that I was crazy or something, which I'm really not."
HOW HE GOT HERE
| Day | End-of-Day Chip Count | Rank |
| --- | --- | --- |
| 1 | 149,500 | 207/5,519 |
| 2 | 242,900 | 355/2,572 |
| 3 | 463,000 | 267/1,084 |
| 4 | 1,457,000 | 95/297 |
| 5 | 2,225,000 | 69/85 |
| 6 | 27,535,000 | 3/27 |
| 7 | 20,200,000 | 8/9 |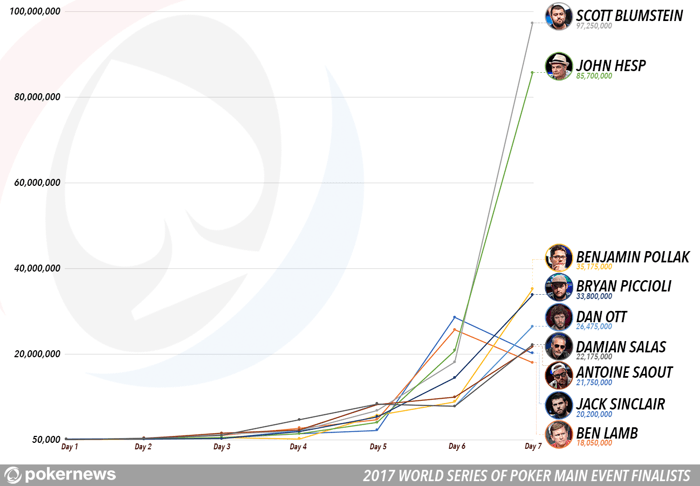 KEY HAND
Sinclair walked us through a crazy hand he played against Wen Zhou. First, here's how it was reported by the PokerNews Live Reporting team:
With 650,000 already in the pot and the turn reading




, Jack Sinclair bet 350,000 in the small blind and Wen Zhou raised to 700,000 in the big blind. Sinclair clicked it back to 1,400,000 and Zhou quickly moved all in, picking up a snap-call by Sinclair.
Even before the cards were tabled, Zhou shook his head and knew he was caught with the fingers in the cookie jar.
Sinclair:



Zhou:


A meaningless

on the river saw Sinclair double up to more than 14 million and Zhou was sent all the way back to 12 big blinds.
"He's been playing pretty crazy all day," Sinclair says. "The first thing he did when I sat down, he like 4-bet shoved eights from under the gun against the squeeze and won. I immediately thought this guy's fun.
"In the small blind I get pocket nines. It folds to me. I raise, he calls. Flop is ace-eight-four. I check. He checks back. the pot on the turn is like 670K. The turn is an off suit nine. I decide to bet to 350k. He instantly min raises to 700k. I decide to click it back and make it 1.4 million. He thinks about it for 15 seconds and then goes all in.
"We were 7 million effective. And I called and he just shook his head and turned over pocket 2s. He had 0% on the turn. So that was quite nice. I was like, 'I really hope I hold.' Then I saw his hand and I'm like OK cool."
WHAT TO WATCH FOR
Sinclair's aggressive online style will serve him well against his opponents, some of which have been in this position before. He'll know how to pick his spots and when to apply pressure. He's demonstrated great control on his way to the final table.
Sinclair took the momentum from Day 6 and kept running with it well into Day 7, where he stayed atop the leaderboard all day and all the way to the final table. When asked if he's aware of the enormity of this moment, Sinclair's smile gets a little bigger, and he pauses for a moment.
"I'm trying not to think too much about anything except the poker. But, yeah, it is definitely surreal. I'm just trying to play good poker, make the best decisions and if I do that, then I'll be happy."
"Jack has balls and patience. A rare combination in humans that make a great poker player."
Even though he's "never really been much of a live player," the fact that his famous friends, not only encouraged him to enter his first Main Event, they helped him financially, says a lot about this skill. Gruissem told PokerNews, "Jack has balls and patience. A rare combination in humans that make a great poker player."
With only two days to prepare, you might expect Sinclair to pull his friends together and study his table. But all Sinclair could think about after Day 7 was "sleep."
After seven days of play and losing a big part of his stack right before the final table was reached, you can bet there are a variety of emotions and thoughts running through Sinclair's mind. When asked how he's feeling in this moment, he was brutally honest.
"Tired. Hungry. Thirsty. I've been drinking very little water because you only get a bathroom break every two hours. I'm feeling OK, but I dusted off most of my stack at the end of the day so, mixed feelings. I think I'll have a spa day tomorrow, and just go over some hands and get a game plan together."