WSOP Final Table Profile: Scott Blumstein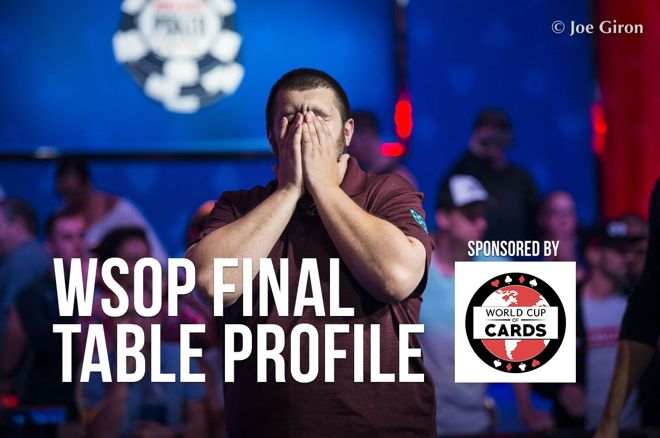 Brought to you by the World Cup of Cards, this summer's NEXT great poker festival, hosted by Playground Poker Club and partypoker LIVE. This year's WCC features over $6,000,000 in Guaranteed Prize Pools including a full range of Hold'em tournaments, Omaha, Mixed and other types/formats - plus a trio of events with a buy-in over $5,000! Join us from August 13th to September 13th for a month of events promising variety and a ton of value for your poker-playing dollar.
SCOTT BLUMSTEIN FINAL TABLE PROFILE
Chip Count: 97,250,000
Hometown: Morristown, NJ
Twitter: @SBlum2711
Age: 25
Seat: 2
Scott Blumstein, an East Coast tournament grinder, had a plan for this summer: Come to Las Vegas for the first time, enter the World Series of Poker Main Event for the first time, and win it.
Chris Horter, one of Blumstein's very vocal friends on the rail, confirmed that this was Blumstein's plan. "He said, I'm going to skip all of the WSOP, and I'm just going to win the Main."
Things seem to be going according to plan so far. Blumstein will enter the Main Event final table with the chip lead. And while his experience in many small buy-in tournament will certainly provide some help, this is the Main Event, and he has some serious competition standing between him and gold.
Blumstein has been playing poker professionally for about four years and was able to enter the Main thanks to a first-place finish in a $560 no-limit hold'em tournament at the Borgata for $199,854, which accounts for two-thirds of his live tournament winnings.
"A tournament is just a tournament and at the end of the day, it's all poker."
Blumstein might be well known on the East Coast circuit, but not much is known about him here in the desert. He started playing professional poker four years ago after graduating from Temple University with a degree in accounting.
"I never really had a 'real' job. I started watching and playing poker when Moneymaker won. I was just a kid. I know that sounds a bit cliché. Being here now and playing under the lights is so surreal. Day 7 was the first day I was on a feature table. I had to get used to the lights and cameras, but I settled in quickly and just tried to focus on the poker. A tournament is just a tournament and at the end of the day, it's all poker."
It's hard to compare playing the Main Event when playing on the East Coast. Blumstein makes a point of letting people know he feels comfortable here.
"A tournament is still a tournament, and tournaments are tough. But this is the Main Event, so that makes it special. I just felt like I was ready to play the Main Event this year. It's still sort of surreal to be here."
Blumstein has the chips everyone will be coming after once the final table returns to action. There are only a few days to prepare, and a tournament grinder, no matter where they hail from is sure to have a plan to maximize on the time off.
"It's crazy with only a few days break. It'll be quite different than the last few years, I didn't really plan what I was going to do. You can't really plan for something like this. I feel amazing, I can't believe it's real. I have a great group of guys and we're going to get to work and prepare for Thursday. This is one of the biggest moments of my life. And I'm super excited."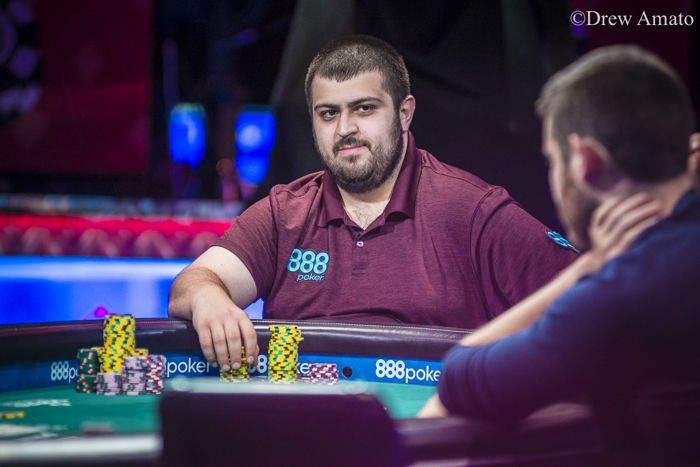 HOW HE GOT HERE
| Day | End-of-Day Chip Count | Rank |
| --- | --- | --- |
| 1 | 86,200 | 1402/5.519 |
| 2 | 375,100 | 62/2,572 |
| 3 | 1,340,000 | 8/1,084 |
| 4 | 2,016,000 | 44/297 |
| 5 | 6,845,000 | 14/85 |
| 6 | 18,125,000 | 8/27 |
| 7 | 97,250,000 | 1/9 |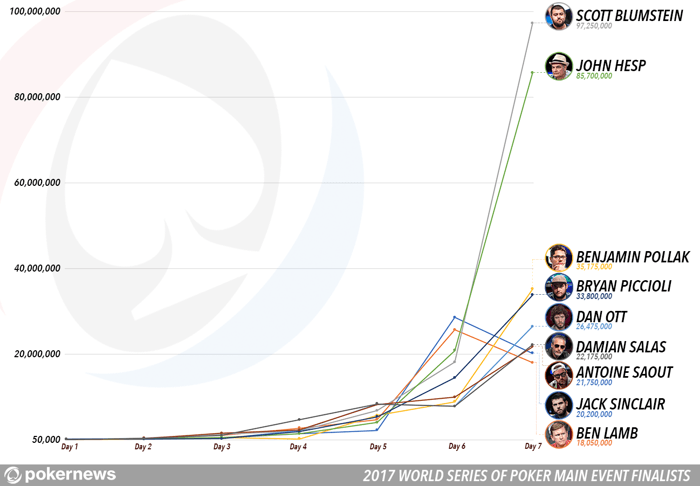 KEY HAND
Every player has a hand during a tournament that shifted momentum in their favor. For Blumstein, it was a big hand against Valentin Messina on Day 6. He recounted it for us:
"I raised under the gun and Messina called. The flop came jack-four-deuce. I flopped a set and bet. Messina called. The turn was a six and I checked. Messina bet over a million and of course, I called. The river was a three. I was taking a chance by checking, but I was pretty sure he would bet and he did. He bet almost 3 million and then I check-raised him to 7.2 million. I felt like he took forever to call. But he did."
Here's the hand, as reported by the PokerNews Live Reporting team:
Scott Blumstein raised to 650,000 from under the gun and Valentin Messina called from the cutoff. The flop fell



and Blumstein bet 500,000. Messina called and the turn brought the

. Blumstein checked, Messina bet 1,200,000, and Blumstein called. The river was the

and Blumstein checked. Messina bet 2,800,000 and Blumstein check-raised to 7,200,000, sending Messina into the tank. He eventually called and Blumstein tabled


for a flopped set. Messina mucked and Blumstein took the pot.
WHAT TO WATCH FOR
Blumstein nearly gave his tournament away after the dinner break on Day 7. He five-bet shoved preflop with king-jack jack against Dan Ott, who had him dominated with ace-king. Suddenly, Blumstein was left with only 17 million in chips and danger of missing the final table.
"I made a pretty big mistake after playing really well for seven days."
It was a rare slip-up for Blumstein, who had been focused for most of the tournament up to that point.
"I made a pretty big mistake after playing really well for seven days. I have no excuses. I made a misstep, but the good news is sometimes you get a second chance. A couple of hands later I got kings and was able to double up and I was right back in it."
Thankfully for Blumstein, he was able to recover after getting a pep talk from his huge supporting cast on the rail. He will have a few days to rest up and prepare for the finale, but it will be interesting to see if he "goes for the gusto" again with so much on the line.