Jaime Staples is Down 50 Pounds and On Track to Win Prop Bet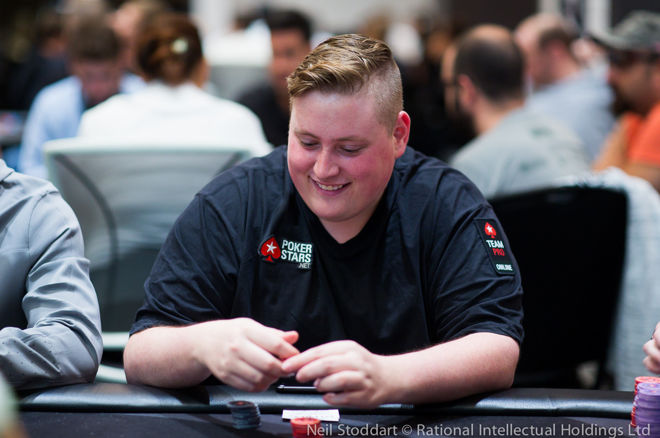 When a viewer made an off-hand comment about imagining Twitch-streaming brothers Matt (134 pounds) and Jaime Staples (305 pounds) at the same weight, Bill Perkins quickly offered the brothers a prop bet and they immediately shook hands on the deal.
They were in the Virgin Islands at the time on Perkins' StreamBoat, broadcasting poker and day-to-day life to poker fans around the world. This was back in March and the Albertan Staples boys have been working hard to turn the $3,000 they put at risk into $150,000.
I knew immediately I was taking the bet.
As a member of Team PokerStars Pro Online, Jaime Staples is back to streaming on Twitch but in a less tropical locale these days. We reached him at his current residence in Cardiff, Wales, to talk about the bet.
PokerNews Canada: Can you detail the terms of the prop bet?
Jaime Staples: My brother Matt Staples and I are risking $3,000 to Bill Perkins' $150,000, so we're getting 50 to 1. On a specific day, March 26, 2018, we need to be within one pound [of each other]. I believe the time we talked about weighing in was 5 p.m. We're going to get one official shot on the scale but we can be weighing ourselves up until the time that we do the official weigh-in. So within one pound on that day. No surgery or steroids are allowed. So it has to be natural, if you will. And we're not allowed to take anymore action on the bet. So we can't book side action to get up to a million dollars or something; it has to stay at $150K max incentive for us.
PNCA: How did the bet come about?
JS: We were streaming one night — StreamBoat 1 — we were just sort of doing an in-real-life stream near Bill's place and someone in the Twitch chat said, "Imagine Jaime and Matt at the same weight." So I read this out from the chat and Bill snap-said, "I'll give you 50 to 1." And I kind of just looked at Matt. I knew immediately I was taking the bet, but I had to convince Matt pretty quickly to, like, let's shake the hand and let's do this, right? So I was like, Matt, we gotta take it. It's 50 to 1, man. We gotta take it. Let's do it. And that was it. Within a minute we had booked the bet.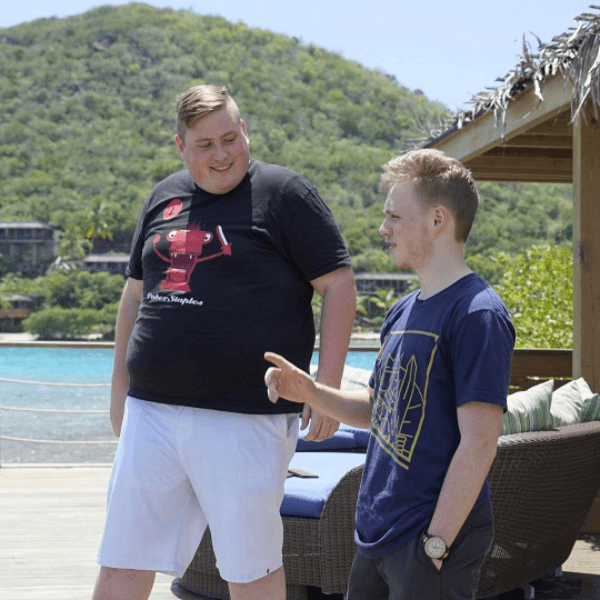 PNCA: Was weight loss something you were already thinking about? Or it only really entered your mind because of the bet?
JS: I think for pretty much anyone, we want to be healthier or look good or feel good, right? It's always been something that I struggled with in my life since … Junior High, I would say, is where I started to struggle with it. So it's something I always wanted to do but I feel as if this bet created an incentive to really give me a push to learn how to tackle some of my issues around being healthy.
I think the equity of being healthier is worth a lot more than $75,000.
PNCA: What will be more satisfying if you win the bet? Accomplishing the weight loss or the money?
JS: The accomplishment. I almost don't even think about the $75K that I would be getting, my brother getting the other $75K. Yeah, it doesn't really cross my mind at all. Because I think the equity of being healthier — extending my life, being able to do more, having higher energy, even just vanity — is worth a lot more than $75,000. And Bill agrees. He mentioned that. He thought the equity of this bet was well over a million dollars, but the money is what we needed to get motivated.
PNCA: Are you on track? What odds would you lay for yourself now on winning the bet?
JS: We're on track, yes. We have less than 90 pounds to go. We started with 170 pounds apart. I would put the odds of success at 90 percent right now. The betting markets don't agree with me, but that's where I'd put it. We have a really good support system. I have a great trainer in Mike Vacanti who's going to be spending a lot of time with us, living with us for a bit. I think we're in a really good spot.
PNCA: Is it harder for you to lose weight or Matt to gain weight? Who's making up the biggest difference?
JS: So 185 is our target. I started at 305. He started at 134. I believe he's up 35 pounds now, and I'm down 51 pounds. So I have more distance to cover, but then again it is more difficult pound-for-pound to gain weight at his size than it is for me to lose. I say physiologically it's pretty similar. From a mental perspective though, this is something that I'm the worst at of everything I do, I think. I don't think it's a bet to be like can we go an extra 10 minutes of exercising or can we eat 50 less calories a day. It's really a mental sort of can-you-break-these-lifetime-habits thing. I think I'm taking the worst of it.
PNCA: What does your plan look like? What are you doing to hit your target?
JS: As of right now, it's in the gym for just general strength training two days a week and cardio five days a week. We're shooting for 1,450 calories a day for me, which is a pretty big deficit. And the breakdown is 120 grams of protein, 80 grams of fat, and 40 grams of carbs. [Those are] sort of the benchmarks we're shooting for every day. And on Matt's side, he's eating as much as he can. He's not tracking calories, but we're tracking progress daily. So if progress is too slow, we can make adjustments, or too fast as well.
We're shooting for 1,450 calories a day for me, which is a pretty big deficit.
PNCA: What has the journey been like so far? Have you learned some things or had a standout moment?
JS: It's been very interesting. So I've become aware how much of a crutch food has been in controlling my emotions and … just being a crutch in day-to-day life. At the same time, I get to feel what it's like to be at a more normal body weight — feel normal amounts of energy, sleep better, just operate more as a normal human being. It's those two worlds colliding and experiencing new things every day.
Watch the vlog Jaime Staples recorded when the bet was first made:
Follow Jaime and Matt on Twitter to keep up with their progress as they try to earn $150,000.