Prime Your Mind for Poker With Help From Fedor Holz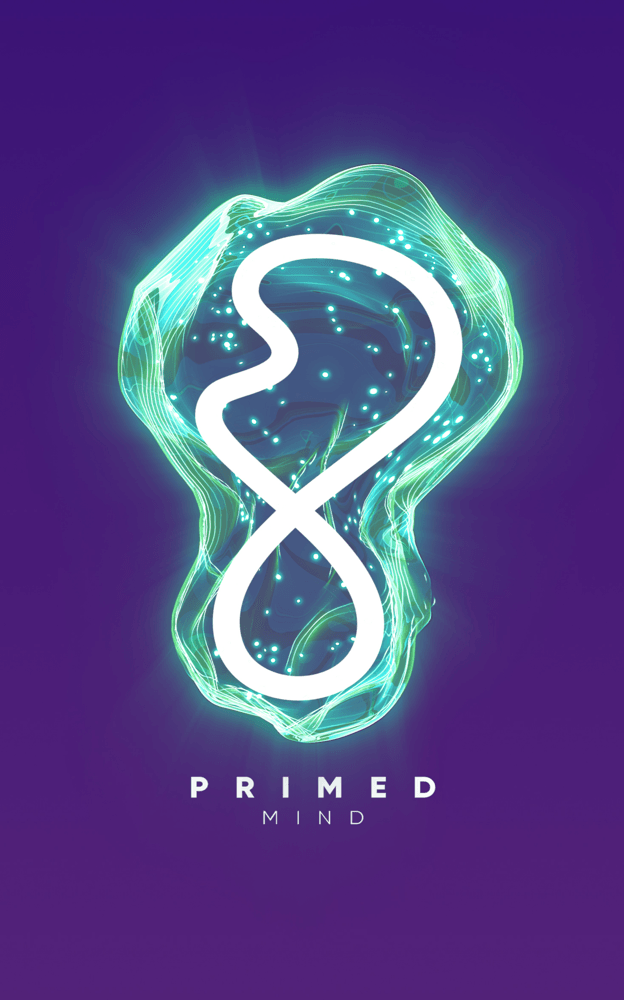 "Upgrade your mind, level up your life."
Those are the words that greet you when you visit the website for Primed Mind, an app developed by poker wunderkind Fedor Holz. It's an immersive mindset coaching app that is designed to help users become mentally stronger.
Fedor Holz, the 24-year-old from Germany, is widely considered one of the very best poker players in the modern era of poker. After a phenomenal year of success in 2016, Holz announced his retirement from poker after winning the $111,111 High Roller for One Drop for nearly $5 million and a WSOP bracelet, adding to the $9.68 million he'd already won that year. He has since won a further $4.86 million in "retirement", making the game look effortlessly easy.
Today's poker pro is a lean, mindful, healthy-eating, balanced individual. In a game that requires long hours of mental acuity, players are learning the value of taking care of their mind, adopting meditation en masse and any other mind-training tools they can find. Holz's Primed Mind is another great tool.
Players are learning the value of taking care of their mind.
Once you download and open the app, you'll first notice how beautiful the design is. It's stunningly clear that Holz has invested a lot of energy and resources into developing a world-class app.
The home screen of Primed Mind shows some stats at the top: number of total sessions, total minutes improving, and longest streak. These follow in the trend of gamifying our learning and self-improving that apps like Headspace and Duolingo have capitalized on in the past, among many, many others.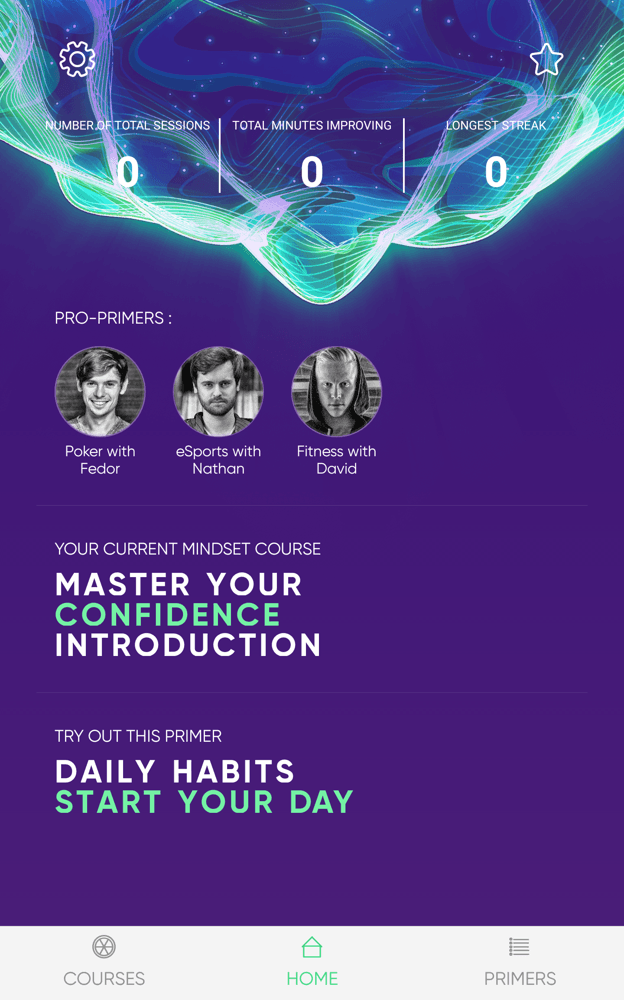 Along the bottom are the navigation buttons for the three main screens: courses, home, and primers. Also on the home screen is a suggested course session, a suggested primer session, and shortcuts to the primers designed by mindset pros Fedor Holz, Nathan Schmitt (esports pro), and David Lengauer (bodybuilder), making this app especially relevant for poker players, high-level gamers, and athletes or those involved in fitness training.
On the home screen there is also a settings button and a favourites button where you can save courses and primers you want to return to.
The sessions are split into two types: courses and primers. Going to the courses section you'll see that they are organized around six different topics. You can take courses about growth, communication, recovery, health, confidence, and determination. These are all seven-part courses, and each session is a little over 10 minutes in length.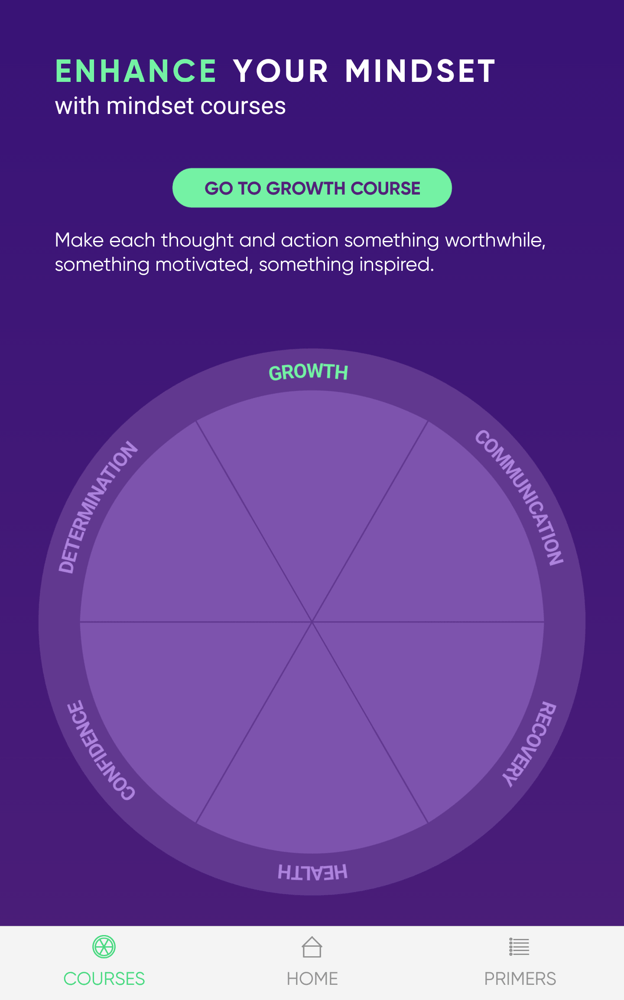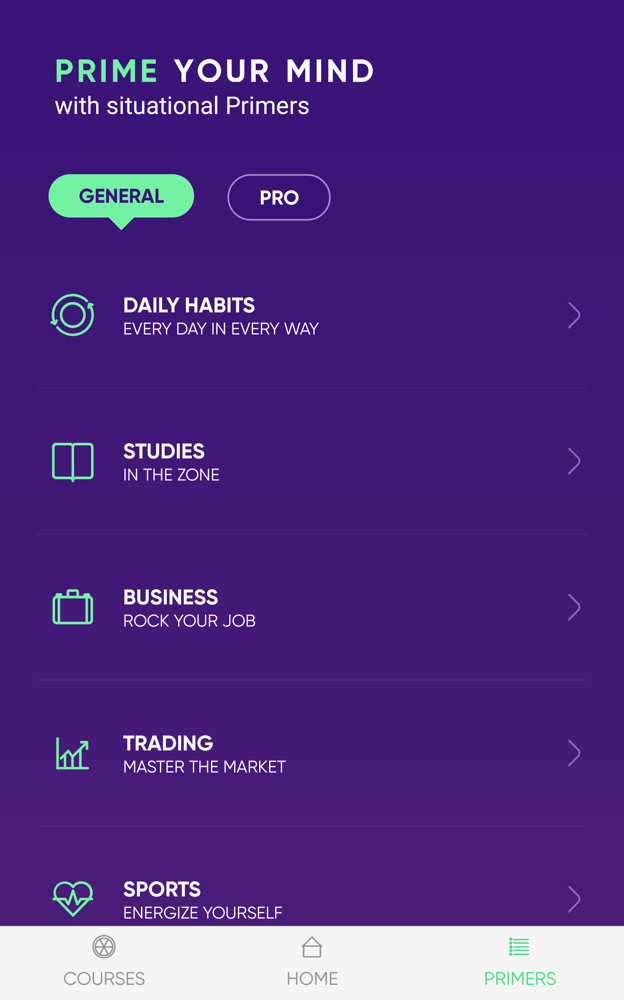 The other type of sessions are the primers. In the general primers tab, there are primers about daily habits, studies, business, trading, sports, personal goals, and social life — whichever you want to focus on at the moment. The pro primers are the poker, esports, and fitness ones designed by the three mindset pros. Within each of these topics is a variety of sessions, and again they're each a little over 10 minutes in length.
So what are these sessions? What does the app do? This is self-hypnosis.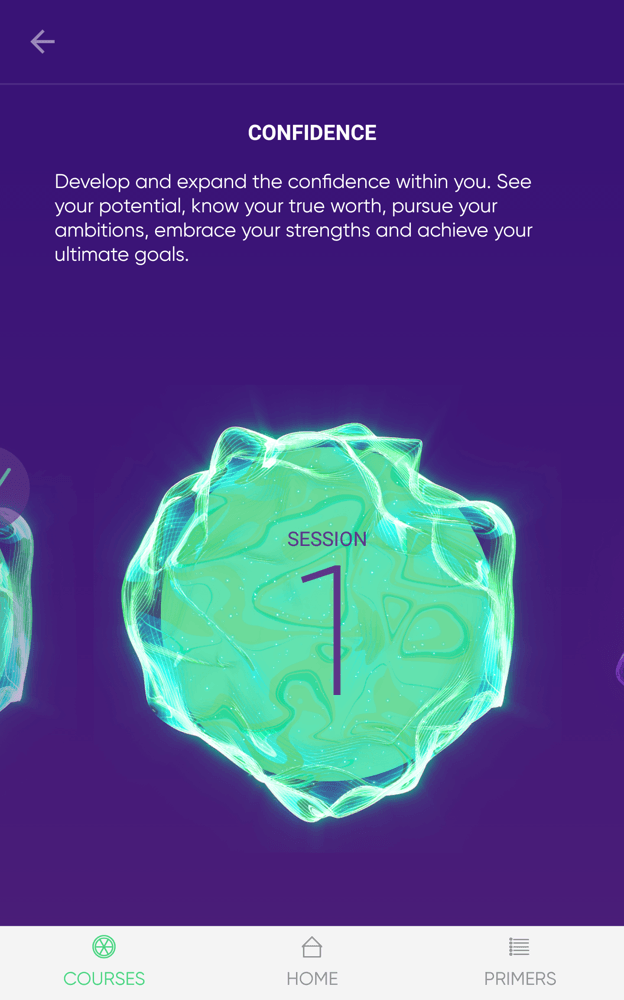 If you have experience with Headspace, you'll be familiar with guided meditations. Primed Mind is similar, but importantly different. Guided meditations clear your mind and improve clarity and presence, and the recordings often have a lot of silence.
Self-hypnosis puts a person into a state of highly focused attention with heightened suggestibility. It has been used to treat anxiety and depression, overcome addiction, change habits, and for general self-improvement.
Unlike guided meditations, self-hypnosis doesn't usually have long periods of silence for stilling the mind. Instead, the mind is led into a deeply relaxed state where it is very receptive to suggestion. The recording guides and coaches through the entire process, planting powerful suggestions that will remain after the quick session concludes.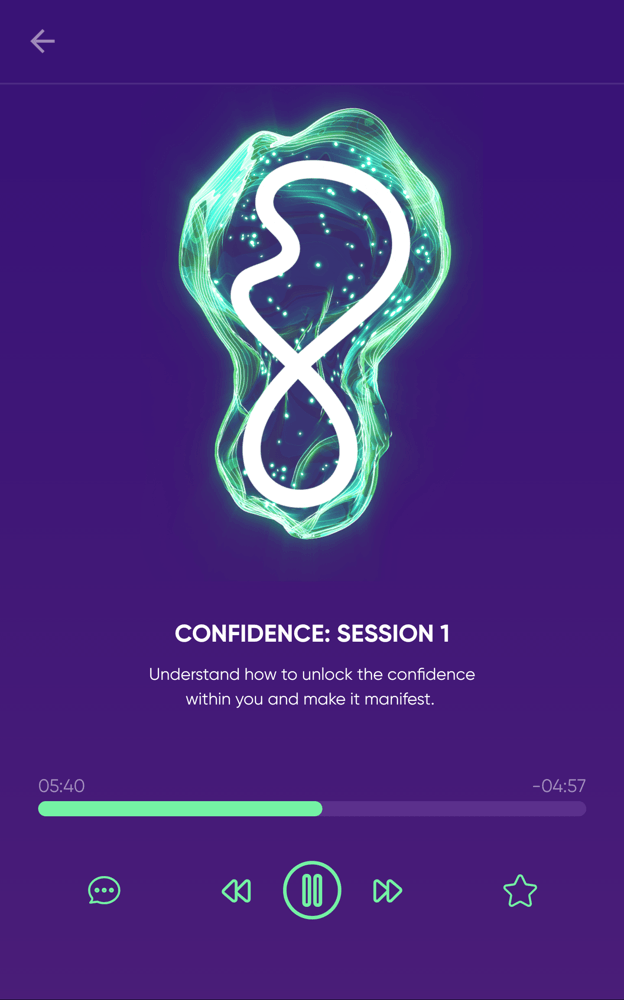 All you have to do is put on some headphones, sit down in a comfortable spot without distraction, hit play, and close your eyes.
Primed Mind is a freemium app, meaning it costs nothing to download and use, but the content is limited if you don't get the paid upgrade. But even at the free level, Primed Mind has plenty of content available.
You can do the entire confidence course for free, as well as the first session of all the other courses. Of the primers, all of the studies section is available for free, as well as several sessions in most of the other categories. Of the pro primers, none of the fitness ones are available for free, one of the esports sessions is free, and two of Holz's poker ones are available for free.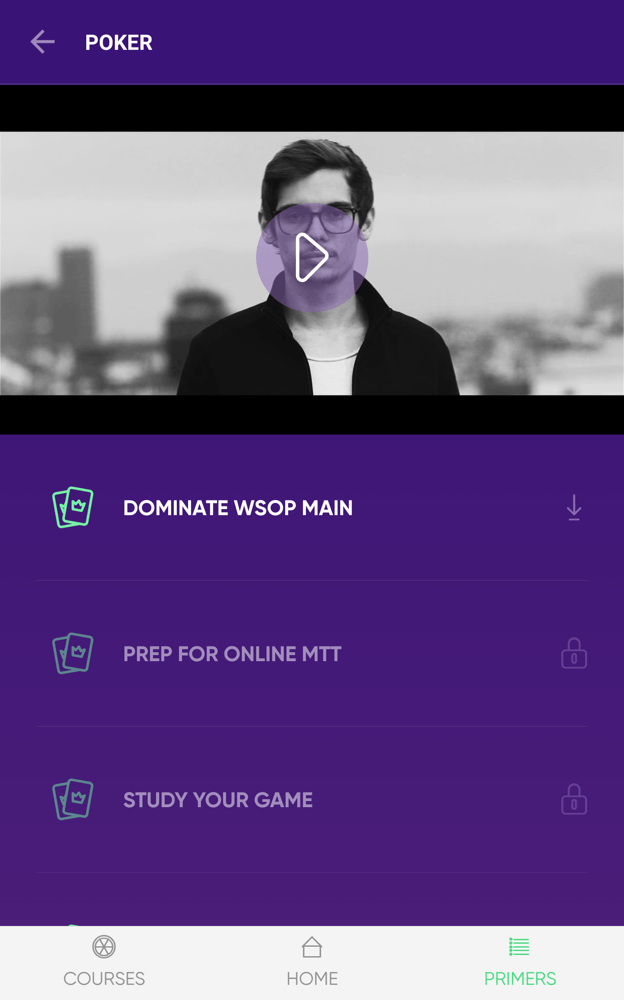 Worth the download all on its own is Holz's "Maximize Your Break" session which is among the free content. This session is a quick five minutes, intended to fit in your break during a poker tournament. It gets you focused and confident and ready to get back in the game with a sharp mind.
For the full Primed Mind membership to get all of the courses, primers, pro content, and everything new that is released each month, there are three pricing options. At the time of writing, a membership costs C$20.99. That's reduced to C$10.83 per month if you pay yearly, or you can pay C$349 once for a lifetime membership.
It's not cheap, but there is a ton of value in the free content. Download it, give it a try, and let us know if you notice an improvement both at the table and in life in general.