The Weekly Review: Action From East, West, and Online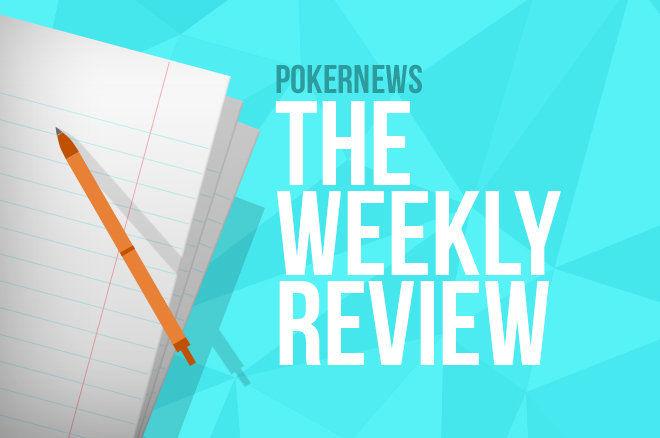 The World Cup of Cards is in full swing as Raphael Duval won the partypoker Grand Prix Canada that had around $250,000 in overlay, and in the west, Thomas Taylor continues to make the live tournament scene in Alberta his own personal playground. There was another deep run in the Sunday Million from a Canadian highlighted in the Sunday Briefing. Mike Leah moved up the GPI rankings and now sits second amongst the Canadian contingent. PokerNews Canada Chief Editor Lane Anderson also released an editorial on his thoughts on the newest online poker game released by 888poker, Flopomania.
Here is your Weekly Review for August 20 to 26, 2017:
888poker's Flopomania Brings a New, Fun Approach to Poker
PokerNews Canada Manager and Chief Editor Lane Anderson got a chance to play a couple hands on 888poker's newest innovation, Flopomania. While playing no-limit hold'em, all players in the hand ante and each player receives two hole cards. What's different than traditional no-limit hold'em is that the flop is also dealt. Now the game goes back to normal with a round of betting and then the turn card dealt, and then another round of betting and river dealt, followed by a final round of betting.
Anderson's take on the action is that since the game is new, the bet sizing is all over the place, some people min-bet, where others bet half pot, or even pot. He also states that since three of the five community cards are seen no matter what, more people will be on draws and that showdown hands need to be stronger as a result.
Anderson delivers the statement that Flopomania is a soft game right now since it is so new, but he would put this on par with fast-fold poker variants as a type of game that will stick around rather than that of gimmicks that have come and gone on so many different platforms.
Read the full article linked below.
Related article:
Duval Delivers Win in partypoker Grand Prix Canada
The first major event at the World Cup of Cards hosted by the Playground Poker Club in Kahnawake, Quebec, just wrapped up with Raphael Duval winning the $220 partypoker Grand Prix Canada, $1 million guarantee. With live Day 1 flights taking place from August 13 to 19 and online flights on partypoker taking place from July 16 to August 13, there were plenty of chances for players to try and make the money of this event. The event, however, only attracted 2,958 entries, which created an overlay of around $250,000. This is Duval's second recorded live cash of his career as he pocketed $200,000 for the victory. Debra Holman ended up as the runner-up, collecting $125,000 to add to the total of under $10,000 in tournament cashes before the tournament.
There are still plenty of events on the schedule with another $1 million guarantee in the Playground1000, a $1,100 buy-in, along with the $10,300 High Roller 6-Max Reentry, and the $2,200 Canadian Poker Championships, which boasts a $2 million guarantee.
Related article:
Taylor Goes Back To Back In Summer Super Stack
Getting to the final table in the same event two years in a row is a talking point. Wnning the same event two years in a row is a feat that needs to be discussed! That's what Thomas Taylor did this past weekend when he went back-to-back at the Main Event of the Summer Super Stack at Deerfoot Inn & Casino in Calgary.
Taylor outlasted a field of 197 entries, down from the 262 entries the previous year, to earn $60,000 in the $1,500 Main Event.
The Summer Super Stack had 12 events across 13 days of play which had formats including turbos, bounties, pot-limit Omaha, a team event, a ladies event, a seniors event, and an event where the blinds changed based on the amount of people remaining in the field.
For the full recap, click the link below.
Related article:
"carinokid" Close in Sunday Million
Every week the biggest guarantees in online poker fall during Sunday.
It was another week with a Canadian at the final table of the biggest guarantee in online poker, the Sunday Million on PokerStars. This week, the online site dropped the buy-in in half to $107.50 while still boasting the $1 million guarantee. The guarantee more than doubled with 20,540 entries creating a prize pool of $2,054,000. "carinokid" was the only Canadian to make the final table and managed to ladder their way up to a fifth-place finish for $54,762.31.
Canada-based player "WWWpartyCOM" had a great outing on partypoker. They followed up a fourth-place finish in the $109 Heavyweight: The Main Event for $6,977.51 with a victory in the $530 High Roller for $19,878.20.
For the full results of how Canadians finished in Sunday's biggest online tournaments, please click on the link below.
Related article:
Leah Moves Up the Canadian Overall Top 10 GPI Rankings
Even with Ari Engel continuing to be ranked as the No. 1 tournament poker player in Canada for the 43rd-straight week, Mike Leah passed Timothy Adams and Daniel Dvoress for second on the list. Leah recently finished second in a $25,000 buy-in high roller in Florida to help catapult him to second.
Ari Engel still holds onto the top spot in the 2017 GPI Canadian Player of the Year race as well. Timothy Adams remained in second place as Daniel Negreanu and Mike Leah bumped Daniel Dvoress from No. 3 to No. 5 in the race.
Related article: