Trevor Norlander Is The 2017 SIGA Poker Champion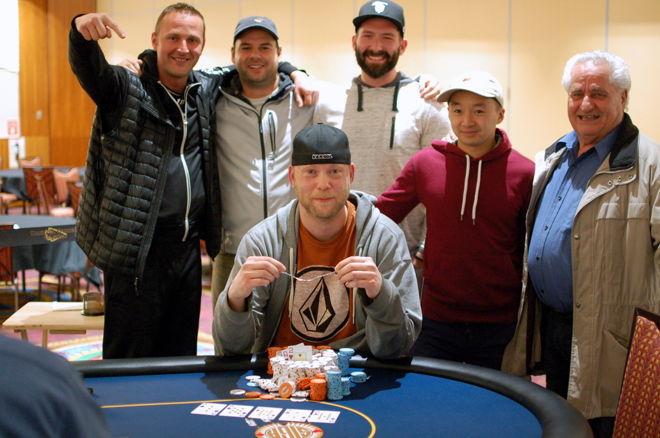 The annual Saskatchewan Indian Gaming Authority (SIGA) Poker Championship kicked off on Friday, October 6. The tournament is hosted every year by Dakota Dunes Casino, one of six SIGA properties in Saskatchewan. Dakota Dunes is located on the scenic Whitecap First Nation just outside Saskatoon.
For the first time, the tournament featured two Day 1s with Day 1a running on Friday, and Day 1b running Saturday, October 7. Both starting days were scheduled to run for 16 levels or until 15% of the field remained. Both days ended up playing the full 16 levels, finishing with slightly more than 20% of players remaining.
Day 1a saw 143 total entries, with 32 people punching their tickets to Day 2. Saturday's Day 1b was a bigger affair, drawing 237 entries and ending with 53 players bagging chips. A total of 85 players came back Sunday, from the total of 380.
Richard Whitehawk was the chip leader after Day 1a, bagging 289,000. Trevor Norlander bagged the second-biggest stack from the day with 276,500. Bradley Naytowhow and Mark Monkman lead the way out of Day 1b, bagging 385,500 and 315,000 chips, respectively.
The tournament was marked by a number of interesting stories. 2014 Champion Chris Bowers made a run at repeating his title this year but ultimately came up short. He battled his way into the money, but had to settle for 35th place.
Another story of Day 2 came from the Loudon family. Three members of the family played a Day 1, and all three managed to book a seat in Day 2. Kelly Loudon busted shortly before the money, but his parents, Jim Loudon and Sandra Loudon celebrated Thanksgiving with 47th and 34th place, respectively.
Another family story came from a fixture on the Saskatchewan poker scene: the Lamb family. The Lambs suffered a devastating loss this summer with the unexpected passing of their son, Justin Lamb, who was often seen running deep in tournaments around the province with his dad, Danny Lamb. Several players, including Danny, wore special T-shirts with Justin's picture on them during play, and while Danny busted out late in Day 1a, one of Justin's friends, Simon "C-Money" Tekeste represented Justin on Day 2, wearing the shirt for much of his time on the feature table. While the Saskatchewan poker community won't see Justin's smile at the tables anymore, he was here in spirit this weekend at the SIGA Championship.
A final story came from Kacie Nicole who celebrated her birthday on Saturday by playing Day 1b. She hit a one-outer and went on to bag a respectable stack of nearly 200,000 chips for Day 2. She continued to run it up on Day 2, grinding her stack into a 13th-place finish and a birthday present of $2,795.
Play on Day 2 was fast and furious. The money bubble burst early in the third level of play, and the final table was set just over six hours after the day began.
| Seat | Player | Hometown | Chips |
| --- | --- | --- | --- |
| 1 | Darcy Stone | Mosquito, SK | 860,000 |
| 2 | Mike Cartwright | Saskatoon, SK | 1,260,000 |
| 3 | Robert Colbert | Makwa, SL | 1,100,000 |
| 4 | Sol Bergren | Saskatoon, SK | 1,450,000 |
| 5 | Gord Matt | Regina, SK | 1,405,000 |
| 6 | Jared Klimosko | Saskatoon, SK | 705,000 |
| 7 | Trevor Norlander | Saskatoon, SK | 2,700,000 |
| 8 | Brandon Christianson | Porcupine Plain, SK | 820,000 |
| 9 | Milton Jiricha | Saskatoon, SK | 630,000 |
| 10 | Robert Peters | Edwin, MB | 425,000 |
It took just over two hours to get down to heads-up play, and that only lasted three hands as well. Milton Jiricha came into heads-up with a slight chip lead over Trevor Norlander, but was devastated in just the second hand. He flopped second pair to Norlander's top pair, and doubled up Norlander, leaving himself less than a million chips behind. The tournament was over on the next hand with Jiricha forced to settle for second place and $28,488. Trevor Norlander collected the bracelet for first place, as well as a 2018 WSOP Main Event seat, and $39,345.
Final standings for final-table finishers:
| Finish | Player | Prize |
| --- | --- | --- |
| 1 | Trevor Norlander | $39,345 + 2018 WSOP Main Event seat + bracelet |
| 2 | Milton Jiricha | $28,488 |
| 3 | Darcy Stone | $20,425 |
| 4 | Robert Colbert | $13,975 |
| 5 | Brandon Christianson | $9,138 |
| 6 | Mike Cartwright | $6,988 |
| 7 | Jared Klimosko | $5,913 |
| 8 | Sol Bergren | $4,838 |
| 9 | Gord Matt | $3,763 |
| 10 | Robert Peters | $3,225 |