PokerStars' Futuristic 'Power Up' Game Rolls Out for Real Money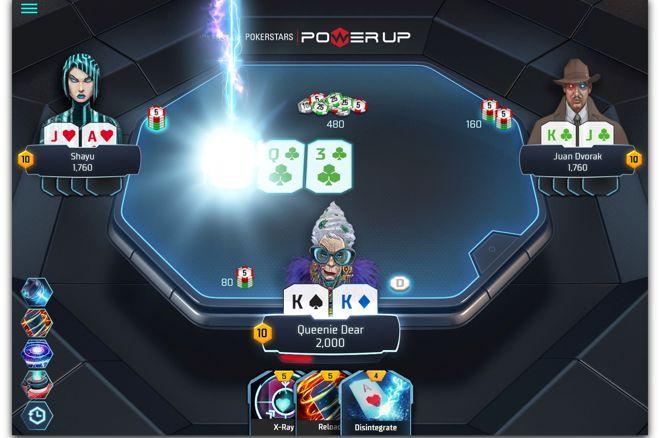 Do you ever wish you could control the cards, like when you're holding the nut flush draw facing a bet or shove with one card to come? Most poker players would admit to calling for cards in their head at one time or another, and on rare occasion actually hitting the card that was summoned, which naturally leads to feelings of clairvoyance and power.
With PokerStars' new game Power Up, this phenomenon is taken to another level as you are actually given powers that allow you to affect outcomes during hands. The challenge? Your opponents have powers too, and may be able to counteract yours depending what they are wielding and how much energy they have saved up.
The newest online poker innovation merges the game of poker that we know and love with another popular passion – video games. While the play money versions should be available to all PokerStars players already, this week PokerStars announced that Power Up is also available for real money games on the .EU client now and is all set to hit the .com and .UK clients very soon at stakes of $1, $3, $7 and $15.
Details of the Game
The year is 2047 and in this utopian setting, the purpose of Power Up is to quench humans' natural need for competition. The intellectual sport allows players to choose from a variety of futuristic characters, each with their own story, personality and thought processes.
Players compete in three-handed sit-n-gos where the winner takes all. The characters have access to nine different "powers" that can change the foundational game of no-limit hold'em drastically.
Among the potential powers are peeking at the top two cards on the deck, drawing a third hole card and discarding one, forcing all opponents to expose one hole card, and disintegrating or essentially deleting a card dealt in the current street.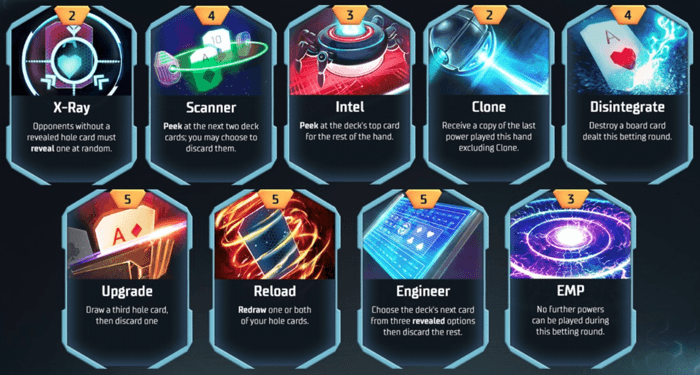 A promotional PokerStars video entitled "PokerStars Power Up Power Play of the Day – Engineer" shows highlights of a hand that demonstrates a couple of other powers in action.
In the hand, "blue-eyed boy Lance" effectively blocks his opponents from changing the cards on the board by going all in with the second-nut flush with


on a board of




. Unfortunate for Lance, "enigmatic Bily" holding


plays her "Engineer card" which allows her to choose the deck's next card from three options. Bily chooses the

from the options provided and then calls the all-in, knowing she will make the nut flush on the river to win.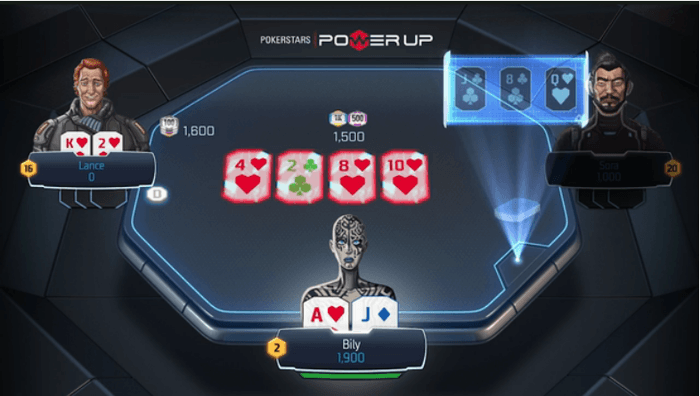 Players can buy the different powers with energy points, which are gained by playing hands. You can hold a maximum of three powers and it costs energy to use them, making the game similar in vein to digital card games like Hearthstone.
This is just a taste of the intricacies of the complicated, exciting next-level strategy game with state-of-the-art graphics and a futuristic feel.
Staying Ahead of the Curve
PokerStars has always prided itself on being at the forefront of innovation in terms of its products and the company's executives see Power Up as the next step in staying ahead of the curve. In addition, Director of Poker Innovation and Operations Severin Rasset expressed the company's pride and excitement that comes with the game's release.
"Since the game's inception, we've been eagerly anticipating this moment and it's finally here," he said. "The team has worked incredibly hard to produce a brand new game which, by utilizing our custom engine, delivers incredible mechanics and an engaging universe. We are immensely proud of this major innovation to poker and we hope our players love it as much as we do."
As reported in Poker Industry Pro, Chief Executive Officer Rafi Ashkenazi anticipates that in addition to serving as a new, exciting offering for current players on the site, Power Up will also reach a new audience as well as re-engage former customers who will find the game appealing and rewarding.
"We've been encouraged by the reaction during alpha testing in July and August and are optimistic that PokerStars Power Up will introduce poker to a new generation of mobile gamers, excite current players and help reconnect with less active or former players."
Try it for Yourself
Poker players and gamers alike have already started taking to the virtual felt to experience this pioneering form of poker, and many more are sure to follow. The future is now — don't fall behind. There will be even more incentive to try out the new game as PokerStars promises to offer special Power Up promotions in the coming days.
You can read more about the experience of playing Power Up from PokerNews' own Frank Op de Woerd, who had a chance to try the game out back in August during its testing phase and wrote a detailed review of the game.
For information on getting started, check out this how-to guide. If you don't already have a PokerStars account, you can create one here today.