Check Out the Full 2018 PCA Schedule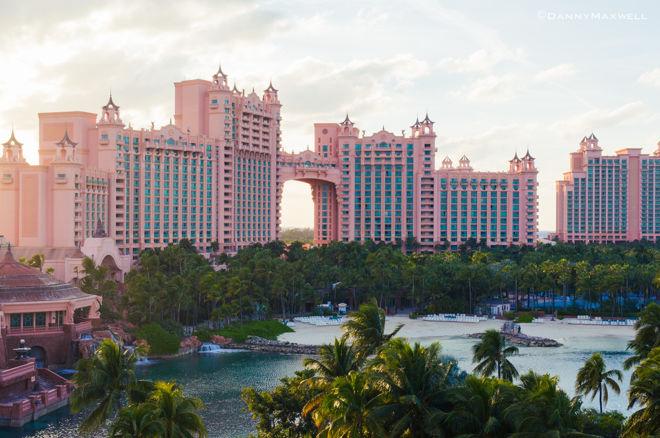 The PokerStars Caribbean Adventure (PCA) is back once again with 31 action-packed events from Jan. 6-14 at the Atlantis Paradise Island Resort in the sunny Bahamas.
The highlight of the schedule is the six-day $10,300 PCA Main Event, which features two opening flights on Jan. 8 and 9. The tournament is a deep-stacked affair with players receiving 30,000 chips and blinds going up every hour on the first day and every 90 minutes on subsequent days.
Players can qualify online at PokerStars through satellites and sub-satellites for a PCA Main Event package valued at $14,855 which includes a Main Event ticket, hotel accommodations at the luxurious resort, $1,000 cash folio, access to the player's party and more.
The schedule also features many other big buy-in events with biggest two taking place early in the schedule in the $100,000 PCA Super High Roller on Jan. 6-8, the $50,000 PCA High Roller on Jan. 8-9.
Lower-limit players haven't been left out in the dust as there are also plenty of events for every type of player with tournament buy-ins starting at $330 and live qualifiers starting at $160. Additionally, any player entering at least one event will be invited to play in the PCA $50,000 Freeroll on Jan. 14.
Players looking for a bit more faster excitement on the felt will be able to enjoy sit-and-go tournaments running around the clock with buy-ins starting at $120.
In addition, there will be cash games for any type of poker player with stakes ranging from $1/2 to $200/$400 and games including no-limit hold'em, limit hold'em, pot-limit Omaha, limit Omaha, seven-card stud and Chinese poker. Hold'em and Omaha cash game players will also be able to win a High Hand Bonus of at least $300 each hour.
2018 PCA Schedule
| Time | Event # | Description | Format | Buy-in | Chips |
| --- | --- | --- | --- | --- | --- |
| Jan. 6 | 12:00 | 1 | NL Hold'em - PCA Super High Roller - 3 Day Event | Unlimited Re-Entry | $100,000 |
| | 17:00 | 2 | NL Hold'em - 1 Day Event | Freeze-Out | $550 |
| | 19:00 | 3 | NL Hold'em - PCA National Qualifier - 1 Day Event | Unlimited Re-Entry | $160 |
| Jan. 7 | 12:00 | 4 | NL Hold'em - PCA National - 3 Day Event | Single Re-Entry | $1,650 |
| | 17:00 | 5 | PL Omaha - High Only - 2 Day Event | Freeze-Out | $550 |
| | 19:00 | 6 | NL Hold'em - $10,300 Cash Qualifier - 1 Day Event | Unlimited Re-Entry | $1,050 |
| Jan. 8 | 12:00 | 7A | NL Hold'em - PCA Main Event - 6 Day Event | Freeze-Out | $10,300 |
| | 12:00 | 8 | NL Hold'em - High Roller - 2 Day Event | Single Re-Entry | $50,000 |
| | 12:00 | 9 | NL Hold'em - $10,300 Cash Qualifier - 1 Day Event | Unlimited Re-Entry | $1,050 |
| | 17:00 | 10 | NL Hold'em - 1 Day Event | Freeze-Out | $550 |
| | 19:00 | 11 | NL Hold'em - $10,300 Cash Qualifier - 1 Day Event | Unlimited Re-Entry | $1,050 |
| Jan. 9 | 12:00 | 7B | NL Hold'em - PCA Main Event - 6 Day Event | Freeze-Out | $10,300 |
| | 17:00 | 12 | PL Omaha - Hi/Lo 8 or Better - 2 Day Event | Freeze-Out | $550 |
| | 18:00 | 13 | NL Hold'em - $3,300 Cash Qualifier - 1 Day Event | Unlimited Re-Entry | $315 |
| | 19:00 | 14 | NL Hold'em - Turbo - 1 Day Event | Single Re-Entry | $2,100 |
| Jan. 10 | 14:00 | 15 | NL Hold'em - 3 Day Event | Single Re-Entry | $3,300 |
| | 17:00 | 16 | NL Hold'em - 2 Day Event | Freeze-Out | $550 |
| | 19:00 | 17 | NL Hold'em - $25,000 Cash Qualifier - 1 Day Event | Unlimited Re-Entry | $2,625 |
| Jan. 11 | 12:00 | 18 | NL Hold'em - 1 Day Event | Single Re-Entry | $25,000 |
| | 14:00 | 19 | NL Hold'em - 3 Day Event | Single Re-Entry | $1,100 |
| | 17:00 | 20 | NL Hold'em - $2,200 Cash Qualifier - 1 Day Event | Unlimited Re-Entry | $210 |
| | 19:00 | 21 | NL Hold'em - $25,000 Cash Qualifier - 1 Day Event | Unlimited Re-Entry | $2,650 |
| Jan. 12 | 12:00 | 22 | NL Hold'em - PCA High Roller - 3 Day Event | Single Re-Entry | $25,000 |
| | 12:00 | 23A | NL Hold'em - PCA Cup - 2 Day Event | Unlimited Re-Entry | $330 |
| | 14:00 | 24 | NL Hold'em - 3 Day Event | Single Re-Entry | $2,200 |
| | 18:00 | 23B | NL Hold'em - PCA Cup - 2 Day Event | Unlimited Re-Entry | $330 |
| | 19:00 | 25 | NL Hold'em - Turbo - 1 Day Event | Single Re-Entry | $1,050 |
| Jan. 13 | 12:00 | 26 | NL Hold'em - $100 Knockout - 1 Day Event | Unlimited Re-Entry | $330 |
| | 14:00 | 27 | NL Hold'em - $500 Knockout - 1 Day Event | Unlimited Re-Entry | $1,650 |
| | 17:00 | 28 | NL Hold'em - $100 Knockout - 1 Day Event | Unlimited Re-Entry | $550 |
| | 18:00 | 29 | NL Hold'em - $5,000 Super Knockout - 1 Day Event | Unlimited Re-Entry | $10,300 |
| Jan. 14 | 12:00 | 30 | NL Hold'em - PCA $50,000 Freeroll* - 1 Day Event | W/2 Optional $100 Rebuys | $0 |
| | 13:00 | 31 | NL Hold'em - 1 Day Event | Unlimited Re-Entry | $10,150 |
The Stars Group owns a majority shareholding in iBus Media