Phil Riley Takes Event 1 at Harvest Poker Classic for $25K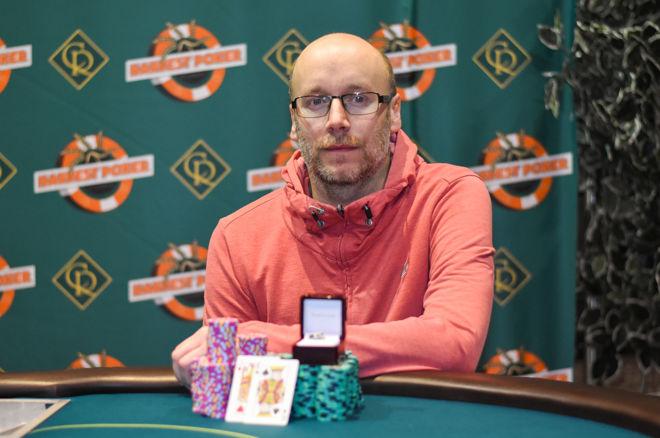 Despite the chilly weather, the poker action is red hot in Regina this week as the 2017 edition of the Harvest Poker Classic is well underway.
Players will be filling the Show Lounge at Casino Regina for the rest of the week looking to score one of four championship rings. Event #1 is already in the books, and a local hero, Phil Riley, took down the second-biggest prize of his poker career. Riley pocketed $24,953 for first place after a deal was reached early in heads-up play.
The kickoff event of the four-tournament series featured a $500 buy-in and saw 237 entries fill the room to capacity and create a prize pool of $106,650. The beautiful, Vegas-style Show Lounge at Casino Regina is converted into a poker room for this week of tournament and cash-game action.
Action started at noon and it was a little after 10 p.m. when the bubble burst and 24 players were guaranteed a piece of the prize pool. Players fell quickly once they were sure to collect cash, and it only took an hour and a half to get down to the final table of 10 players.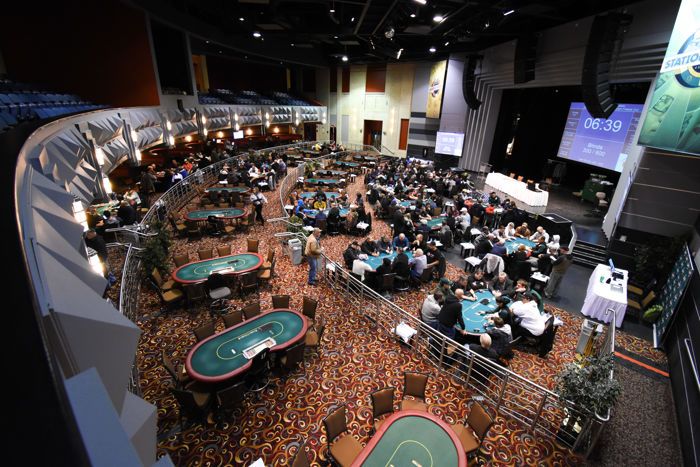 Buddy Little, playing under the banner that boasts his 2010 Main Event win, entered the final table with the chip lead, holding a massive 545,000 chips. That was almost exactly twice the second-best stack, which belonged to Phil Riley. They were also the last two standing as their opponents fell around them.
Early on the final table, Cody Beach stole a huge pot from Buddy Little, taking a large portion of his chips by forcing a fold with a massive river bluff holding a king kicker to the two pairs on the board.
Dallas Larson was the first of the final 10 to be eliminated. He was followed by Chase Johnston, Vong Kim, Doug Baumgartner, and Terry Shulko, all being eliminated in fairly quick succession.
With five players left, Buddy Little had the chip lead back under control, with Cody Beach trailing and Phil Riley sitting middle of the pack.
Mitchell Heidt finished fifth after his king-queen couldn't catch against Buddy Little's ace-five, adding to Little's chip lead. But then Phil Riley took a big pot from Little, evening the two out in chips.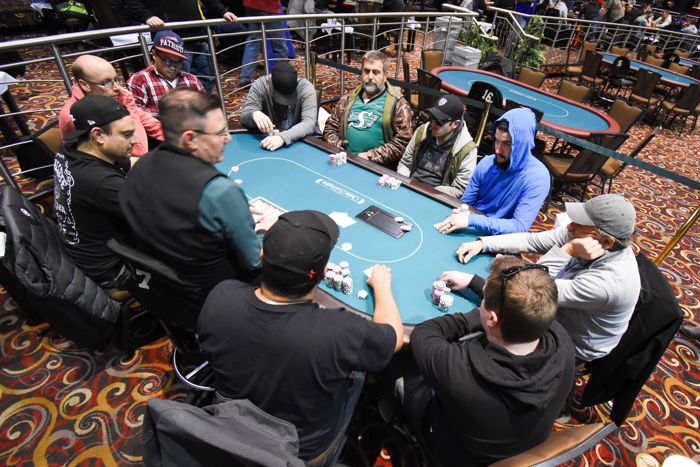 Cody Beach fell next, seeing his top-pair-top-kicker dominated by a flopped two pairs. And Kyle Stronski was eliminated immediately thereafter.
Phil Riley and Buddy Little played a few hands before deciding to talk about a prize pool chop. Counting out their chips, they realized they were almost perfectly matched, so they agreed to each lock up $21,000 and play for the remainder, which amounted to just under $4,000.
Riley started to pull ahead, and then Little's fate was sealed when he tried to bluff on a



board by shoving his


all in. Unfortunately for Little, Riley held two pairs with


and quickly called. Riley improved to a full house by the river and won the tournament, collecting the extra prize money and the Casino Regina champion's ring.
The final table standings ended as follows:
| Finish | Player | Prize |
| --- | --- | --- |
| 1 | Phil Riley | $24,953 |
| 2 | Buddy Little | $21,000 |
| 3 | Kyle Stronski | $11,864 |
| 4 | Cody Beach | $8,301 |
| 5 | Mitch Heidt | $6,074 |
| 6 | Terry Shulko | $4,630 |
| 7 | Doug Baumgartner | $3,661 |
| 8 | Vong Kim | $2,992 |
| 9 | Chase Johnston | $2,516 |
| 10 | Dallas Larson | $2,170 |
Other players to cash the tournament included the likes of Kyle Hartree and Chris Bowers. While the players who fell short of the money included Kris and Jared Klimosko, Tyler Bonkowski, Russ Meilunas, Ryan and Mike Smith, Troy Nisbet, Eric Wasylenko, Kyle Irvine, Trevor Norlander, and Jordan Johnstone, among many others.
The Harvest Poker Classic series continues through the week, with events on Thursday, Friday, and the Main Event on Saturday. Events kick off at noon each day, and buy-ins increase through the week. Thursday's event is a $700 buy-in, while the Friday knockout event will cost $900, and the big show on Saturday is $1,100. PokerNews Canada will be in the Show Lounge all week, watching the action and bringing you all the details.