Lyndon Knutson is the 2017 Harvest Poker Classic Main Event Champion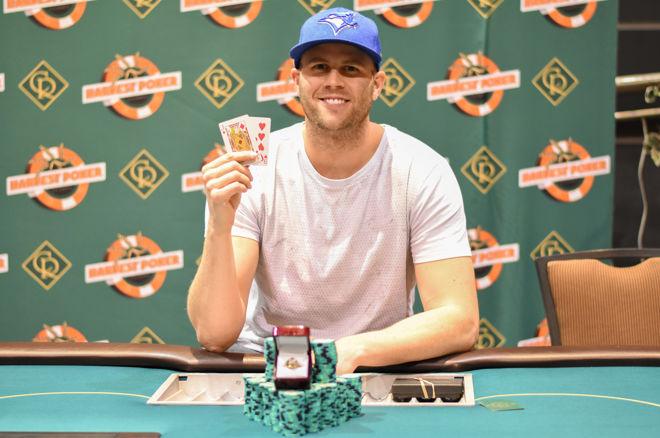 After four days of poker, the 2017 Harvest Poker Classic has come to a close. All four events at the 21st running of the series surpassed 200 entries. Added together, there was nearly $700,000 in total prizes throughout the week.
The fourth and final event, the Main Event, finished after a hard-fought battle finally came to an end at about 4:30 a.m. at Casino Regina. The 2017 Harvest Poker Classic Main Event Champion is Lyndon Knutson.
The Main Event carried a buy-in of $1,100 and received an amazing 251 entries, creating a prize pool of $251,000. With 26 players guaranteed to make money, it was late in the evening before the bubble burst, and already early Sunday morning before the final table of 10 was set.
Paul Jain was eliminated shortly after the final table began, followed closely by Jody Fayant and Jaymie Holland.
Then Leo Leclerc had the misfortune of being on the losing end of an aces-versus-kings cooler, getting eliminated in seventh place.
Tyler Warken was next out, unable to improve with ace-nine to Lyndon Knutson's queens, followed by Chad Riddell. Then, with the elimination of Jason Jungle, it was down to three.
Lyndon Knutson enjoyed an enormous chip lead over Phil Riley and Trevor Norlander. Eventually, Riley was the player to fall in third when his queens were out-flopped by Knutson's ace-five. Riley had an insane week, with three final tables including two third place finishes, and the win in Event 1.
After battling it out for more than a full level, Norlander met his demise when he shoved the turn with third pair and a draw to a straight. Knutson held top pair and faded the river, winning the final hand.
Norlander pocketed $41,689 for the runner-up result, while Knutson's win earned him $66,045 along with the Casino Regina champion's ring.
The full final table results are below:
| Finish | Player | Prize |
| --- | --- | --- |
| 1 | Lyndon Knutson | $66,045 |
| 2 | Trevor Norlander | $41,689 |
| 3 | Phil Riley | $27,716 |
| 4 | Jason Jungle | $19,332 |
| 5 | Chad Riddell | $14,091 |
| 6 | Tyler Warken | $10,692 |
| 7 | Leo Leclerc | $8,412 |
| 8 | Jaymie Holland | $8,836 |
| 9 | Jody Fayant | $5,717 |
| 10 | Paul Jain | $4,903 |
That's a wrap from cove the 2017 Harvest Poker Classic. It was a huge week of poker in Regina, and congratulations go out to all the winners.