Phil Riley Dominates Harvest Poker Classic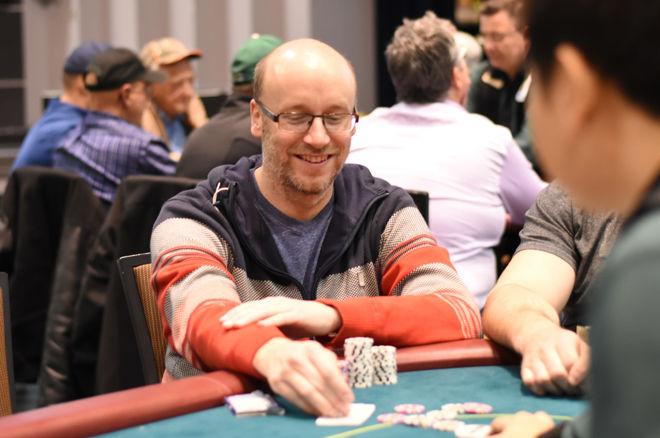 The 2017 rendition of the Harvest Poker Classic from the Show Lounge in Casino Regina in Saskatchewan has wrapped up crowning four new winners across four days taking place from November 8 to 11. The tournament series was an amazing success with nearly $700,000 in prizes being awarded across the four events.
Event #1 - $500 No-Limit Hold'em
The first event got underway with 237 entries to create a prize pool worth $106,650. While the top 24 finishers were guaranteed to walk away with at least $1,133, all players were eyeing the first-place prize of $24,953.
The final table was set and Buddy Little took the chip lead with him to the ten-seat with 545,000 while Chase Johnston was the short stack sitting on 64,000 while the blinds were at 6,000/12,000.
The tournament came down to Phil Riley and Buddy Little and, when both stacks got to virtually even, players decided to make a deal, locking up $21,000 while playing for the remaining $3,953 in the prize pool.
Phil Riley took the chip lead and never looked back, eliminating Little after Little shoved on a flop of



holding


. Riley snap-called holding


for two pairs. The turn was the

giving both players the same straight draw for a chop, but the river was the

giving Riley a full house and the victory.
Here are the final table payouts: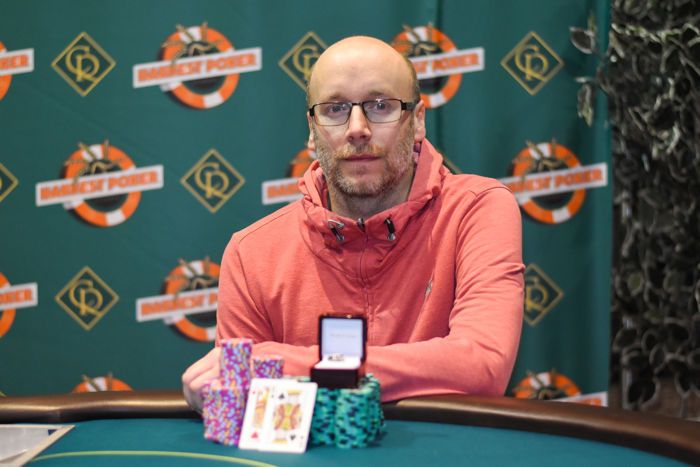 | Finish | Player | Prize |
| --- | --- | --- |
| 1 | Phil Riley | $24,953* |
| 2 | Buddy Little | $21,000* |
| 3 | Kyle Stronski | $11,864 |
| 4 | Cody Beach | $8,301 |
| 5 | Mitchell Heidt | $6,074 |
| 6 | Terry Shulko | $4,630 |
| 7 | Doug Baumgartner | $3,661 |
| 8 | Vong Kim | $2,992 |
| 9 | Chase Johnston | $2,516 |
| 10 | Dallas Larson | $2,170 |
*Denotes a heads-up deal made
Event #2 - $700 No-Limit Hold'em
The second event of the 2017 Harvest Poker Classic was a $700 No-Limit Hold'em event, which saw an amazing 246 players enter to create a prize pool of $154,980. This meant that 25 players would go home happy with at least $1,581 going back into their pockets.
Justin Skamanis took an early chip lead in the tournament and put those chips to good use as he headed to the final table as the chip leader with 758,000 chips while Steve Sterling was second with 369,000. Mike Braat started the final table as the short stack with 128,000. After Skamanis eliminated Brian Fiesen in third place for $17,174, he set himself up for a victory with an approximate two-to-one chip lead over Sheldon Birkeland. Skamanis made quick work of his opponent and ended up three-bet shoving to a preflop raise from Birkeland. Birkeland called and was in rough shape holding


to the


of Skamanis. The board ran out true for Skamanis and he eliminated Birkeland in second place for $25,802 while he picked up $40,839 for the victory to go along with a second Casino Regina ring to add to his fingers.
Here are the final table payouts for Event #2: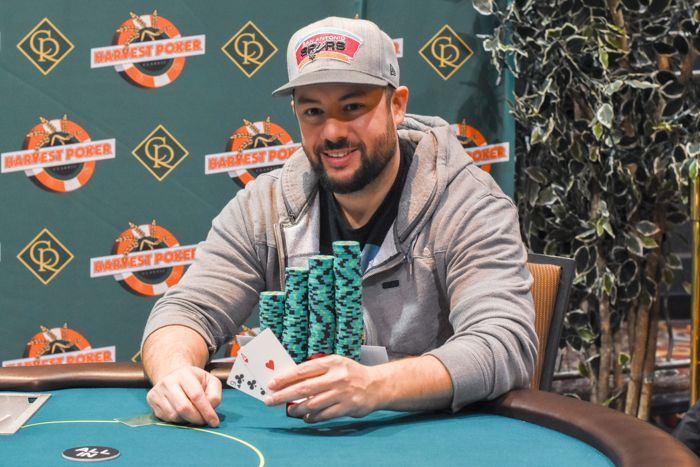 | Finish | Player | Prize |
| --- | --- | --- |
| 1 | Justin Skamanis | $40,839 |
| 2 | Sheldon Birkeland | $25,802 |
| 3 | Brian Friesen | $17,174 |
| 4 | Steve Sterling | $11,997 |
| 5 | Mike Braat | $8,761 |
| 6 | Leo Leclerc | $6,662 |
| 7 | Dominick French | $5,255 |
| 8 | Chelsey Desjarlais | $4,282 |
| 9 | Paul Weenusk | $3,591 |
| 10 | Pat Kendel | $3,088 |
Event #3 - $900 No-Limit Hold'em Bounty
The penultimate event on the Harvest Poker Classic was the $900 bounty event, which saw $100 of the $900 buy-in go toward a player's bounty. The tournament saw another impressive prize pool of $177,840 from the 247 entries. This meant that at least 25 players would be guaranteed to walk away with a min-cash of $1,814.
As the final table loomed, there were many well-known local players still in the hunt, including Event #1 winner Phil Riley. Riley made the final table and sat in third place. He was also joined by the Klimosko brothers, Derek and Jared. The later of which has his name on the Harvest Poker Classic banner for his 2014 Main Event victory.
Another Harvest Poker Classic Main Event Champion also joined the players in Pete Fylyma, who captured the 2016 crown for $63,087. Fylyma's run came to an abrupt end though when Riley and Fylyma got into a preflop all-in confrontation with Riley holding


against the


of Fylyma. Fylyma couldn't improve though and he exited in seventh place for $6,030 while Riley added a $100 chip into his pocket.
Riley, the Klimosko brothers, and Adrian Baran were the last four players, and the quartet decided to make a deal well into the wee hours of the next day. All four players were guaranteed to receive $25,000 while second would earn an extra $3,000 and the winner would get an extra $6,948 along with the Casino Regina champions ring.
Derek Klimosko was eliminated in fourth place when his flopped middle pair and a flush draw couldn't improve to the top pair of Baran.
The chance of pulling off a double win came to an end for Phil Riley when he called off from the big blind with


to the


of Jared Klimosko. Riley couldn't improve and exited in third place.
After Jared Klimosko doubled up and left Adrian Baran short stacked, Baran went on an insane run of cards, doubling up four times in a row including with pocket kings, pocket tens, and pocket twos to retake the chip lead. Baran then won the next hand as both players were all in blind and Klimosko's


were no match for the


of Baran on a run out of





and Baran made a straight to collect $31,948 and a Casino Regina Champions ring to go along with all the $100 bounties he earned throughout the tournament.
Here are the final results for Event #3: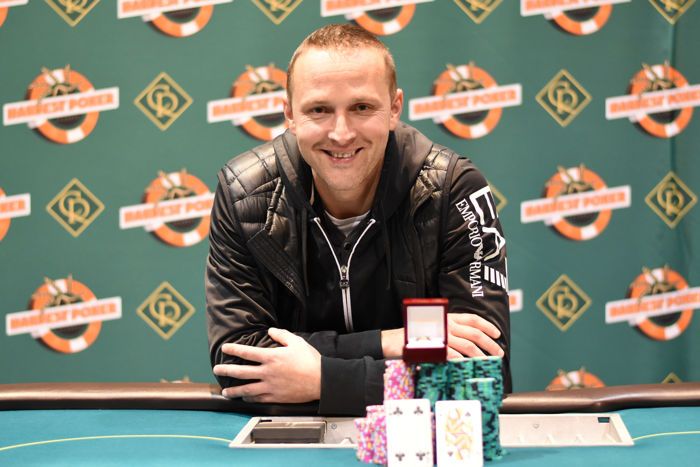 | Finish | Player | Prize |
| --- | --- | --- |
| 1 | Adrian Baran | $31,948* |
| 2 | Jared Klimosko | $28,000* |
| 3 | Phil Riley | $25,000* |
| 4 | Derek Klimosko | $25,000* |
| 5 | Curtis Vigoren | $10,054 |
| 6 | Kris Lee | $7,645 |
| 7 | Pete Fylyma | $6,030 |
| 8 | Ed Haraldson | $4,913 |
| 9 | Pavel Krumer | $4,120 |
| 10 | Lorne Gill | $3,543 |
*Donates four-way deal made
Event #4 - $1,100 No-Limit Hold'em Main Event
With some big fields in the first three events, the last event on the schedule was the $1,100 buy-in Main Event and the tournament did not disappoint. A total of 251 entries were made to create a total prize pool of $251,000. This meant that 26 players would be paid at least $2,462.
Recent Casino Regina Main Event winners Pete Fylyma (Reigning Harvest Poker Classic Champion, 23rd Place - $2,462) and Doug McGinnis (2017 Diamond Poker Classic Main Event Winner, 21st - $2,462) were amongst the first set of eliminations after the money bubble had burst.
After Afroz Popatia was eliminated in 11th place for $4,297 the final table was set. Jody Fayant held the share of the chip lead with Lyndon Knutson with 505,000 while Trevor Norlander clung to his tournament life as the short stack with 164,000. Event #1 winner and Event #3 third place finisher Phil Riley was having a Harvest Poker Classic to remember as he still had chips and made his third final table of the series and sat in fifth place with 455,000. Leo Leclerc had also made his second final table of the series coming off a sixth place finish in Event #2.
One of the co-chip leaders chipped up while the other one fell in the early goings of the final table. Knutson eliminated Paul Jain in tenth place for $4,903 and while Fayant had some good starting hands to start the final table, he seemed to catch a case of second best and was finally eliminated in ninth place for $5,717 when his


couldn't catch up to the


of Tyler Warken.
Jaymie Holland was the next to be eliminated when Knutson added to his chip lead and crossed the 1 million chip plateau. Holland received $6,836 for his eighth place finish.
Leo Leclerc couldn't improve upon his sixth place finish in Event #2 as he exited in seventh place for $8,412 when his pocket kings were no match for the pocket aces of Knutson.
Knutson's run of premium hands continued when he rolled over


against the


of Tyler Warken. Warken's day came to an end in sixth place for $10,692.
Chad Riddell stayed steady throughout the final table but ultimately was eliminated in fifth place for $14,091.
Trevor Norlander, who came into the final table as a short stack and always found a way to add chips to his stack then took out a short stacked Jason Jungle when his


had the


of Jungle dominated. Jungle received $19,332 for the fourth-place finish.
This set up a three-way battle between chip leader Lyndon Knutson (2,350,000), Trevor Norlander (700,000) and Phil Riley (700,000). Riley still had a shot at winning his second event of the series.
Unfortunately for Riley the dream came to an end when he shoved and was called by Knutson. Knutson held


while Riley was way ahead with


. The flop was torture for Riley though as Knutson flopped a pair of aces on the



board. The dealer placed out the

and

to complete the board and push Knutson the pot. Phil Riley takes home another payday above $20,000 with $27,716 for the third place finish while Knutson moved over the 3 million chip mark for a commanding lead.
Trevor Norlander did end up doubling up to close the chip deficit to only two-to-one.
But after Knutson called a Norlander three bet on a flop of



the dealer placed out the

. Norlander shoved all in and Knutson called.
Norlander:



Knutson:


Knutson's top pair was in the lead while Norlander had bottom pair with an open-ended straight draw. The river was a meaningless

giving Knutson the pot along with $66,045, a shiny new Harvest Poker Classic Main Event ring, and his name added to the banner in the Showroom Lounge that gets hung during all Casino Regina poker events. Norlander's valiant second place effort earned him $41,689.
Here is how the final table ended along with the payouts: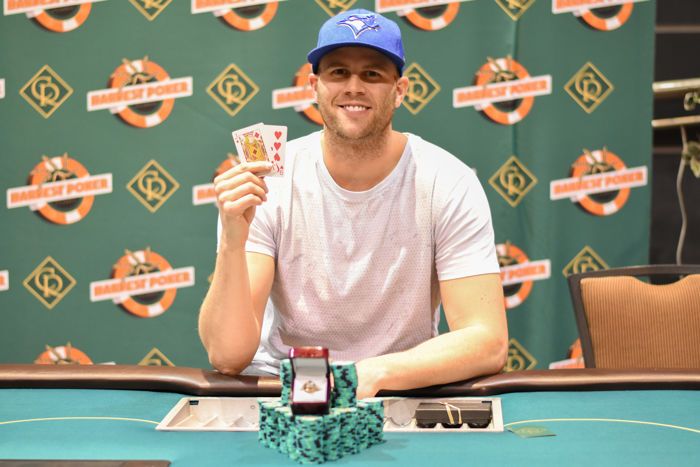 | Finish | Player | Prize |
| --- | --- | --- |
| 1 | Lyndon Knutson | $66,045 |
| 2 | Trevor Norlander | $41,689 |
| 3 | Phil Riley | $27,716 |
| 4 | Jason Jungle | $19,332 |
| 5 | Chad Riddell | $14,091 |
| 6 | Tyler Warken | $10,692 |
| 7 | Leo Leclerc | $8,412 |
| 8 | Jaymie Holland | $6,836 |
| 9 | Jody Fayant | $5,717 |
| 10 | Paul Jain | $4,903 |
Even with the end of the 2017 Harvest Poker Classic, the biggest buzz and chatter in the room was about Phil Riley. After a win in opening event, and two third-place finishes on back-to-back nights in Event #3 and the Main Event, Riley amassed over $77,000 across the four days, a dominating performance to say the least.