Holiday Charity Poker Stream Raises $25,000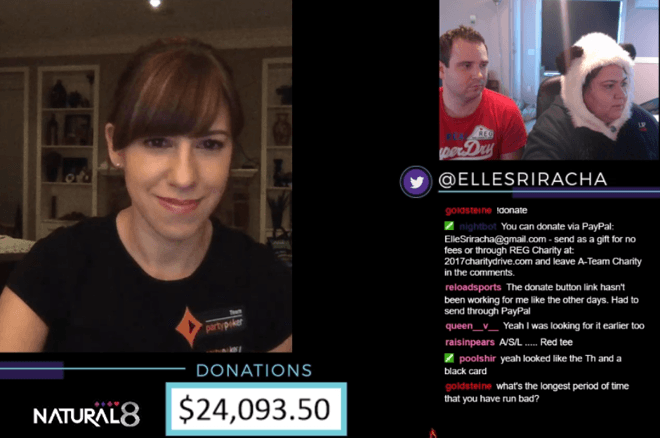 The holidays are a time when people come together, and sometimes good intentions can be magnified by community into something truly magical. That's what happened to "the little stream that could."
Alberta-based poker reporter Aleeyah Jadavji had relatively modest goals when she and stream partner Adam Lamers initially got the idea. When the A-Team Charity Stream kicked off on December 18, they didn't even set a firm monetary goal, though Jadavji said she secretly hoped to collect $5,000 over the week of daily streams plus a 24-hour Boxing Day stream to finish it off.
The stream kicked off with guest spots from Danielle Andersen and Jamie Kerstetter on December 18, followed by 2014 WSOP Main Event Champion Martin Jacobson the next day. When Kim Yuhl and Ryan Laplante headlined the Wednesday lineup, the stream was on pace to hit that $5,000 goal, with just over $3,000 raised in three days of streaming.
It was the December 21 stream where things got crazy. Scheduled guests Eric Wasylenko and Patrick Serda both pledged to match all donations made during their segments, and donations took off. By the end of broadcast that day, the onscreen total was just under $8,000. Then Bill Perkins caught wind of what was going on, and dropped by to toss another $5,000 into the bin, effectively capping the limits of both Serda and Wasylenko. After all was totaled, there was an astounding $15,871.04 in the donations jar.
The first week of streaming ended on the 22nd with guest Jen Shahade, and more donations rolled in. When the stream wrapped for the Christmas weekend, they'd collected a total of $17,315.00, more than three times the optimistic original goal.
If that was the end of it, A-Team could have chalked up a huge success that exceeded their wildest dreams. But instead, after refreshing themselves over the holiday weekend, Lamers and Jadavji were back at it on Boxing Day with a huge lineup of guests for a 24-hour stream session.
Andrew Barber and Jason Somerville rocked the stream on the evening of the 26th, while Ari Engel and Philipp Gruissem filled out the guest list in the early hours of the morning. Up and coming Canadian star Kristin Bicknell helped close out the 24 hours in the afternoon of the 27th. Throughout the week, Shirley Ang provided an engaging and fun open-face Chinese poker opponent for Jadavji when there were no guests, and special mention needs to go to Melissa Wang for helping keep order in the Twitch chat.
When they went offline on December 27 at 6 p.m. MST, the total in the donations bin was slightly above $24,300. Throughout the week, Lamers and Jadavji played poker during the times when there were no guests, with a pledge to donate their winnings at the end. Their winnings brought the total so close to $25,000 that the two decided to just top it up to that round number.
From humble beginnings, the A-Team Charity Stream blew threw even their most optimistic early estimates and will hand over $25,000 to Raising for Effective Giving (REG), an organization that uses advanced metrics to determine the most value for money in charitable giving, then uses that data both to do the most good themselves, and help guide others in making the best, most effective, charity decisions. Thanks to a global matching pledge by Martin Crowley, Tom Crowley, and Dan Smith, that $25,000 will actually be worth $50,000 in help for people who need it all over the world.
What started as an optimistic goal of $5,000 mushroomed into a groundswell of support, and it left an impact on Jadavji. She called it a "game-changer" for her personally, and was already looking forward to what might come next for her.
"I already reached out to REG Charity and I will definitely be finding a way to work with them next year and help grow the amazing brand their team have created. This isn't the end, and at the very least we will be growing this Charity Stream and will be back next Christmas."
That's a Christmas present worth talking about.