Poker Reporters Give Back for Christmas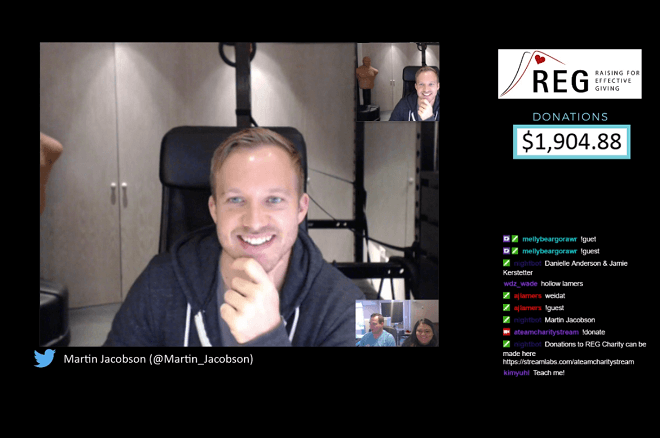 Christmas is a time when many people in the poker world slow down a bit, and push back from the green felt table to spend some down time with family, away from the world of cards at the family dining table. After a whirlwind year of playing and live reporting that saw her filing hand histories from as far away as Chile, Aleeyah Jadavji probably deserved to have a quiet holiday over the Christmas season.
But instead of slipping into her fuzzy panda slippers and settling down with a vat of eggnog and Netflix, she's decided to put in another week of work, kicking off a charity stream running the week before Christmas and culminating in a massive 24-hour stream on December 26 and 27.
She and stream partner Adam Lamers have been playing hold'em, Omaha, and open-face Chinese since Monday, looking to raise money for Raising for Effective Giving (REG) Charity. After the third day of streaming, the team has already raised over $3,000 for REG, a charity founded by Phil Gruissom, Igor Kurganov, Liv Boeree, and Stefan Huber that helps people find the best avenues for donating their time or money.
Jadavji and Lamers playing poker is the foundation of the stream, but the icing on the cake are the interviews and guests. The first night of streaming featured Danielle Moon and Jamie Kerstetter in a round table discussion with Lamers and Jadavji that ranged from funny and irreverent to serious and insightful.
Highlights from Monday's discussion include Moon discussing her encounter with Howard Lederer at the World Series, but the star of the segment was reserved for Kerstetter's dog Crouton, who slept through most of the discussion but generated a large pile of cuteness chips (and donations) in the process. Despite some technical challenges with sound and video, Day 1 of the stream was a success that collected close to $1,000 for charity.
The stream rolled on from the opening day with none other than WSOP Main Event champion Martin Jacobson on Tuesday's show. In a wide-ranging discussion, Jacobson talked about his Main Event win and life away from the tables, as well as his long-time support of REG. More donations came in during Jacobson's appearance, and the poker pro put his own money where his mouth is, dropping $1,000 of his own cash into the donations bin.
Day 3 ran on Wednesday evening and featured Shirley Ang of Unibet, Kim Yuhl, a well-known writer and marketing guru in the industry, and American pro Ryan Laplante, as guests. Pushing total contributions over $3,000, the highlight of Day 3 was a fascinating discussion with Yuhl about the future of poker. She had some excellent insight on the general future of the game, but specifically in the largest "growth market" for the poker world: female players.
Day 3 marked the mid-point of the week-long stream. Jadavji and Lamers plan two more evenings of streaming before Christmas, followed by a massive 24-hour stream starting at 6 p.m. MST on December 26. December 21 is the Canadian day, with guest spots from Eric Wasylenko, fresh off a huge poker tour through eastern Europe, as well as Winnipeg native Patrick Serda.
Serda has generously offered to match all donations received during his segment up to $5,000. Added to the offer by Martin Crowley, Tom Crowley, and Dan Smith from the REG Charity Drive to double all money donated to the stream, a donation made during Serda's segment, starting at 8 p.m. MST, will actually be worth four-to-one on your money.
The rest of the week promises to be just as big. Friday's show will feature poker and chess phenom Jen Shahade at 6 p.m. MST, and guests lined up for the 24-hour Boxing Day extravaganza include Andrew Barber, Ari Engel, Kristin Bicknell, and Twitch poker king Jason "JCarver" Somerville.
Even if the stream wasn't raising thousands of dollars for charity, the guest value alone would be well worth the time spent watching. Add that to over $3,000 and counting raised for charity, and A-Team Charity Stream is value you just can't afford to miss. Tune in tonight for the all-Canadian lineup of Wasylenko and Serda, and make the most of your donation by getting it doubled, then doubled again, during Serda's segment.
It all kicks off at 3 p.m. MST today and tomorrow, with the final 24-hour stream on Boxing Day starting at 6 p.m. Head over and check it out. You'll get some great poker discussion for your time, as well as the chance to donate to a great cause this Christmas season. It is the season of giving, after all.