CoinPoker Stage I ICO Has Begun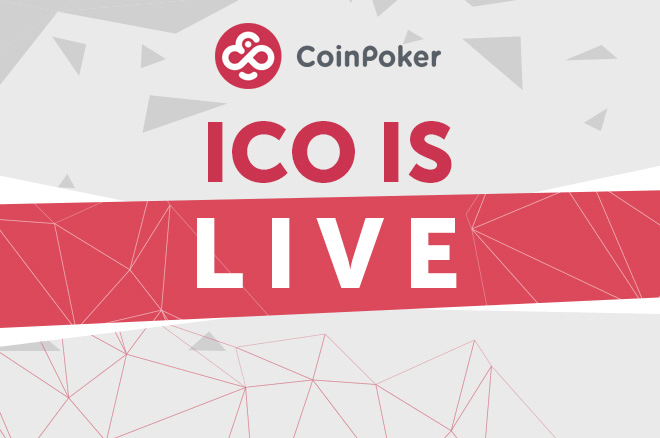 Breaking news for cryptocurrency and poker fans! CoinPoker, the innovative cryptocurrency-based online poker room launched in mid-November, just went live with its Stage I Initial Coin Offering (ICO) on Jan. 19 at 10 a.m. GMT.
The Stage I ICO will close on Jan. 26 or when the cap of 137.5 million CHP tokens, the cryptocurrency utilized in the online poker room, is sold out, whichever comes first. The price is fixed during the current stage at 1 ETH to 4,200 CHP.
Interest has been high in CHP as not only have there been tens of thousands of players including 4,000 unique daily players flocking to CoinPoker, but a pre-ICO launch on Nov. 22 sold out 100 million CHP tokens in just six days at a price of 1 ETH to 6,600 CHP.
In addition, a Stage II ICO is planned for the near future where another 137.5 million CHP will be on sale at a price of 1 ETH to 3,500 CHP. After Stage II is completed, 375 million CHP tokens will have been distributed, which represents 75 percent of the total supply of 500 million CHP tokens.
CoinPoker shared with its customers to not use any exchanges to obtain tokens and instead use an ERC-20 compliant wallet and a 200,000 gas limit. In its Medium article, CoinPoker recommends that you use any of the following wallets:
MyEtherWallet (no download needed)
MetaMask (Firefox and Chrome browser add-on)
Mist (Desktop)
Parity (Desktop)
imToken (iPhone)
imToken (Android)
Win a Tesla S GTD
CoinPoker will return to its community 15 percent of the tokens collected during the entire ICO through real-money tournaments, which includes the ongoing freeroll series where the site is generously awarding a massive 5 million CHP tokens.
In addition, CoinPoker is about to host its biggest tournament to date on Jan. 21 at 8 p.m. GMT where a Tesla S valued at €71,100 will be awarded to the winner.
This can't-miss tournament features a 3,000 CHP buy-in, however, there are many satellites including freerolls to allow all players a chance to be the proud owner of the luxurious automobile.
To get involved in this amazing tournament and the online poker room's many other offerings, you will obviously need an account at CoinPoker. The process is quick and easy. Simply sign up to CoinPoker and within a couple of minutes, you will be able to play on the site everyone is talking about.
How To Get Funds to Participate in the ICO
To participate in an Initial Coin Offering (ICO), you need to have some Bitcoin (BTC) or Ethereum (ETH) in your possession. In the case of CoinPoker, ETH is the coin that is appropriate for this transaction. ETH and Bitcoins are the most well-known coins that you can buy with real money. But how do you get ETH?
1) Buy ETH with $ or €
You will have to create an account at a site that gives you the opportunity to exchange your local currency for ETH. Some of the most frequently used sites for this process are Coinbase.com and Bitpanda.com. Other options besides Coinbase and Bitpanda, are Gemini and CEX.io.
If you create an account on one of these sites, you will have to verify your identity to be able to make real money transactions. They require you to upload documents like a passport, new type driver's license, or Photo ID.
After you've verified your account, it's time to make your first transaction. To do this, you'll need a credit/debit card with a 3D secure system. This means that Skrill is NOT accepted for this because it doesn't have this system integrated into its Mastercard. The same applies to Neteller. When your card gets approved, you will have your first ETH.
The accounts on Coinpoker and the like come with their own wallet that store your Ethereum and also hold a USD or EUR wallet where you can change your crypto back to fiat. It's important to note that to participate in Coinpoker's ICO, an ERC-20 compliant wallet is needed, which your wallet on Coinbase, Bitpanda or any of the exchanges like Bittrex is not.
2) Set Up MyEtherWallet
While we recommend setting up a hardware wallet like the Ledger Nano S or TREZOR, MyEtherWallet (MEW) is a paper wallet alternative that's easy to set up for this process. Once you've completed setting up your MEW, you can transfer your funds from your Coinbase wallet to your MEW to enter the ICO. Please make sure to follow all the MEW instructions carefully as not to get locked out of your wallet.
When you set up your MyEtherWallet, make sure always to write down your password, public key, private key and download your Keystone / JSOP file. Also, never give out your private key to anyone. All steps are written out on both the above link and on the MyEtherWallet.com website. Please follow them carefully as not to lose access to your MyEtherWallet.
3) Enter the ICO
Once you've transferred your funds from your Coinbase wallet to your MEW, you can enter the ICO from your MEW. For further information on setting up MEW and how to exactly participate in the ICO, check coinpoker.com/how-to where everything is explained in detail.