Google Arts & Culture Meets 10 of Canada's Best Poker Players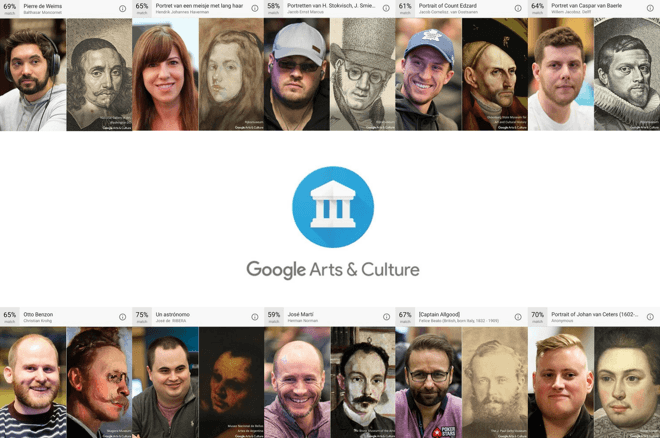 You've likely already seen selfies paired with portraits filling your Instagram and Facebook timelines. Google's Arts & Culture app was recently released to Canadians, allowing users to take a selfie and discover which piece of art most looks like them.
We compiled a list of 10 Canadian poker players that have been filling our headlines early in 2018, and used Google Arts & Culture to pair their face with art.
Timothy Adams
Timothy Adams is a great match with Pierre de Weims by Balthasar Moncornet. Just add a few decades of age and a terrible hairstyle and the resemblance is uncanny! If the engraving could come to life and walk down the street with Timothy Adams, you'd swear it was young Timothy going for a walk with Grandpa Adams.
Kristen Bicknell
One of Canada's brightest up-and-coming stars, Kristen Bicknell, apparently resembles Portret van een meisje met lang haar by Hendrik Johannes Haverman. This is one instance where the poker player is actually more famous than the person in the artwork! Bicknell, the best female poker player in the world last year, certainly outshines the anonymous "girl with long hair."
Shawn Buchanan
The recent runner-up in the PCA Main Event was matched with Portretten van H. Stokvisch, J. Smies en D. Kerkhoff by Jacob Ernst Marcus. You're hard-pressed to find a photo of Shawn Buchanan without a hat pulled low over his glasses, so I guess that similarity is relevant. Bucky really ought to try growing out some mutton chops like those in the engraving.
Daniel Dvoress
Daniel Dvoress' smiling mug got paired up with the fierce-faced Portrait of Count Edzard by Jacob Cornelisz. van Oostsanen. And, honestly, get Dvoress to turn to his left, wipe off the grin, and swap the Maple Leaf's cap for a witch hat, and you've got a pretty good match. Dvoress should probably find it a little worrying that the 16th-century German has the better poker face, though.
Ari Engel
Canada's two-time Player of the Year proves to bear a striking resemblance to a young Caspar van Baerle, as shown in this engraving by Willem Jacobsz. Delff. The 17th-century theologian and poet also shares a similar story with Ari Engel in their earliest Years. Caspar van Baerle was born in Antwerp, but his parents fled the country soon after his birth, kind of like how Engel was born in Canada but moved out of the country at a young age, though not because of a Spanish invasion.
Sam Greenwood
Google missed this one as bad as a turned straight all in against a full house. Sam Greenwood was matched with Otto Benzon by Christian Krohg, and the physical similarities are not apparent to me. However, Greenwood occasionally practices somewhat the same art as the Danish writer and poet. Have you ever seen Greenwood's blog of movie reviews? These two both have a way with words.
Chris Kruk
The similarities are a little less obvious with Google's match for new-to-the-limelight Chris Kruk. The painting, called Un astrónomo by José de Ribera, is a much darker and gloomier portrait than the cheery and bright Kruk. But I guess they are similar in that the astronomer in the painting is reaching for the stars, just like Kruk has been lately with lots of success in high rollers.
Mike Leah
Mike Leah was matched with José Martí by Herman Norman, a portrait of the Cuban political figure. The hairline is definitely there, and the narrow features. Leah, can you grow a wide, bushy moustache and a soul patch so we can verify the resemblance?
Daniel Negreanu
Daniel Negreanu's doppelganger is a portrait of Captain Allgood by Felice Beato, and the resemblance is actually pretty strong if you can imagine the Captain's face with a much shorter beard. Also, Allgood seems to have the same hair-thinning issue, but doesn't have the benefit of modern technology Negreanu enjoys, having to rely on a combover to fill in the sparse bits.
Jaime Staples
Canadian Twitch maven Jaime Staples has some similarity to Portrait of Johan van Ceters, according to the app, but I'm not seeing it. Staples has better hair and lacks the wispy moustache that would make you want to cross the street to avoid meeting.
Find your own match by downloading the Google Arts & Culture app and tag us in your post when you share it!