The 2018 Playground Winter Festival is Underway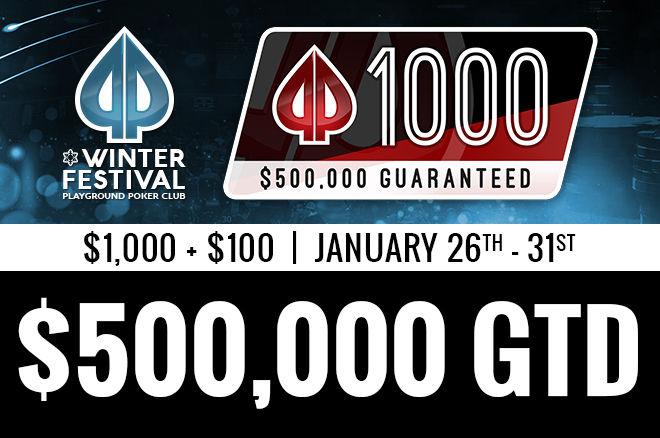 The action is heating up in the 2018 Edition of the Playground Winter Festival, on now at Playground Poker Club in Kahnawake, just outside of Montreal. With 17 events over 18 days, this year's festival is certain to warm things up with a total of over $1,000,000 in prize pool Guarantees between January 14th and 31st.
The kickoff event - a $135 + $25 NL Hold'em Next-Day Re-entry event - is on now and boasts an impressive $100,000 Guarantee. The tournament is also a boon to the community because the $25 "rake" is not a normal tournament fee - this amount will be given as a donation to local charitable initiatives.
Event #1 began with a snowstorm and a record cold snap, but the kickoff event has done an amazing job - it has succeeded in chasing the coldest part of winter away! From here on out we're promised mild winter temperatures and little to no new snowfall - meaning it's one of the most beautiful times of the year to travel to the Montreal area.
The cornerstone event in the Winter Festival is the Playground 1000.
This weekend will see the beginning of the next big event in the Winter Festival, the now-traditional $250 Frenzy. With a huge $200,000 Guarantee, this NL Hold'em event features 6 Day 1s (next day re-entry) and is as close as you can get in the world to Big Event Poker for just a $250 buy-in.
The cornerstone event in the Winter Festival is the Playground 1000. This is an innovative $1,000 + $100 event with a $500,000 Guaranteed prize pool. It features a 100K starting stack and three Day 1s with one entry and one re-entry permitted throughout each 10-level starting flight. As if that weren't enough - players can also register all the way until the end of the second level on Day 2 - everyone will have plenty of opportunities to play into the money in this event. Live and Online satellites have been running for some time, ensuring that the field is made up of all levels of players.
The Playground Winter Festival will also host a full array of side events, including a single-day $550 NL Hold'em freezeout tourney, the ever-popular $165 Seniors' Tournament for the over-50 crowd, and a massive $500 + $100 + $500 50/50 Bounty event with a $100,000 Guarantee.
The Playground Winter Festival continues until January 31st in Kahnawake, just minutes south of Downtown Montreal. Learn more about the Winter Festival at playgroundpoker.ca.
Sponsor generated content by Playground Poker Club.