The Canadian Sunday Briefing: "GuiGui87" Wins Sunday Storm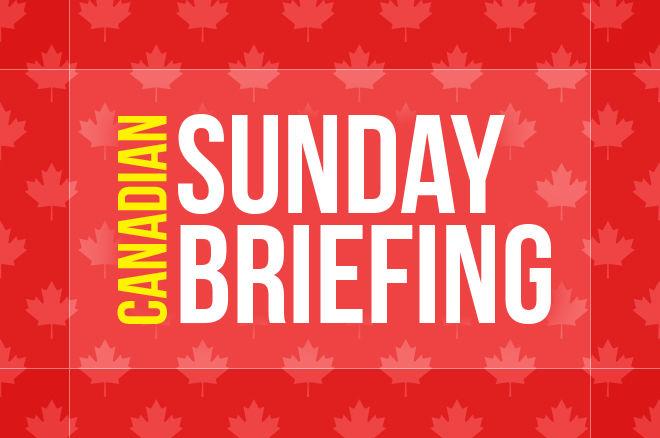 Every Sunday, millions of dollars are paid out to poker players around the world when sites like 888poker, PokerStars, and partypoker host the week's biggest and best online tournaments. Each week, we take a look at how players from Canada fared in the Sunday majors.
This Sunday, January 21, 2018, there were a lot of big results by the Canadian contingent, including a win by "GuiGui87" in the Sunday Storm on PokerStars for more than $20,000. Here's a full report on major Canadian results this Sunday:
Sunday Majors on 888poker
The $120,000 Mega Deep
The usual premier Sunday tournament on 888poker boasts a guarantee of $120,000 for a $215 buy-in. This week, as part of their XL Blizzard tournament series, the guarantee was beat by the 565 players, settling at $154,800.
No player from Canada made the final table this week. The winner was "23NoraB" of Austria who collected $29,257 for the victory.
The $200,000 Whale
The Whale is 888poker's high-roller tournament of the day with a buy-in of $1,050 along with a $200,000 guarantee. As XL Blizzard Event #12, 197 players fell just shy of the guarantee.
Again, no Canadians made the final table. The win went to the U.K.'s "CrystalMad" for $46,000.
Sunday Majors on PokerStars
Sunday Kickoff
The biggest tournaments of the day get started on PokerStars every week with the $109 Sunday Kickoff. The guarantee of $100,000 was beat when 1,236 entries created a prize pool of $123,600.
It came to an end with no Canadians at the final table. "Tikidiii" from Finland was the winner, collecting $17,899.26 after a heads-up deal.
Sunday Warm-Up
The $215 Sunday Warm-Up heats up the action with a $250,000 guarantee. With 1,543 players, the guarantee was beat by nearly $60,000.
Of the final nine players, one was from Canada. Ian "ModzillaPL" Modder finished in ninth place for $3,364.57. The winner was Russian "SENSIMIL1" for $47,105.25.
Sunday Storm
Moving on to the lowest-priced tournament that could be considered a Sunday major, the $11 Sunday Storm is the best value you'll find in online poker. Despite the tiny buy-in, the prize pool is set at a guaranteed $225,000. With 27,511 entries, the prize pool came to $275,110.
It was a Canadian win this week with "GuiGui87" claiming the victory after a three-way deal, earning $20,818.12.
Sunday High Roller
The highest-priced regular Sunday major is the Sunday High Roller with a hefty buy-in of $2,100 and guaranteeing $150,000 in prizes. With 128 entries, the guarantee was beat by more than $100,000.
One Canadian flag waved at the final table this week: it was Chris "Apotheosis92" Kruk, who ultimately finished in fifth place for $18,787.78. The winner was U.K.-based "mczhang" for $56,111.68.
Sunday Million
The most jaw-dropping tournament in online poker is the only one that guarantees a million dollars in prizes every week. A total of 5,893 entries created a prize pool of $1,178,600.
Two Americans in Canada made the final table this week. In sixth place, Joel "jbrown8777" Brown collected $27,084.34, while Lenny "Lenballs1014" Foley made it to fourth place for $54,995.59. The win went to Latvian "auercan" for $159,131.67.
Mini Sunday Million
Giving the Sunday Million feel for a smaller buy-in is the weekly Mini Sunday Million where the entry is just $22 and $150,000 is guaranteed. With 10,551 entries this week, the prize pool came to $211,020.
No Canadians made the final table. Swiss "MisterTipper" found the win for $25,267.47.
Sunday 500
With a buy-in of $530, the Sunday 500 guarantees $150,000. A total of 421 entries beat the guarantee, coming in at $210,500 to play for.
At the final table, three players were on Canadian soil. Sebastian "p0cket00" Sikorski took ninth for $3,146.95, "m.a-0000" came seventh for $5,857.18, and "Carster" took fifth for $10,901.45. The winner was Ukraine's "RomeOpro" for $37,764.07.
Sunday Cooldown
The buy-in drops to $109 for the Sunday Cooldown and the pace increases with a turbo structure. With the guarantee set at $100,000, this week's 1,293 entries beat that by nearly $30,000.
The final nine included one Canadian. In sixth place, "alexos888" earned $4,048.52. The winner was Germany's "LoosControl" for $20,115.37.
Sunday Supersonic
The Sunday majors conclude on PokerStars with the $215 Sunday Supersonic — a six-max hyper-speed tournament with a $150,000 guarantee. In a little under two and a half hours, 914 players were reduced to one.
One Canadian made the final table, and it was Adam "ISmellToast" Crawford who found fourth-place money of $11,144.40. The winner was "Gabriel1244" from Romania for $30,905.63.
Sunday Majors on partypoker
Title Fight Warm Up PKO
Getting the majors started on partypoker each week is the Warm Up edition of their signature major. If features the same $215 buy-in and a prize pool guarantee of $100,000. With 611 entrants this week, the prize pool came to $122,200.
The win went to Latvia's "SNGoenka" for $11,254.62 plus an unknown amount in bounties. No Canadians made the final table.
Main Event Warm Up PKO
Starting at the same time, partypoker also has a Warm Up version of their lower-priced major. It has the same $109 buy-in with $100,000 guaranteed, and 1,027 entrants this week just surpassed the guarantee.
The win went to Germany's "idareyoumf", earning $8,832.77 plus bounties. Canada-based "Jokerstarsdegen" took fifth for $1,987.24 and bounties.
High Roller Warm Up PKO
For those with deeper pockets, a third Warm Up starts at the same time as the other two. The $530 High Roller Warm Up became Powerfest #02-H as part of the tournament series that kicked off that morning. With a $250,000 guarantee, 505 players just beat the guarantee.
The winner was "SteWiee26" from the U.K. for $47,343.84. Canada was present at the final table in "Zaymovishka" who earned $18,053.75 in fourth place (who also won the Title Fight last week), as well as "Phil_Zajmo" in sixth for $7,575.
Title Fight
The headlining Sunday major in partypoker's weekly lineup is the $215 Title Fight with $250,000 guaranteed. This week, it became Powerfest #03-M with double the guarantee, but the 2,110 entrants fell short by nearly $80,000.
The win went to "ABOUDIABY2" from Sweden for $83,500. From our nation, "Rescuebaklava23" finished seventh for $8,380.
Main Event
The lower-priced major is the $109 Main Event with $150,000 guaranteed. With 1,438 entries, the guarantee was just missed.
From Brazil, "RuTherFord00" found the win and earned $25,395. Canada's "guydeet39" took seventh place for $2,730.
High Roller
With a higher buy-in of $530, the High Roller guarantees $150,000 and that was missed by the 267 entries this week.
"Drulitooo" from Sweden was the winner for $25,006.01. Canada was absent from the final table.
Super High Roller
The price goes way up for the $2,600 Super High Roller, which became Powerfest #03-H this week with a reduced buy-in of $2,100 and $250,000 guaranteed. A total of 137 entrants created a prize pool of $274,000.
From the Netherlands, "KONY2012" won first place for $56,740.10 after a heads-up deal with Canada-based "PrettySteph" who earned $51,462.51. Also from within our borders, "Zaymovishka" took fourth for $23,290.
That's our report of Canadian results in this week's Sunday majors. If you don't already have an account on each of these sites, make sure you download through our links and use our bonus codes to take advantage of the best promotions you can find. Good luck; see you in next week's headlines!