ESPN to Air WSOP Main Event, One Drop July 2-21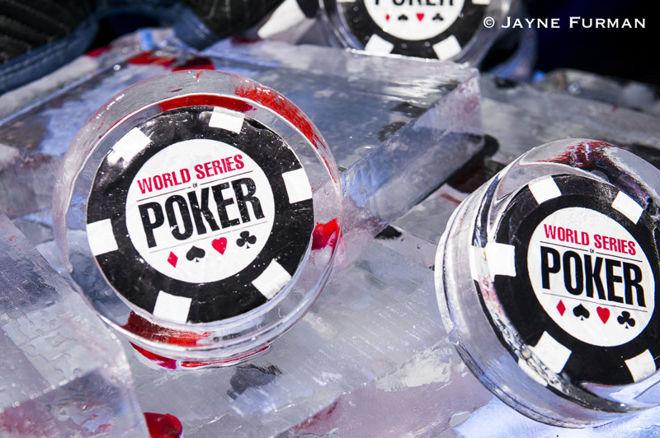 The World Series of Poker, along with broadcast partners Poker Central and ESPN, has locked in its broadcast schedule for the televised portion of the 2018 WSOP.
The WSOP broadcasts this year will air on ESPN2 and ESPN, with coverage starting July 2 on ESPN with Day 1a of the Main Event. WSOP Main Event coverage continues after that for 12 continuous days, until a world champion is crowned on the evening of July 14, or possibly in the wee hours of July 15.
Following that, there will be a one-day breather before the Big One for One Drop airs on ESPN2 the next night, July 16. The $1 million buy-in event will then see a winner emerge the following night, although coverage of the event repeats on July 21 with a taped replay, ending the summer binge session for poker fans.
Broadcast Details
Viewers will tune in on a 30-minute delay, in much the same manner as they did for the 2017 WSOP, when organizers pivoted to a radically different broadcast scheme that featured coverage on both ESPN and PokerGO, the digital streaming arm of Poker Central.
Seth Palansky, Caesars vice president of corporate communications, dubbed the initial year of the new broadcast strategy a "huge success," and WSOP Executive Director Ty Stewart expressed excitement for year two.
"We're ecstatic that ESPN and Poker Central continue to raise the bar and deliver more live poker content to audiences across the globe," he said. "Fans today demand immediacy and wall-to-wall coverage and this year's offering delivers on that in spades."
The coverage will feature 40 hours of nearly live coverage — on a 30-minute delay, per gaming regulations — and 130 hours of produced episodes, the scheduling of which will presumably be unveiled in the coming weeks or months. Also remaining TBA is the schedule for PokerGO streams, promised to be announced "at a later time."
Poker fans can circle the following dates and times if they want to follow along live to find out who becomes the next poker world champion and who will follow the likes of Antonio Esfandiari and Dan Colman as $1 million One Drop champions:
| Date | Time (US Eastern) | Episode |
| --- | --- | --- |
| July 2 | 8 p.m. – 1 a.m. | WSOP Main Event: Day 1A - ESPN2 |
| July 3 | 8 p.m. – 11 p.m. | WSOP Main Event: Day 1B – ESPN2 |
| July 4 | 8:30 p.m. – 12 a.m. | WSOP Main Event: Day 1C – ESPN2 |
| July 5 | 10 p.m. – 12 a.m. | WSOP Main Event: Day 2A/B – ESPN2 |
| July 6 | 8:30 p.m. – 12 a.m. | WSOP Main Event: Day 2C – ESPN2 |
| July 7 | 6 p.m. – 10:30 p.m. | WSOP Main Event: Day 3 – ESPN2 |
| July 8 | 2 p.m. – 6 p.m. | WSOP Main Event: Day 4 – ESPN |
| July 9 | 10 p.m. – 2 a.m. | WSOP Main Event: Day 5 – ESPN2 |
| July 10 | 8 p.m. – 11 p.m. | WSOP Main Event: Day 6 – ESPN |
| July 11 (July 12) | 12:30 a.m. – 2 a.m. | WSOP Main Event: Day 7 – ESPN2 (Play to final table) |
| July 12 | 9 p.m. – TBD | WSOP Main Event: Day 8 – ESPN (Play to six players) |
| July 13 | 9 p.m. – TBD | WSOP Main Event: Day 9 – ESPN (Play to three players |
| July 14 | 9 p.m. – TBD | WSOP Main Event: Day 10 – ESPN (Play to winner) |
| July 16 (July 17) | 12 a.m. – 2 a.m. | WSOP Big One for One Drop: ESPN2 (Live) |
| July 17 | 7 p.m. – 9 p.m. | WSOP Big One for One Drop: ESPN2 (Tape replay) |
| July 17 | 9 p.m. – TBD | WSOP Big One for One Drop: ESPN2 (Live) (Play to winner) |
| July 21 | 11 p.m. – 1 a.m. | WSOP Big One for One Drop: ESPN2 (Tape replay) |