Flashback Friday: Reliving Poker Padz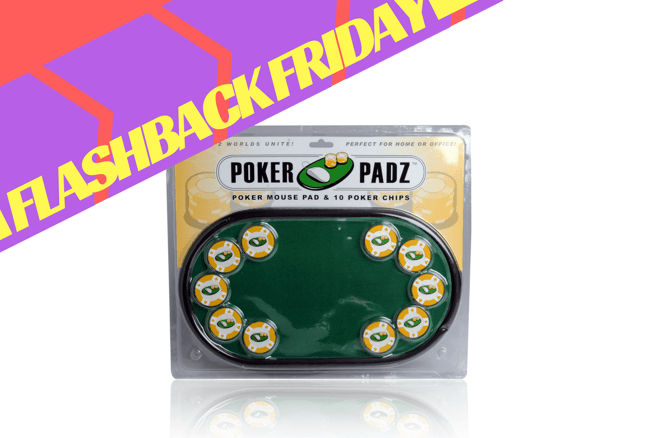 Every so often, it's fun to have a blast from the past and take a look at some of the interesting moments, ideas, and items in poker's past. It could be a key hand, a final table, or just something fun that may have been forgotten along the way. Please join us in reliving some of those moments in our Flashback Friday!
For the first edition of Flashback Friday, we look at a novelty item from online poker's heyday. We travel back to the end of 2009, with the poker boom in full swing and online poker hitting record numbers. Businesses and merchants were trying to think of any way to tap into the poker market.
Enter Poker Padz. Poker Padz was an oversized mouse pad for online poker players and poker enthusiasts alike. The mouse pad came in the shape of a poker table, with black rails and all. The surface was made with poker felt and it even came with 10 poker chips. The larger-than-normal size gave users of the Poker Padz the ability to use their mouse and shuffle the included poker chips on the felt off to the side while waiting for their next hand of online poker. When a basic mouse pad costs anywhere from $9-$20, Poker Padz retailed for US$24.99.
From a marketing standpoint, it also gave some poker brands an extra outlet of brand awareness. Poker Padz had licensing deals with the World Poker Tour, Copag Cards, and Daniel Negreanu's Full Contact Poker brand all had logos in the middle of Poker Padz in addition to the original Poker Padz logoed product. Poker Padz also sold a blank version of their table packaged with a mini sharpie. The idea was that people could get the signatures of their favourite players, creating a collectors item.
Poker Padz no longer exists as a company. As the popularity of online poker faded with the exit of the US market, so did Poker Padz. There are still outlets where Poker Padz can be purchased for a much lower price than the US$24.99 that it retailed for.
Despite its ergonomic downfalls, Poker Padz showed just how much of an influence the poker boom and online poker had on the retail industry. Even mouse pads could be converted into a poker theme.
If you have an idea, item, or moment for Flashback Friday that you would like to see featured, please tweet @PokerNewsCanada or @matthewperrault.