Mike Leah: The Desire to Win At All Costs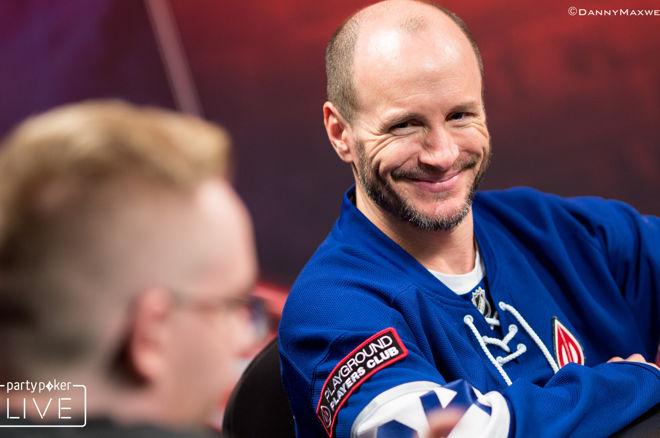 If you look at Mike Leah on Twitter, you'll find plenty of hockey, periodic tournament updates, and the occasional cute animal.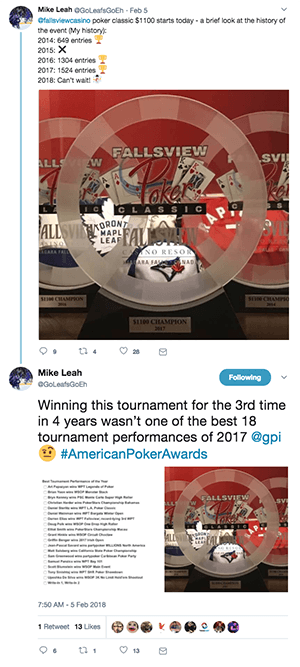 It is rare to find sarcasm and an air of discontent in his feed. And that is why this tweet caught our eye. We reached out to Leah to get the scoop on what motivated the tweet, how he stays motivated day in and day out, and what's on his bucket list, both personally and professionally.
Leah and the Tweet
Leah was headed from his home north of Toronto, two and a half hours south to Fallsview Casino in Niagara Falls for the Fallsview Poker Classic.
For Leah, drives like these serve as a time for reflection and preparation for the tournaments that are ahead.
He was on the American Poker Awards nominating committee, so he had access to the list. During the drive, he started mentally reviewing his previous wins at the Fallsview Poker Classic.
It dawned on him what an accomplishment it was to win the same tournament three out of four years. Particularly in an event with large fields and plenty of skilled players.
"I expected to be nominated for something because I thought had a pretty good year. I was pretty proud of it, not just for the statistical aspects but the consistency. So I was a little surprised I wasn't nominated for something — not really upset about it or anything like that."
It was just something on his mind, so he tweeted out his thoughts because he had plenty of time on his hands during the long drive.
The Definition of Grinder
If you look up the word poker grinder in the dictionary, you might find a picture of Leah. But he doesn't see himself that way at all, even though he posted 40 live tournament cashes last year including one in every month of 2017 except for May.
"If it's not something that's important to me, I'm probably not going to play my best."
"It's not like I grind all year long. I don't play everything and I try to pick the tournaments that are important to me. I go really hard at an event rather than going really hard all the time. I learned a long time ago that if it's not something that's important to me, I'm probably not going to play my best."
Leah has been quoted as saying that "it's not about the money." Which begs the question, what is it about?
What makes a tournament important enough to make it onto Leah's schedule?
"I'm a pretty competitive guy, so I try to schedule events that will help me win things like another bracelet, WSOP Player of the Year, winning a WPT event and series with a leaderboard. I also like to include series and events that I do well at, including the Fallsview Poker Classic."
The Professional Bucket List
Leah admits to going after the WSOP Player of the Year pretty hard the past few years and he intends to go after it equally as hard this year. In fact, last summer, and for the second summer in a row, he ended a day having bagged in two tournaments.
When asked what the biggest misconception about him was, Leah responded, "It's that people think I'm grinding all the time."
The image of him multi-tabling, running down hallways at the Rio does nothing to help dispell that myth.
Leah assured us, the chaotic schedule at the WSOP is unique to that tournament series. And while he might grind hard for two months, there is some definite downtime on his schedule following the WSOP.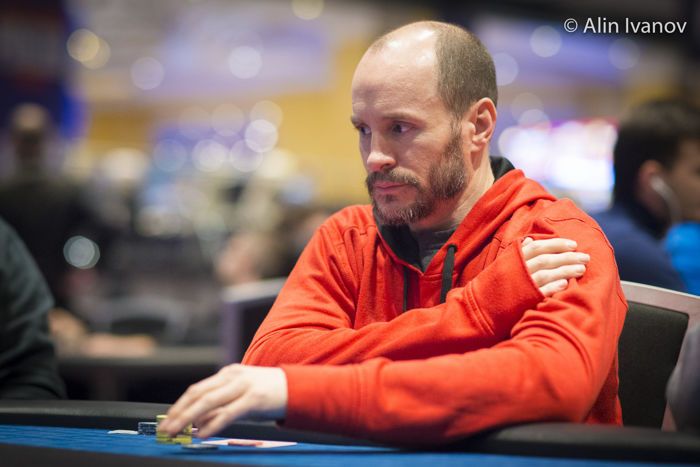 Motivation and Consistency
In addition to making a run at the WSOP Player of the Year last summer, in the fall, Leah made a run at the WCOOP leaderboard as well.
He indicated that the reason he is so selective about the tournaments he plays is making sure he has the motivation to play them. Without playing events that are meaningful, he doesn't think the motivation would be there.
But what about the consistency?
Leah attributes his consistency at the tables to playing consistently. While he studies some, he doesn't do much studying beyond playing the game.
"My competitiveness helps produce consistent results."
"My competitiveness helps produce consistent results. There is obviously some game analysis and studying that comes into play so I can continue to improve and to be able to compete. And sometimes I talk to other players now and again, but it's mostly just me learning on my own and as I go."
But in the end, one of the biggest advantages Leah thinks he has in the game is his strong desire to win at all costs and his competitiveness.
"I think I want to win and I am willing to do whatever it takes. Maybe more than some people."
Leah's Life Outside of Poker
If he's not a grinder, and he's not spending every waking moment playing in a tournament somewhere around the world, what does his life look like outside of poker?
"There are a lot of things that I enjoy away from poker. I'm a bit of a sports nut, so I spend a lot of my free time watching lots of sports and doing fantasy sports. I go to the gym just about every day and also do yoga every other day. And of course, I enjoy spending time with my dog and I have lots of nieces and nephews."
So, he doesn't consider himself a grinder and he does yoga regularly. If those things aren't surprising enough, we asked him what is something people might find surprising about him.
He immediately responded, "my age." Apparently, people are often surprised and caught off guard when they learn how old Leah really is.
Leah had a 16-year career before he started playing poker, and he takes care of himself, so it makes sense that people have a hard time guessing his age. "I'm 43 and a bit immature, so it's easy to see how people might be surprised that I am as old as I am."
"I want to win and I am willing to do whatever it takes. Maybe more than some people."
Earlier we talked about his professional bucket list, so we asked Leah what was on his personal bucket list.
"Just continue to strive to maintain good balance. Take time to do things I enjoy. Go on vacation. Spending time with family. Going to some cool live sporting events and concerts. Just enjoying all the good things that my career and my success allow me to enjoy."
Are There More Double Bags in His Future?
With just a few months until the World Series of Poker gets underway, we were curious to know if Leah was intent on keeping an intense schedule like in years past.
"The WSOP for me basically it's just one continuous thing. As soon as I bust one event, I'm jumping in the next. I'll probably be doing some multi-tabling at the start and throughout the series. If I'm in the hunt for Player of the Year, I'll play a little bit more but there isn't much of a change because I basically play everything anyway."
Maintaining such a large schedule for seven weeks has got to be daunting, but Leah says he just doesn't think about it.
"My biggest challenge at the WSOP is to not think ahead and not think about the schedule. I like to focus fully on what I'm playing because there's always some event coming up that I'm excited to play and that can be distracting."
Whether he's a grinder or not, what we see is Leah focused and working hard. And it won't surprise us one bit, to see him double bagging come June.