Edmonton Dominates Top Two in Great Canadian Freeze Out Main Event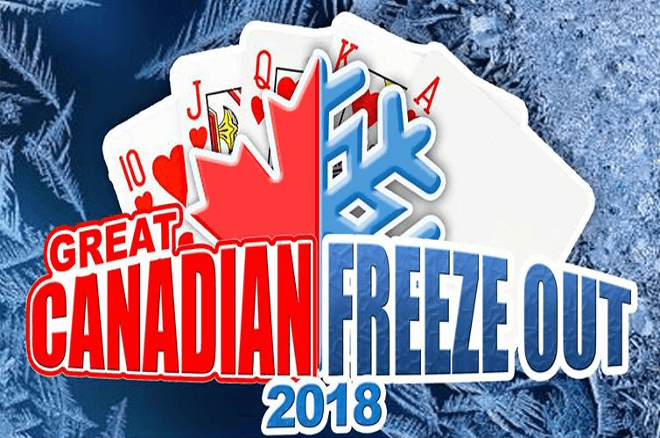 The Great Canadian Freeze Out (GCFO) is one of the more venerable tournaments on the Calgary poker calendar early in the year. Running for over a decade now, the six-event series goes at the end of February through early March at Cash Casino's Nevada Poker Room.
In true Canadian winter fashion, the 2018 GCFO got off to a rather frozen start. With temperatures plummeting in Calgary, quick arrangements had to be made for opening event, the popular $340 Deep Stack, after a water main break forced Day 1 to move to the Elbow River Casino.
Despite the problems, the event went off without a hitch, and the forced venue change didn't seem to affect the turnout as 392 players took their shot at a piece of the $114,660 prize pool.
The final table for Event 1 was pretty stacked in terms of local talent, including familiar faces like Haven Warner (fourth — $8,200), Julius Roque (fifth — $6,900), Andy Troung (eighth — $3,200), and Kyle Hartree (ninth — $2,545) among others.
In the end, it came down to a battle between Edmonton's Sheila Schmidt and Dwayne Reid from Lacombe. Schmidt earned a cool $25,000 for the win, while Reid pocketed $22,000 for second place.
Events 2, 3, and 4 were lower buy-in events with a regular $175 Freeze Out, a $265 Bounty, and a $235 Pot-Limit Omaha. Harvie Windover took down the $175 Event 2 for $4,000, while Luke Waldner binked the bounty event for $4,625. Adam Popal was the Omaha master, winning $5,705 for first in Event 4.
The Main Event kicked off on February 28 with the first of four Day 1s. The $660 buy-in no-limit hold'em tournament attracted 350 entries and saw some familiar names in the cash-out list. Among those to collect money from the Main were Tyler Hurman (13th — $2,650) and Wayne Hoffert (10th — $3,300).
The final table for the Main Event was stacked with talent, featuring many players well known on the local Calgary scene including Davey Singh (ninth — $4,500), Bill Thomson (eighth — $6,300) and Thomas Taylor (seventh — $8,200). The final prizes came down to heads-up play between Xiao Dong Deng and Aaron Haw, both from Edmonton. Haw took down the big prize, collecting $44,000 for first, while Deng grabbed $39,850 for second. Full final table results follow.
| Finish | Prize | Player |
| --- | --- | --- |
| 1st | $44,000 | Aaron Haw |
| 2nd | $39,850 | Xiao Dong Deng |
| 3rd | $19,000 | Aamir Khan |
| 4th | $15,000 | Rob Manhas |
| 5th | $12,800 | Ali Ghanem |
| 6th | $10,400 | Ben Cooper |
| 7th | $8,200 | Thomas Taylor |
| 8th | $6,300 | Bill Thomson |
| 9th | $4,500 | Davey Singh |