Flashback Friday: The TSN Degree Poker Championship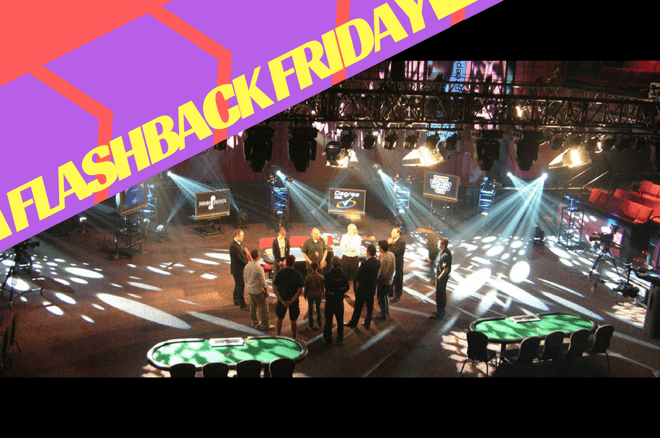 This week's Flashback Friday takes a look back at the Degree Poker Championship. Running for three years in 2005, 2006, and 2007, the three tournaments featured a freeroll for Canadian casual and professional poker players.
Interested players had to register through an online entry. The three-year event was put on by Degree and TSN. Michael Landsberg was the voice of the action for all three years while being flanked by Alistair Cameron (the Salon Prive Manager at Fallsview Casino) in 2006 and Devin Armstrong in 2007 in the colour commentator roles.
In 2005, the tournament was split among eastern and western Canada. Niagara Fallsview Casino Resort in Ontario was the home of the eastern regionals while River Rock Casino in B.C. was the home of the western regionals. The finals would be played out at Fallsview Casino.
The tournament gave all qualifying players a chance at a $100,000 payday along with a paid entry into the 2005 World Series of Poker (WSOP) Main Event. TSN showed six one-hour episodes in a shootout style event for all qualified participants. At the time, 25-year-old Vancouver musician Liam Greig won the tournament capturing the $100,000 prize and a seat into the World Series of Poker (WSOP) Main Event. Greig failed to make it to the end of Day 1 in the WSOP Main Event though.
In 2006, the format changed to only one location, back at Fallsview Casino Resort. This tournament saw six, six-player shootouts to determine the final table in seven one-hour episodes. This rendition of the Degree Poker Championship saw 20,000 online entries. Again, the winner would receive a cool $100,000. Instead of a WSOP Main Event seat added to the prize pool, the winner would have a chance at winning an additional $1 million. Sarnia, Ontario native Jim Rich was the last player standing to nab the $100,000 grand prize. This was the highest rated poker tournament on television in Canada during 2006. The seven episodes and two encore broadcasts generated 247,000 viewers per episode.
In 2007, the last year of the event, the field was narrowed down to 72 participants via two preliminary rounds while the venue moved to Casino Rama, just outside of Toronto. This year the winner would receive $100,000 along with a 2007 WSOP Main Event seat and a chance at an additional $1 million. The Degree Poker Championship changed the format slightly, even though there was six, six-player tables to get the final table of six players for one final shootout, one of those tables brought back the previous year's champion, Jim Rich, along with five other finalists, giving them a second chance along with giving Rich a chance to defend his title.
This seemed like a great fit for both TSN and the Degree brand. Degree was the sponsor putting up the prize money while TSN filled the growing demand for poker programming, which is a relatively cheap production. It also created a synonymous saying at the poker table for years to come, "This is the Degree all-in moment."