The Weekly Review: Ludwig Captures SPC Main, Staples Weight Loss, NAPT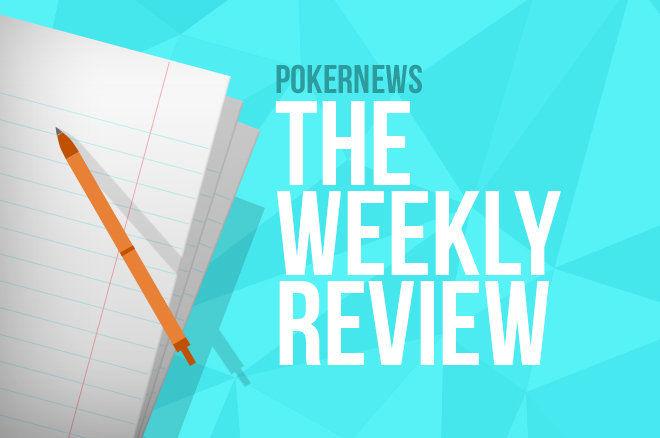 Live poker returned to Canada with the Station Poker Classic in Regina this week, Jaime and Matt Staples closed in on their weight loss bet with Bill Perkins, and we took a look back at the North American Poker Tour (NAPT) in our Flashback Friday article.
Here is your Weekly Review for March 18 to 24, 2018:
Poker On the Prairies
The Station Poker Classic from Casino Regina in Saskatchewan has wrapped up with four events in four days.
The last day was the $1,100 Main Event, seeing 237 entries create a $237,000 prize pool. John Ludwig took his middle-of-the-road stack from the start of the final table and turned it into a massive chip lead at the beginning of heads-up play to secure the win and honour of Station Poker Classic Main Event Champion and his name added to the banner that hangs in The Show Lounge during all poker events, along with a Casino Regina poker ring and $62,558. Ludwig defeated Kris Klimosko in a quick heads-up match lasting around 10 minutes. Klimosko took home $39,558 for the runner-up finish.
The opening event was a $500 No-Limi Hold'em event. If the first event of four was a sign of things to come, the Canadian tournament scene regulars were set to have a very good week as Chris Bowers, Trevor Norlander, Jared Klimosko, Russ Meilunas, and Phil Riley all made the final table of the opening event which attracted 199 runners and a prize pool of $89,550. Of the names above, Meilunas went the furthest as he brought a significant chip lead heading into the final table. He ended up getting to heads-up play but would eventually fall to Toby Wu who captured his first Casino Regina ring and $23,828.
The second event was a $700 No-Limit Hold'em event and one of the top Canadian tournament players on the local scene; Thomas Taylor managed a final-table appearance. The winner of the $500 event from last year was poised looking for another tournament victory to add to his name, but after getting to heads-up play, fell to Darrell Marsden. Marsden collected $33,952 and the Casino Regina championship ring while Taylor found $21,540 to line his pockets for a runner-up finish.
The third event wrapped up early Saturday morning with a $900 bounty event. This event attracted 218 players for a prize pool of $156,960. All eyes were on Thomas Taylor as he made back-to-back final tables. Taylor exited in fourth place, though, for $12,369, leaving the door open for regular Chris Wallmuth who managed to outlast Moon Yuen heads up for the victory and $41,582 along with the Casino Regina championship ring.
For all results, please follow the links below.
Related article:
Toby Wu Captures First Ring at Station Poker Classic Related article:
[URL="https://ca.pokernews.com/news/2018/03/chris-wallmuth-win-casino-regina-station-poker-classic-20464.htm"]Chris Wallmuth Collects $41,582 at Casino Regina Station Poker Classic [URL]
[URL="https://ca.pokernews.com/news/2018/03/casino-regina-station-poker-classic-main-event-john-ludwig-20466.htm"]Station Poker Classic Main Event Ring and $62,558 Go to John Ludwig [URL]
Jaime and Matt Staples Closing in on $150K
Almost a year ago, Matt and Jaime staples were 170 pounds apart, and while on high roller Bill Perkins' boat, made a bet. The bet was to weigh the same amount a year to the day the bet was made and they were given 50-to-1 odds on the Staples' $3,000. Jaime wanted to make a change and snapped up the bet.
The weigh-in will take place on March 25 at 5 p.m. during Jason Somerville's RunItUp Reno event in Nevada, and while the longshot odds dictated a tough road ahead to win the bet, Jaime and Matt are within seven pounds of each other with two days to go.
Related article:
Reliving the NAPT
The Flashback Friday returned to PokerNews Canada this week to turn back the clock to a time where live poker was booming in North America and took a look at PokerStars' North American Poker Tour (NAPT). The tour was a breeding ground for young players to make a name for themselves. Canadians Will Molson, Matt Marafioti, and Shawn Buchanan all had deep runs in televised events.
Take a look at the article linked below to get the picture on the NAPT.
Related article:
A Canadian Wins the Sunday Million!
Canadians had some amazing results this past weekend in the Sunday majors as two Canadians were heads up for the Sunday Million top prize. "OLD TIME GIN" and "imas.jr" got to heads-up play in the event and it was "OLD TIME GIN" nudging out his opponent for more than $160,000 while "imas.jr" had to settle for just over $100,000.
Another top score was "koogle62" who managed a runner-up finish in the $215 Sunday Warm-Up for $28.070.
Over on partypoker, "WWWpartyCOM" collected $46,375 for a second-place finish in the $2,600 for Super High Roller.
For the full results of Canadians in the Sunday majors, please click on the link below.
Related article: