The Weekly Review: Weight Bets, Rake Increases, and Engel Wins Again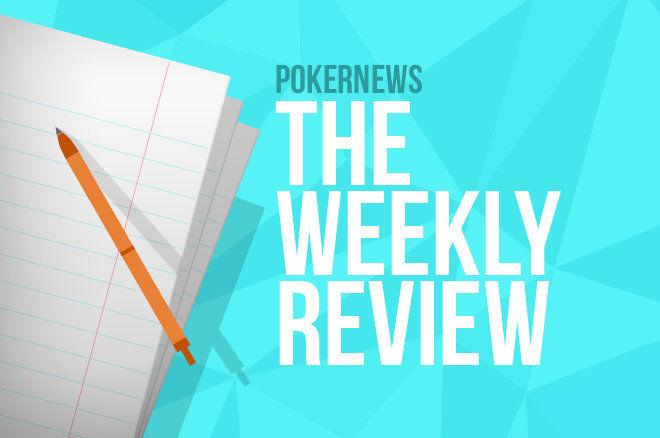 There was lots happening this week with weight loss bets being cashed, rake increases online, and a look back at a made-for-TV poker series on TSN.
Here is your Weekly Review for March 25 to 31, 2018:
Matt and Jaime Staples Win Weight Loss Bet
Matt and Jaime Staples were laid 50-1 odds that they couldn't weigh the same after a year by Bill Perkins during a broadcast from Streamboat just over a year ago. On March 25, the brothers Staples, who had 170 pounds separating them a year prior, managed to weigh the exact same, gracing the scales at 188.3. Jaime started the bet at 304 pounds while Matt was a svelte 134 pounds. The Staples brothers bet $3,000 to win $150,000.
Related article:
PokerStars Needs Transparency With Rake Increases
This week, PokerStars increased their rake, something that wasn't greatly communicated about by the PokerStars brass to the players. All multi-table tournaments (MTTs) with buy-ins of less than $20 were affected. The problem lies with how the rake was being shown or, as it is now, not shown to the players. Rather than show the rake being taken from the game in the tournament lobby, the breakout of buy-in plus rake ($1+$.10) was showing as just $1.10, while the actually buy-in to rake ratio changed to $.98+.12.
Related article:
Flashback Friday: TSN Degree Poker Championships
One piece of nostalgia that poker fans may remember is the Degree Poker Championships that were broadcast on TSN. The made-for-TV spectacle ran from 2005 to 2007 and saw hundreds of thousands of people register to try and win a $100,000 payday.
Not only was the event a fit for players and poker fans, but Degree created a saying that was synonymous for years to come, "This is the Degree all-in moment", which could be heard in poker rooms across Canada.
To relive the event, please click on the link below.
Related article:
Ari Engel Wins Another Tournament
Canadian Ari Engel was back at it again in California this past week when he won the $160 Mega Millions XVII Quantum Reload that took place at the Bicycle Casino. Engel outlasted a field of 6,087 entries including multiple day ones along with the option for players to enter on Day 2 for $4,300. With the win, Engel takes home $319,442.
For the full article please click on the link below.
Related article:
"Skitzo793" Wins Super High Roller on partypoker
This week, with no Canadian winning the Sunday Million on PokerStars, the top score was up for grabs. It went to "Skitzo793" who won the Super High Roller tournament on partypoker. They turned their $2,600 buy-in into a $78,400 payday.
"Johhnnyknock" was the only Canadian to make the Sunday High Roller on PokerStars. The $2,100 buy-in saw 122 entries and the Canadian finished in seventh place for a $10,361 payday.
For the full breakdown of how Canadians fared in the Sunday majors, please click on the link below.
Related article: