Global Poker Has the Nicest Players Around... See for Yourself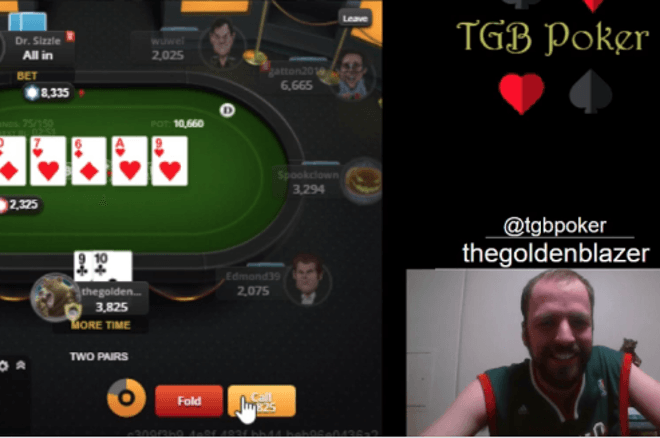 One of the many characteristics that Global Poker raves about as setting them apart is their players, who they describe as friendly, social and hardworking. We did a little digging to test out the theory and it turns out, there is a good deal of truth to the claim.
Not only is there a whole host of fun, nice players as evidenced by a good amount of friendly chat in the games, but there's also a growing network of players and streamers producing content from their poker-playing endeavors at Global Poker. The following five provide a glimpse into the positive and supportive player pool, and if you're on the lookout for more entertaining Twitch streamers to add to your Follow list, you'll have plenty of options here.
Meet the Players
Brian "TheGoldenBlazer" Frenzel is the ring leader in a sense, a kind of glue connecting several up-and-comers at Global Poker. He grinds as many MTTs as he can, many of which he streams for a live audience and he even has a YouTube channel where he posts interviews with fellow players. Frenzel conducts his Skype interviews with his massive Grizzly Games trophy proudly displayed, marking a championship event win in the latest tournament series, where Frenzel finished fourth on the overall series leaderboard.
Frenzel started playing at Global in September 2017 and since then, has accumulated nearly $20,000 in profit. His biggest score to date came in a weekend $10K guarantee where he earned a cool $2,100.
Relatively new to the stream game, Frenzel has been streaming at Twitch.tv/thegoldenblazer for just over a month. You can find him streaming MTTs, $30-$100 Sit 'n' go's, as well as the occasional NLH cash game or even 100PLO – "just to keep things interesting." For Frenzel, Global Poker is the only place to play.
"Global Poker is a site that is much more friendly than other sites."
"Global Poker is a site that is much more friendly than other sites. You sit at the table and there's often some chat going on between the players. There's a facebook group of people who play on the site. It's really awesome to be a member of the community."
Frenzel has been enjoying Global Poker's growing tournament series, and is undoubtedly looking forward to the upcoming Rattlesnake Open, which he is approaching with the lofty goal of winning the overall series leaderboard.
"The series are a lot of fun because all of the top Global Poker players compete for the top prize. There's a lot of prestige that goes into that leaderboard."
And while his Grizzly Games trophy may have come from a Gold Coin event, the prestige and the Champions badge he sports as spoils of battle carry clout in the Global Poker world, and Frenzel is hoping to add more trophies and series leaderboard winner title to his rapidly growing list of poker accolades. You can see "TheGoldenBlazer" in action in the Twitch clip below.
Watch Mid/High Stakes SNGs from thegoldenblazer on www.twitch.tv
Adam "Tizull" Tull
Frenzel calls this next player the most popular Global Poker streamer, and it's not hard to see why. Adam "Tizull" Tull started playing on the site in August 2017 and typically streams at Twitch.tv/tizull three to four days a week. Viewers can find Tull mostly streaming PLO cash games and MTTs on Sundays and during the Global Poker Championship series.
Tull recently completed a $10K bankroll challenge where he turned $500 into $10,000 over around 50,000 hands and six months. He started at $0.10/$0.25 PLO and worked his way up the stakes. Next, Tull hopes to turn the $10K into $100K. His biggest win on the site so far came on March 25 when Tull shipped the Sunday Teaser for $4,600.
Tull prefers to play at Global Poker because it's browser-based and his money feels safe there.
"I like that there is mass appeal. It doesn't require too much time to get an account setup and start jumping into the action. I also like that the tournaments don't take 5+ hours. Most of the tournaments are done within 3 to 4 hours."
He hopes to continue to grow an audience and a brand around PLO and show people it's possible to start small and build a bankroll, regardless of skill level.
"I also just want to be as entertaining as possible while providing a place to bring people to the game."
You can check out "Tizull" in action in the clip below.
Craig "Chipsmaxwell" Stout
Another respected Global Poker grinder is Craig "Chipsmaxwell" Stout, whose claims to fame include several daily tournament wins, taking seventh in the Grizzly Games along with two trophies, heaps of Weekend Gold Coin Leaderboard winnings — and an excellent beard. Stout is coming up on one year of playing at Global Poker, which is his preferred site because of the tournament schedule, the good structures, the quick and easy cashout process and most of all, the easy access.
"I've played 95% of the past year on my mobile phone, which means I've won tournaments riding from New Jersey to Indiana!"
"Chipsmaxwell" has grinded his way to first place in the $5 $5K guaranteed nightly tournament three times, with two second-place and two third-place finishes to boot, has won the Sunday $33 $10K guarantee twice and took fourth place in the $218 $40K guarantee Sunday Scrimmage March 1 for $4,600, which remains his biggest tournament cash to date. An interesting tidbit, the same day he got his biggest online score, Stout had finished 114th in a $360 Chicago Poker Classic event for more than $1,000, for his largest live score.
I recently joined the Global Poker players forum on Facebook, and am constantly interacting with them throughout the day!"
In addition to a solid tournament schedule and accessible games, Stout has found a welcoming community through Global Poker.
"The other players on Global are a fun-loving group. I recently joined the Global Poker players forum on Facebook, and am constantly interacting with them throughout the day!"
Stout plans to continue firing MTTs and has his sights set on winning a series leaderboard. He will also likely continue grinding the Gold Coin Challenge, which is an interesting way for players to get practice for free with chances at real cash prizes.
"The Gold Coin Challenge is a fun weekend series, with the most regular of regular tournament players! I like to challenge myself to rank in the top 10 every weekend. I actually got my first weekend Gold Coin championship recently."
Sam "Sam1Chips" Warren
Sam "Sam1Chips" Warren is another Global Poker player who dominates the weekend Gold Coin Leaderboard. Warren has been playing on the site since June 2017 and has been streaming on Twitch since August. Viewers can find Warren streaming everything from MTTs to sit 'n' goes to cash games at Twitch.tv/sam1chips generally once a week.
Warren's biggest scores on the site all hover around $875 and include two wins in the $22 Saturday tournament and a handful of healthy PLO pots. He enjoys Global Poker because of the great games and speedy cashouts.
"The best aspect of Global Poker is their cashout speeds by far. All of my cashouts have been processed through PayPal within 24 hours, with zero processing fees."
"The best aspect of Global Poker is their cashout speeds by far. All of my cashouts have been processed through PayPal within 24 hours, with zero processing fees."
Warren also gives the site props for responding to player feedback and building their tournament offerings.
"I think the site is doing a great job at implementing changes that players are requesting. Many players asked for bigger buyin, deep-stacked tournies, and the site added some major Sunday tournies which have been very popular."
His current goals include putting in more volume, moving up stakes as his bankroll allows and building his network of Twitch stream followers. Like Stout, Warren also enjoys grinding the weekend Gold Coin Leaderboard, his favorite promotion on any site he has played on.
"You get to play a bunch of different MTT formats, for a variety of buyins, and get to sweat the weekend points leaderboard. As you are trying to put deep runs together in your Sunday tourneys, you are also anti-sweating other players that are high on the leaderboard. It's like playing the last 9 holes of a golf tournament!"
Eric "DogWisdom" Horn
While he may be relatively new to the Global Poker scene having started in January of this year, Eric "DogWisdom" Horn is the third most popular Global Poker streamer on Twitch where he streams his Global Poker pursuits 4-6 days per week at Twitch.tv/dogwisdom.
As a poker pro living in Illinois, Horn likes that the player pool is American-focused with no European poker competition, as well as the good value guarantee tournaments on offer. His biggest score on the site so far was a $1,790 tournament win.
Horn's goals moving forward are to build his bankroll up to $100,000 and become one of the most successful players on the site.
Tips for Newcomers
For players on the fence about getting started on Global Poker, these players have some words of advice:
"Sam1Chips" says, "Just deposit a small amount and try it out! It's a great site to play on, and there are so many great promotions for micro stakes players!"
According to "DogWisdom", "Everything in life has some degree of risk including depositing money to play poker in the USA. I would say the risk is decently minimal but, there is always a small chance that another Black Friday happens. I have transacted thousands of dollars on Global and it's been fine and on time with my payouts. So from my personal experience it's been fine, but I won't say any website in the U.S. is risk free."
"TheGoldenBlazer" echoes those sentiments in his call for players to join the GP community.
"I know online poker in the U.S. has been sketchy for some time, but Global Poker has a beautiful setup with their sweepstakes model, and people have been depositing and withdrawing safely through Paypal for a while, so come join us!"
Global Poker is solely available to players in the U.S. and Canada